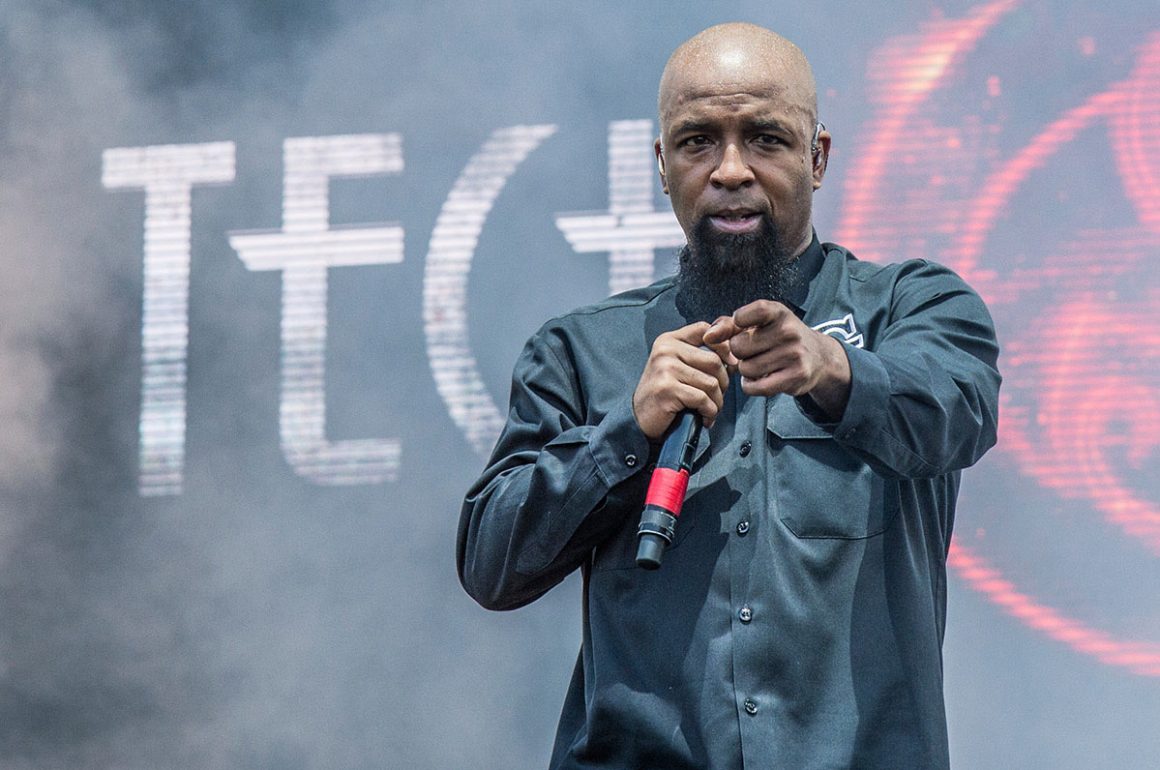 There are plenty of leading independent hip-hop artists paving the way today – Curren$y is constantly on the grind with new music and live shows, Mac Miller is pushing into major territory with his REMember Music label and distribution deal with Warner Bros., Nipsey Hussle has become a pioneer in the direct-to-consumer movement – but there can only be one king and his name is Tech N9ne.
What we've built is so massive that I don't think I'm ever going to be able to stop until the world ends or a meteor or asteroid comes and fucks us all up
Looking at the Forbes annual Hip-Hop Cash Kings for 2014, I wasn't surprise when I saw names like Eminem, Birdman, Puff Daddy or Jay-Z. These moguls were regulars on the list and it was only natural their wealth kept expanding each year (provided they didn't do anything dumb financially).
I was, however, totally surprised when I saw Tech N9ne on the Forbes list, tied at number 16 with Ludacris, 50 Cent and Swizz Beatz, after he earned an estimated $8 million with his constant touring and independent record label Strange Music, Inc. He even beat out bigger, more mainstream names like Rick Ross, DJ Khaled, Mac Miller and Timbaland. 
Success is being able to put your kids in the right schools and colleges from doing what you love to do, and I'm doing it. I don't look at it as being on the Forbes list twice, I didn't really want anyone to know all that.
Tech N9ne's Career Beginnings
Things weren't always so peachy – Tech's been grinding hard since the early '90s. Although he signed his first record deal with Perspective Records in 1993, it wasn't until 1999 when he dropped his debut solo album, The Calm Before the Storm, via Midwestside Records.
The album flew under the radar and shortly afterwards Tech teamed up with Travis O'Guin, a furniture businessman, to launch Strange Music, Inc.  
I met my partner Travis O'Guin in 1999 and we started Strange Music because who knows better how to do me than me. We've been doing this for 15 years strong. It's a beautiful thing. We're still on the incline after all these years.
Since then, Tech and Travis have been on the grind heavy; building a reputation for incredible live performances, uncompromising music and an ever-expanding roster which now includes names like Krizz Kaliko, Brotha Lynch Hung, Murs and plenty more.
The Strange Music brand received a further boost in 2011 when Lil Wayne shouted out Tech N9ne as a rapper he'd like to work with during his prison bid at Riker's Island.
After getting out, Tech jumped on Wayne's multiplatinum Tha Carter IV for a scene stealing verse with Weezy returning the favour by featuring on Tech's eleventh album, All 6's and 7's. 
Since 2011, the Strange Music team has released over 20 albums, with Tech N9ne dropping 4 himself, positioning themselves among the top independent hip-hop label in the world. With an uncompromising vision and relentless work ethic, Tech N9ne has secured his position at the very top of the indie movement.
The beautiful thing about being independent and having my own label is I can say whatever the hell I want. Back then, I didn't have the say-so. What is being an artist if you don't have 100% say-so in what you're writing?
So what can independent hip-hop artists learn from Tech N9ne's grind to the top?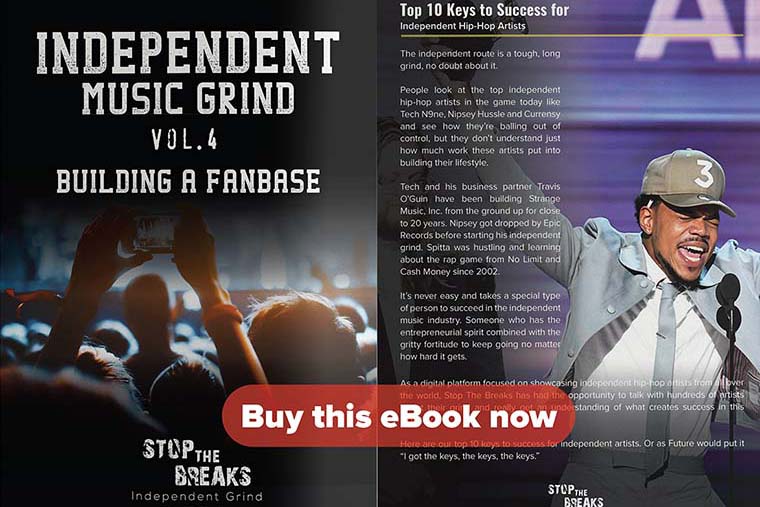 Focus on building your brand as an independent artist
As we've talked about in previous articles like – Branding Lessons Independent Hip-Hop Artists Can Learn From Floyd Mayweather and Branding Lessons Independent Hip-Hop Artists Can Learn From A$AP Rocky – branding is one of the most important aspects of an independent artist's career.
From the very beginning, Tech N9ne had a vision for his brand – Strange Music – and he's been very successful in bringing it into fruition through the artists that he's signed, the type of music they release and the live shows they put on.
What sets him apart is not only that his all-around work ethic is crazy, from the stage to the studio, to writing them rhymes. But in everything, he reaches for perfection.
Kendrick Lamar
When fans come to a Strange Music performance, they know exactly what to expect – a one-of-a-kind show with incredible live rapping, crazy stage props and full blown entertainment front to back.
This type of powerful branding creates a stronger bond between the artist and their fans because it makes people feel like they're a part of something; a movement, a community of music lovers. 
Connecting with the fans and doing meet and greets for the people that want to see you and talk to you and connect with you. We do those. Every tour we have meet and greets for the VIPs that want to meet me or give me presents.
Never forget your fans – they're the reason why you're in the position you are today. Drop dope music and engage with your fans across all channels – social media, face to face, email newsletters – that's the key to building a loyal fanbase. 
For up-and-coming independent artists, it's always better to stick to your niche at the beginning rather than try to cater to every type of audience. Stick to one lane, be really good at it so you can build up a core fanbase and then consider expanding your style and audience.
Diversify your revenue streams
This one's an obvious one, but worth repeating nonetheless. As an independent artist, you're most likely not going to make enough money from record sales or streaming to live. That's why you need to create different revenue streams like Strange Music has done so successfully.
In addition to record sales, Tech N9ne also makes money from merchandise, touring, brand sponsorship (Monster Energy sponsors Strange Music) and music publishing – Strange has its own publishing companies with ASCAP (Snake and Bat Music) and BMI (Songs of Snake and Bat).
Monster Energy is one of the only deals. We've been approached to do 20 different deals, but there's a lot of them that just don't make sense to us.
According to Forbes figures from a couple years ago, Strange Music pulls in annually roughly $20 million, which is split into: 
Touring – $7 million

Music sales – $6.5 million

Merchandise – $6 million
As you can see – music sales only makes up a third of Strange Music's annual revenue. Even if Tech N9ne stopped making music altogether right now, he can still expect to make millions just by travelling the world, performing his catalogue and selling his products. That's freedom. 
Sacrifice short-term riches for long-term wealth
It's tempting for up-and-coming artists to sign on the dotted lines for a million dollar advance, but as we've seen time and time again with artists like Chief Keef and Trinidad James, that major label money doesn't really amount to much over the long-term, especially when it's just a loan that is expected to be recouped.
Instead, look at Tech N9ne and Chance The Rapper as the new way forward for independent artists. Chance brushed over major label offers after the massive success of Acid Rap and is now making $35,000 per show. 
Tech N9ne said "fuck the middleman" and set up his own shop where he now brings in millions every year. But let's not get it twisted, it took a lot of time, energy and also money to build Strange Music into what it is today. But that's the independent rap game – you need to invest in yourself for the long term.
I invested over $4 million in Strangeland Studios. There's the building itself, and then the studios that we built upstairs. I went all out. I bought every single thing on our producers' and our engineers' list that they possibly wanted.
To be independent means more hard work and a longer grind. It means you have to do everything yourself – create, distribute, book, organise, promote, market, negotiate – but if you're willing to put in the work now, you'll be able to reap the benefits for longer in the future. Sacrifice the short-term riches for long-term wealth.