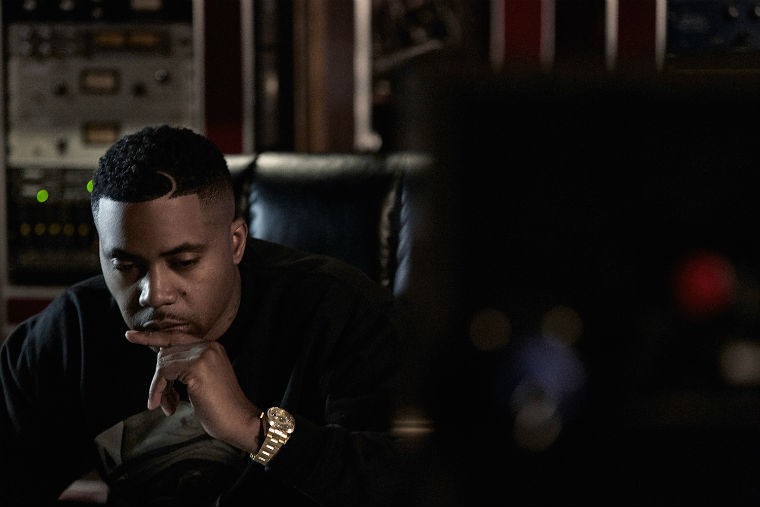 Never one to saturate the airwaves with his voice, Nas has always been notoriously picky with his guest verses.
Like he said on Lil Wayne's Tha Carter IV – "A monster nigga, and I don't really like doing songs with niggas." But when the Queensbridge legend does step up and bless another rapper with one of his verses, it's a fucking celebration bitches.
Let's take a look at the 5 best Nas guest verses from the past 5 years.
5. Mobb Deep Ft. Nas – Get It Forever (Black Cocaine, 2011)
This track is for all the stuck-in-the-90s hip-hop heads. Mobb Deep and Nas take it back to '96 with the grimy Alchemist-produced "Get It Forever" with Havoc threatening to shoot people in the face, Prodigy talking about his prison bid nonchalantly and Nas repping that Queensbridge shit.
We come from where murders occur often on late nights
Niggas is high and they eyes be red as two brakelights
Medical marijuana, Henny bottles, and Grey Goose
Semis and shottys on deck, everybody's face screwed
But you know this already, my hood the coldest and deadly
Soldiers is ready, I am boastful, forgive me
Bitches talking and cops cry when they nigga get washed
Beef could've been squashed, go finish that shit that you start
No clip in your Glock, you ain't prepared to fire
We call that riding with no air in your tire
You're flattened, it's a pattern after scrapping
What usually happen, death on arrival
Survival of the fittest, ain't nothing like that Queensbridge shit
Y'all niggas finished, your only chances are diminished
And we don't need no fucking witness
Ain't what you know, it's what you live and we live it
4. Raekwon Ft. Nas – Rich And Black (Shaolin vs. Wu-Tang, 2011)
For a moment there, all Nas sounded like was this grumpy old rapper, waxing lyrical about the good old days and complaining about the state of hip-hop. Thankfully, in 2011 he got his swagger back. And where better to stunt than on a guest verse for the Chef's "Rich And Black"? Nas and Rae tag team over the track with God's Son spitting some deadly bars – "The Don voice stay pristine like I'm still seventeen."
Rare nigga, I'm a wonder
Your best success is my worst blunder
Feds tap the number
Jewelry Jacqueline Onassis could appreciate
Weed to alleviate the pain
Eddie Kane, Richard Pryor pinky ring
Watch your conduct nigga
Throw parties for my niggas that's living, you guessed it
Models ya'll keep them if they anorexic
Love em but can't trust them
Hate em but won't bust them
Caking in savings, spending, wasting
It's like a custom
Tats are hieroglyphics
Lipstick on the collar
I got more to lose than you do but I'm a rider
When did the rules change
Y'all living trendy on pennies
Meeting deadlines with ease, no game
You fire, I'm butane
Gator Timbs, ostrich belts
These be the times that I surprise myself
My niggas looking like black crows and packed shows
The Don voice stay pristine like I'm still seventeen
3. Common Ft. Nas – Ghetto Dreams (The Dreamer/The Believer, 2011)
Nas' self-awareness is one of the key strengths to his writing. Straight off the bat, he declares it on "Ghetto Dreams" – "I notice all my flaws when it comes to writing rhymes / subject matter be changing too quickly at times." So over this gritty No I.D. beat, Nas celebrates his newly found bachelor status and keeps it strictly about the ladies.
I notice all my flaws when it comes to writing rhymes
Subject matter be changing too quickly at times
So I keep it strictly 'bout dimes and stick to the story
Call me a pro in the pussy category
Had explicit experiences I shouldn't mention
For me, getting women turned from sport to addiction
Powerful women playing the roles of submission
Lawyers on leashes, congresswomen inflictin'
Pain onto my game, wanted and I'm sadistic
They liked it, they dyked it, devices twisted
'til I get a nice chick, to get me on some nice shit
Crib raising kids, Labrador behind the white fence
But I'm still single, looking for Cleopatra
African Queen, yo look at me, I'm a bachelor
Y'all niggas in trouble, keep your girls behind closed doors
Cross your fingers, be happy I haven't chose yours
She love glamour, bought her Vera Wang sandals
Valentino bags is my etiquette, my manors
Half hood half class, photographers' cameras
Caught us out there, the spotlight, hope she can handle this
She can join me, red carpet at my next non-profit
Events having sponsored have some alcohol product
Jumping out a Bentley with some fresh red bottoms
You live your dream with me when you were just in the projects
2. Lil Wayne Ft. Bun B, Nas, Shyne & Busta Rhymes – Outro (Tha Carter IV, 2011)
"Outro" is one of those tracks where you can argue all day about who had the best verse. Bun B sets it up perfectly, Busta delivers another incredibly precise verse while Shyne keeps it gutter as fuck. But in my opinion, no-one can really fuck with Nas' verse. I mean, seriously, just the first few lines will have other rappers running for their lives.
Look who crept in with automatic weapons
Reppin' QB till the death of him
That nigga that inspired lyrical tyrants like Kanye West and Em
Track record, goes back to the Essence
Smack adolescents who ask who the best is
I'm nasty like gas from a fat man's intestines
I pass it, you gaspin' for breath and you die fast
Gut 'em like a gastric bypass
But ya Nas advocates actors seemed to get typecast in the same role
Since 16 I ain't grow a day old yet my brain grow
Cocaine white Range Rov'
Tats on my body like an art exhibit
I did real good for a project nigga
Was once a Bacardi sipper, now it's Chandon
Fat blunts in the car with strippers
Guns in compartments hidden
I was real young little youth, a novice nigga
Blessings, bowed down, respected
Chowed down, now my food's digested
Pow pow, with my shooters are Techs
That'll bust louder than the noise that I just spit
Let's get one thing straight that my crown ain't for testin', testin'
Chop heads off like King Henry VIII
Guillotine to ya neck bitch
I'm a king in this thing, don't be dumb
Been in this shit since '91
Niggas can't fuck with the style I use
Your fate is sealed, no Heidi Klum
Calm now, was a wylin' dude
Studied cowards and made power moves
Watched Wild Planet seen lions devour food
You can say that's how I move
A monster nigga, and I don't really like doing songs with niggas
There go my nigga Wayne
Let them niggas hate or like my nigga Drake say
"We ain't got time to respond to niggas"
1. Rick Ross Ft. Nas – Triple Beam Dreams (Rich Forever, 2012)
"Triple Beam Dreams" isn't just one of the best Nas guest verses of the past 5 years, it's one of the greatest Nas verses of all time, period. Nas flips the script – instead of talking about how much weight he moved or kilos he distributed, he talks about how crack slinging wasn't for him. In one epic verse, he touches on the ambition, the glory, the struggle, the fear, the desperation and the hopelessness of the drug game.
A project minded individual, criminal tactics
Us black kids born with birth defects, we hyperactive
Mentally sex-crazed, dysfunctional they describe us
They liars, at the end of the day, we fuckin survivors
I remember watching Scarface the first time
Look at that big house, that Porsche paid for by crime
How could I sell this poison to my peoples in my mind?
They dumb and destroy themselves is how I rationalize
In a bastardized nation, magnum .45 carrying
Where I'm from ain't far from Washington Heights to cop Aryan
A rookie boy, the cookie didn't make no profit
A stranger to the block, I damn near had to make them cop it
It only took a fiend to taste it once to say it's garbage
I brought it back to papi, ain't trying to take no losses
He focuses on my emotionless young dealer face then pauses
He gives me powder, he has faith in Nas' ambitions to distribute coke
Had addictions to gold chains, Mercedes Benz hopes, but I'm again broke
This shit ain't cut for me, other dealers, they up their orders
Barely at 62s, they already up to quarters
They out there every day, some true hustlers for you
I'm at it half way, none of my customers are loyal
Picturing piping out the seats of a Pathfinder
Powerful pursuit for pussy, cash to flash diamonds
My junior high school class, wish I stayed there
Illegal entrepreneur, I got my grades there
Blaming society, mad, it wasn't made fair
I would be Ivy League if America played fair
Poor excuse, and so I was
Throwing rocks at the pen just for the love
Before the evil, the secret life of G's
You seeing my blurry, triple beam dreams