Even though we think right now is the golden age of independent hip hop artists, we didn't mean that it was going to be easy work achieving your goals and reaching your dreams.
The industry itself is so overloaded with potential quality and talent, that finding a spot for yourself to be noticed can be hard work. To help you understand the gluttony of challenges that are going to await, read on.
Whether you intend to promote online or offline, many of the same challenges can exist. Let's take a look at what is likely to hold you back and hamper your potential for improvement as an artist, in any environment.
Budgeting
One of the main challenges that you can face as an independent artist is getting a budget together. Even if you do everything yourself – the production, marketing, writing, labelling, hype, the lot – you still need a budget.
Many artists forget to factor in the importance of having the finance to do what they need to do to get a following.
Budgeting means planning and preparing yourself financially, from how you get around to the kind of hardware you need to get the job done. Time is money, though, so make sure you factor in how you use the budget.
Are you spending hundreds of dollars, and wasting many hours, trying to learn how to be a good marketer? Looking to become a digital arts whizz on Adobe Illustrator to make a cool album logo yourself?
All of these things could be done, cheaper and quicker, by budgeting for professional help. There's no embarrassment to be had about paying others to help you out, after all.
Never put yourself into a position where you are spending more money and time learning something you could outsource for a much smaller fee, creating valuable time for other improvements.
Expansion
Another major part of development as an artist – and the biggest roadblock you may face – is expansion. How do you go about expanding your fanbase from local to more wider, surrounding areas?
This takes time, and it takes a lot of commitment to long-term improvement. Some artist come from nowhere and become stars almost overnight. However, this is not always the case; many people struggle with this aspect of expansion.
A major challenge you are going to face is how you feel about expansion taking time. Can you handle the wait? Are you mature enough to measure progress gradually rather than expecting it all at once?
If so then you are on the right track. The major challenge that you face with expansion is making gradual progress.
Don't expect that you will be one of the few who goes from small crowds to massive festivals in a year. These are rare; instead, concentrate on the power of expansion over time.
Put in the effort to build a rapport locally (we have lots of content on this very topic) and you can soon start moving beyond the limitations that you face at this present time.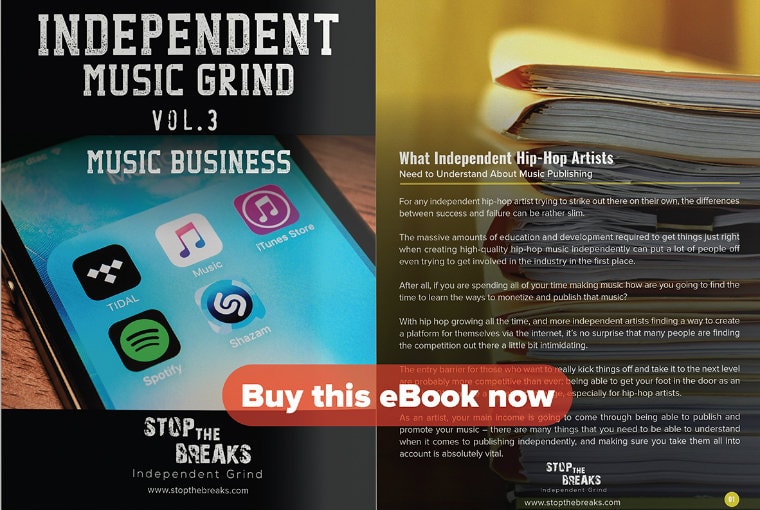 Collaboration
A much undervalued part of the musical industry is collaboration, especially in the world of fresh and independent hip-hop artists. The best part about being involved with a collaborative effort, though, comes from the mental benefits it can offer.
It lets you see how your own flow and talent works alongside other artists who are maybe a little further along the development path than yourself. Whatever you decide, you can find that collaboration is a challenge that should never be ignored.
Being able to work with other people is a ticket to being exposed on more than one front. The main challenge, then, is creating the kind of content that fits with their own narrative and way of thinking.
Make sure that you develop a sample that allows people to see who you really are (more on that below). It takes time to make sure that people can find you with ease, but collaborating is one of the best ways to do just that.
To be more likely to get success with early collaboration attempts, don't aim too high. Look for other local artists who are on the same kind of path as you; together, you can create something special.
Globalizing Appeal
One of the challenges that many independent artists do not think about, though, is their international appeal. You need to come across to people in a manner that makes you endearing, but also understood easily.
Turning up with a range of tracks all about local events and life in your own city, for example, can be a huge hit locally. But if you try and go into larger cities and other countries with the same content, it might struggle to get the same acclaim.
You need to find a way of building your roots and your appeal locally, while making sure your music is universal enough to be understood outside of where you come from.
This is a big problem for many younger artists especially, as they lack the foresight to be more universal in their lyrics. Concentrate on improving upon this as it can be one of the true catalysts to making sure you take that all-important next step together.
Any artist who is serious about their career wants to go well beyond the local appeal that they hold today. Keep that in mind as your writing develops, as you have to be more open-minded than just local anecdotes.
With this in mind, you should find it much easier to start identifying and understanding the challenges that apply to you. Not all of the above will be an issue for you, but it's likely that as an independent artist at least one of these will be waiting for you.
As ever, no guarantees exist. However, there are certain solutions that, if you are willing to work and put in the effort, will make perfect sense.
Just be prepared to listen, to put in the work, and to consider these challenges are not unique to you – then, they become easier to face up to.