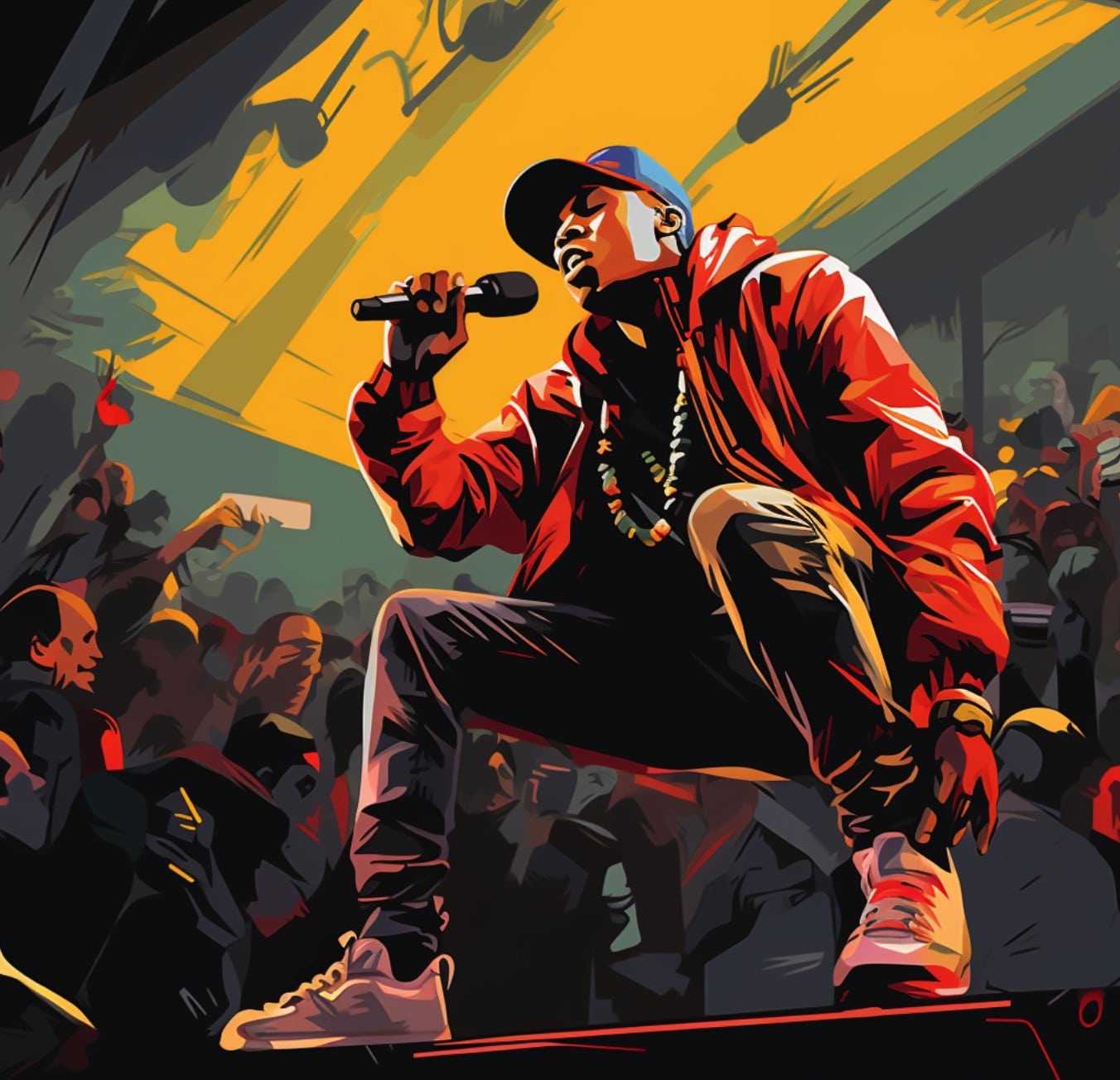 55Quan was a rapper who'd been making waves in the music industry, with his discography showcasing his talent and versatility. While detailed biographical information about him is limited, his music speaks volumes about his artistry. Albums like "Forever 55" and "Cold Hearted Yungin" under the label "Apply Pressure Entertainment" are testament to his skills as a lyricist and his ability to craft tracks that resonate with listeners.
Hailing from a generation of rappers who blend traditional hip-hop elements with modern sensibilities, 55Quan's music is a reflection of his experiences, thoughts, and the world around him. His tracks often delve into themes of life, struggles, ambition, and the nuances of everyday experiences, making him a voice to watch out for in the rap scene.
As with many artists, 55Quan's music was a window into his soul, providing listeners with a glimpse into his world, his perspectives, and his journey as an artist. With each track, he continues to solidify his place in the rap game, showcasing his growth and evolution as an artist. As he continues to release music and make his mark, there's no doubt that 55Quan is a name that will be remembered in the annals of hip-hop history.
25. Mob Tied
The track's raw energy, underscored by brooding beats and layered grimy synths, established this one as an immersion into the artist's reality. Quan's confident flow and vivid storytelling highlighted his adept lyricism while painting a harrowing picture of the life he navigated. The dark narrative was brought to life with Quan's rhythmic verses, painting images as vivid as graffiti on a brick wall. A statement of intention, "Mob Tied" showcased Quan's knack for transforming lived experiences into compelling hip-hop narratives. The track remains a vital piece in Quan's discography, pulsating with authenticity that only comes from surviving life's toughest streets.
24. I know
This track catches the MC at his most introspective, laying bare the gritty realities of the struggle. His bars are delivered with raw clarity, confronting truths in a way only 55Quan can, setting himself apart from the crowd of rappers who talk the talk, but don't walk the walk. The beat syncs seamlessly with Quan's flow, throwing down somber hues, morphing the track into a dark, reflective soliloquy. This ain't no fairytale rap, it's cold, hard truth–a testament to Quan's dedication to keeping it 100 in his music. Classic Quan, no doubt!
23. Death in the air (feat. Tone Brady & ColdHeartedYungan)
He's not just flexing bars for the sake of it, nah, son. This track is an aural narrative, heavily enriched with vivid street wisdom and potent commentary. As 55Quan unspools his verses over that grim, pounding beat, the message is woven tighter with every syllable. Tone Brady and ColdHeartedYungan ain't just there for decoration — each throwing down respective verses that match Quan's intensity bar for bar. This ain't your lightweight, radio-friendly joint, y'all. It's a chilling and compelling perspective of street life, told from the front line. They all paint a haunting image of life's harsh realities, pushing this track into the realm of grim street anthems.
22. Don't disturb
He serves up a raw, unvarnished narrative that's seeped in southern grit and draped with a cloak of street wisdom. The track's volatile mix of melancholic synths and subdued percussion underscores the weighty lyrical substance that 55Quan delivers. His unflinching storytelling rides the line between provocation and introspection, reflecting the harsh realities of his environment. This song is a sterling testament to his abilities as a wordsmith and a storyteller, proving that he's got the chops to weave intricate tales out of his lived experiences. It's hip-hop in its purest form, honoring the process of turning pain into poetry. Yet it never forgets its roots in the streets. No doubt, a crucial piece in the 55Quan puzzle.
21. The Bottom
A testament to his journey on the come up, the track speaks volumes about his grind and how he climbed his way out of hardship. Backed by a thumping beat that just screams the streets, Quan delivers bars with no holds barred, taking us into his world – one where every day is a hustle, and every night, a quest for survival. Here's an artist who's not afraid to show you the nitty-gritty, the good, the bad, and the ugly. It's the pure essence of Quan – a sonic reflection of his grit, tenacity, and unwavering determination. In the realm of hip-hop, "The Bottom" is a testament to Quan's authenticity and his prowess as a wordsmith. From the concrete jungle to the mic, this joint is 55Quan in his element. No doubt about it, "The Bottom" is straight fire.
20. Murda (feat. Big6ixx)
This collaboration between 55Quan and Big6ixx showcases how lethal they can be when they unite their talents. Pulling no punches, Quan goes in hard with his raw delivery and hard-hitting lyrics, reflecting his street-hardened sensibilities. Big6ixx, on the other hand, brings a more methodical approach to his verse, delivering a chilling account of life on the streets with a steady, unflinching gaze. The production is as grim as the subject matter, creating the perfect backdrop for this stark narrative. "Murda" paints a picture of a world where danger looms large, but survival isn't just possible, it's a testament to strength and resilience. Thematically, it's darkly compelling and makes for a standout moment in 55Quan's discography. Real recognize real, and this track is as authentic as it gets.
19. My Ways
A quintessential 55Quan, this joint delivers a raw yet nuanced gaze into his worldview. Drippin' with slick wordplay and infectious flow, the MC from the ATL takes us on a journey through his struggles, triumphs, and every day maneuvering. The beat, laced with haunting 808s and echoing hi-hats, sets the perfect stage for Quan's gritty verses. The layers of the track mirror the complexity of Quan's life, where the hustle is real but so are the rewards. "My Ways" ain't just a tune to nod your head to, it's a testament to 55Quan's artistry and resilience. It's hip-hop in its rawest form, no gimmicks. Pure fire. Straight facts. All day.
18. Paranoid (feat. ColdHeartedYungan)
The track is a heady mix of influential Southern trap and melodious flows that paint a vivid picture of the paranoia infused world they inhabit. 55Quan marks his territory with bars that cut deep, and his partner-in-rhyme, ColdHeartedYungan, compliments the dark undertones with his frosty delivery. A pure product of their respective experiences, "Paranoid" is an embodiment of their street-bred authenticity. Beat-wise, it's laced with moody 808-driven instrumentals, encouraging a grim yet captivating listen. The lyrical content has depth and speaks volumes about their hustler mentality, highlighting the paranoia that grips life in the game.
17. Habits
Over a ripe, deep bass beat, 55Quan unspools his words with an almost bluesy quality, reflecting struggles and the grind of the game. His confessional verses delve into the recurring patterns that keep him primed and wired up in the gritty, unforgiving landscapes he narrates. The track's potent mix of raw street wisdom and introspective bars shows why 55Quan ain't no rookie in the rap game. Sure, he's talking about habits but it's more than some superficial vice. It's a survival strategy, a resonant chronicle of the cycles he's trapped in. This ain't just a song, it's a mic-dropping testament to his hustle. Straight up, "Habits" is 55Quan at his most reflective and compelling.
16. Tired
This joint is steeped in heavy emotions, capturing the weight and exhaustion from the daily grind of street life. The production is low-key, underpinning the track with a simmering intensity that mirrors the subject matter. Quan's flow on this joint is deceivingly laid back, it's like he spits with a relaxed urgency, a testament to his skill and versatility. What stands out is his raw and authentic pen game, laying bare the struggles, the pain, the fatigue of his environment without romanticizing it. It's a grimy cut, straight from the heart of the streets, and a somber standout amid 55Quan's catalog.
15. Slide down (feat. Tone Brady)
A track that highlights Quan's affinity for blending vocals with trap beats, it's a masterclass in bar delivery and rhythmic cadence. The cut showcases Quan's ability to hold a solid narrative thread while spinning street tales, splashed with rough experiences and survival instincts. Tone Brady lends a supporting hand here, contributing a verse that complements the main artist's vibe and tempo. The synergy between the two is lit, matching bar for bar, turning the track into a musical showdown. Through "Slide down", 55Quan establishes an intoxicating ambience, leaving listeners with an authentic taste of the streets nestled amidst auto-tuned harmonies.
14. Apply Pressure (feat. Big6ixx)
Big6ixx)" is a standout cut from 55Quan's repertoire, where the rapper collaborates with Big6ixx to deliver an unfiltered street narrative. The track oozes authenticity, backed by a haunting beat that amplifies the gritty reality of their verses. The lyrical flow is measured yet potent, each bar punctuated with raw emotion and lived experiences. 55Quan drives home his street-wise philosophy, while Big6ixx brings in a complementary edge. It's a testimony to their solid chemistry, both artists bouncing off each other's energy with seamless ease. With "Apply Pressure," 55Quan and Big6ixx demonstrate the power of collaborative artistry in hip-hop, offering a compelling tale of survival and resilience straight from the heart of the streets.
13. Gotta Get Money
No information is currently available on "Gotta Get Money" by 55Quan.
12. Plans
This joint ain't just a banger, it's an anthem that reveals the man behind the mic. Quan doesn't hold back, spitting straight facts about the hustle and the drive it takes to make moves and stack that paper. The beat is hard yet introspective, likely making any real one nod their head in understanding. But it's Quan's slick delivery, soaked in street wisdom and raw emotion, that seals the deal. "Plans" shows an artist who's seen it all, done it all, yet still keeps his eyes on the prize. It ain't just bars; it's a blueprint for the grind, cementing 55Quan's place as one of hip-hop's genuine hustler poets.
11. Scarz
Over a shadowy, trap-like beat, Quan lays down some of his most blunted rhymes, woven with tales of hustling, persevering, and quite literally, bearing scars from the streets. It's not just the lyrics either, his delivery too matched the same intensity; raw and untamed. This track showed us a Quan who wasn't afraid to bare his soul, providing listeners with a vulnerable yet hardened picture of his life. "Scarz" is an integral cut that showcases 55Quan's ability to expose the gritty reality of his world, cementing his mark as a vivid chronicler of the streets.
10. Run Forrest
It's a testament to 55Quan's no holds barred storytelling ability, serving up raw tales from the streets with a dash of urgency and a ton of realness. His rapid, staccato flow cuts through the grimy production, echoing beats that sound like they stomped out of the darkest corners of the underground. But with Quan, it's not just about the finesse of his rhymes or the power behind his delivery, it's about feeling every word he spits – the trials, the tribulations, the triumphs. And that's what makes "Run Forrest" a stand-up track, a real purveyor of Quan's reality soaking through your speakers.
9. Focused
This one's all about 55Quan's hustle, illuminating the grittier side of life on the climb. The beat pops off with a hard-hitting bass, and over it, 55Quan drops some real talk about staying motivated amid struggle. The dude ain't just rapping about his grind, he's narrating a whole ethos of survival in the game, keeping his eyes on the prize no matter the obstacles. Word is, he even penned this heat in the midst of personal trials, which only adds to the authenticity. His flow is tight, his delivery on point. "Focused" is not just a song, it's a testament to 55Quan's resilience as an artist, embodying the true essence of hip-hop. Ain't no half-steppin' here, y'all.
8. Don Talk (feat. Big6ixx)
When 55Quan and Big6ixx laid down "Don Talk," the block certainly felt it. This wasn't just a track, this was a statement, an undying testament to their coming up. 55Quan's gritty delivery, riding hard on that grim beat – it's like a mission statement. As for Big6ixx, the man's verses flow like some raw poetry. Their combined game had cats nodding their heads in sync, vibing to the artistry of their hustle. "Don Talk" represents quintessential 55Quan – real, ruthless, raw, delivering lines that echo long after the beat dies out. If you're talking about the essence of 55Quan, you gotta mention "Don Talk." It's more than music, fam, it's a whole mood.
7. Stay on me (feat. Big6ixx)
This track delves into the essence of street life, juxtaposing struggle with aspiration, and painting an evocative picture of the hustle. Big6ixx's contribution elevates the song to another level, his rasping timbre contrasting perfectly with 55Quan's bubbling energy. The pulsating beat, peppered with trap-influenced high hats, becomes a rhythmic canvas for the duo's lyrical explorations, while the grimy production captures the grit and grime of their narratives. An undeniable banger, "Stay on Me" effortlessly straddles the line between gritty street anthems and anthemic club hits. With this track, 55Quan further proves why he's an integral voice in today's hip-hop scene.
6. Shit talk
"No information available."
5. Wicked
The beat is a relentless engine, propelling his flows which are drenched with tales from the streets. However, it ain't just about the unfiltered narrative. What sets "Wicked" apart is the way 55Quan spits – his delivery is so potent that it practically punches through the speakers. This crackling energy, combined with his lyrical prowess, makes for a gripping listen. Whether it's the engaging hooks or the captivating verses, "Wicked" rings true to the essence of hood reportage, a testament to 55Quan's ability to channel authentic experiences into his bars. This is hip-hop in its rawest form, uncut and unfiltered – that's the power of "Wicked".
4. Stand Clear
The pounding beat and haunting melody perfectly complement Quan's raw flow, creating an atmosphere that's as relentless as it is mesmerizing. With this track, he draws us into the volatile world he navigates, delivering punchlines that are as sharp as daggers. He ain't holdin' back, and every bar is loaded with tales of struggle and survival. His rhymes are complex, yet they paint vivid imagery—pure poetry from the streets. "Stand Clear" ain't just a track, it's a mood, a declaration, a story straight from the heart of the hood.
3. Cutta
This joint drops with an ominous, hard-hitting beat that sets the stage for Quan to unload his bars. He's spitting knowledge on street survival, making it clear that he ain't playin' no games. 55Quan's flow is impeccable, slicker than a greased marble on this track. Lyrically, he's dropping metaphors that paint a vivid picture of his reality, one where danger lurks at every corner but the hustle never stops. "Cutta" is a testament to Quan's raw talent and his ability to convey the grit of street life with unflinching honesty. It's hip hop in its purest form, no chaser.
2. Double Back
Rolling on a deceptively mellow beat, Quan pulls no punches; he delivers a torrent of truth bombs couched in gritty lyricism and raw bravado. The track resonates with the ethos of survival in the streets, laden with lessons and strategies punctuated by Quan's signature flow. Here, 55Quan ain't just flowing—he's lecturing. From the gut-wrenching verses to the catchy hook, "Double Back" is a testament to 55Quan's lyrical prowess and his firm grasp on the nitty-gritty of life on the grind.
1. Murder For Hire (feat. Big6ixx)
The track brings hard-hitting authenticity, offering a visceral peek into Quan's experiences in the trenches. Here, Quan's rhymes cut deep, skating over somber trap production that swathes the raw lyrics in a chilling ambience. The guest verse by Big6ixx complements 55Quan's flow perfectly, adding a contrasting layer that heightens the song's intensity. The lyrical content might not be for the faint-hearted, but the all-too-real narrative makes it a must-listen for those seeking an unfiltered glimpse into the realities of street life. "Murder For Hire" is a striking testament to 55Quan's ability to translate his lived experiences into compelling hip-hop music.