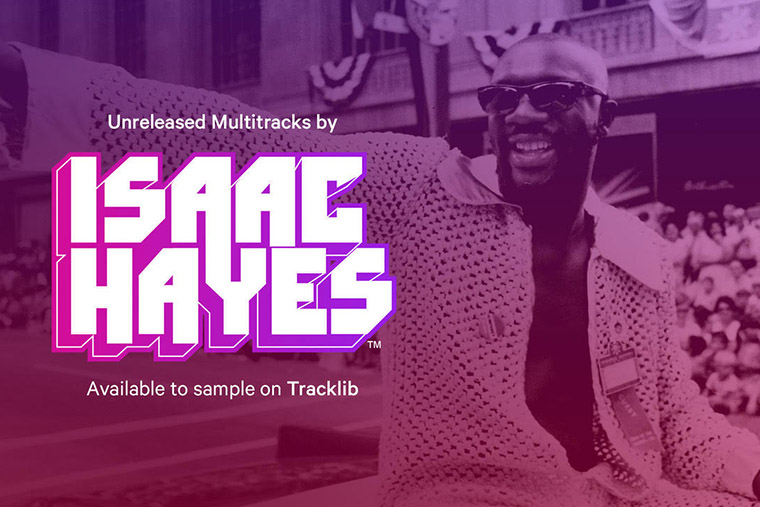 On Wednesday night at the A3C Conference in Atlanta, Tracklib will announce a deal with the estate of soul legend Isaac Hayes to offer a select group of 20 unreleased songs on the site's catalog.
These tracks have never been released publicly, and, thus, represent a landmark catalog acquisition for Tracklib and a new way of mining the vaults for the Isaac Hayes estate. Now producers and artists can access this goldmine of previously unheard material, sample from it, and make new music.
Isaac Hayes III, son of the legend and manager of his estate, said that his father was "with it" when it came to sampling, which explains why he is one of the most sampled artists ever. Before his death, Hayes befriended key producers, including the RZA from the Wu-Tang Clan.
Samples of Hayes's material have always been part of soul and hip hop's backbone, including recent hits like Alessia Cara's "Here," Kanye West's "30 Hours," and "6 Inch" by Beyonce.
The chance for aspiring producers to have access to this material, and to clear the samples easily and legally on the Tracklib platform itself, makes this a rare opportunity for hip hop heads to go back to their roots.
Hayes III longs to see his father's legacy grow beyond repackaging or re-releases of material that is already, deservedly, classic. The songs being released are all multi-tracked, meaning there is a lot of material to play with here.
Tracklib and Isaac Hayess III have previewed the material for a number of key producers in the sampling world, and the response has been excitement verging on chomping at the bit to get their hands on this material. Erick Sermon, Prince Paul, Drumma Boy, Jazee Pha, and Organized Noise have all heard the tracks and are anxiously anticipating getting to work with them.
Tracklib's success within the hip-hop and producer communities made it a natural new home for these unreleased tracks, as they have had a recent string of high-profile releases made with samples from the Tracklib catalog, including DJ Khaled, Mary J. Blige, and Brockhampton.
Hayes III admitted Tracklib was on his radar for a long time, but their recent success with J. Cole's "Middle Child" was the one that grabbed his attention and helped to seal the deal.
Hayes III concluded that he is "really excited for today's producers all around the world to get their hands on these unreleased Isaac Hayes samples and continue his musical legacy, to create new records, new sounds, new ideas."
With this deal with Tracklib, that goal is within reach, and aspiring producers and fans of hip hop and soul will be all the better for it.