Founded in Carson, California, by Anthony "Top Dawg" Tiffith, Top Dawg Entertainment has skyrocketed from an up-and-coming West Coast label to one of the most recognizable brands in the hip-hop industry; home to the hottest rappers in the game today.
No-one could have seen it coming. Not even Tiffith himself, who started out in 1997 managing producers and transitioned into building his own home studio to cater to the rapidly expanding industry – "I said, Shit, everybody doing music—let me build me a studio."
Tiffith founded the label in 2004, naming it after his own nickname and began scouting for local lyrical talents; starting off with a 15-year old Kendrick Lamar who had just dropped his first mixtape and was buzzing on the streets. Next up was Jay Rock, a hardened street rapper from Watts, who Tiffith managed to secure a joint venture for with Warner Bros.
Really, just hard work, learning lessons as we go and our whole situation at Warner Bros. with Jay Rock. Jay Rock is pretty much our guinea pig. When TDE first got signed to a label, I thought we was on our way. Going through all that bullshit taught us how to really win.
Anthony Tiffith
Ab-Soul, the enigmatic lyricist who was also based out of Carson, joined the label in 2007 followed by Schoolboy Q in 2009. Together the four rappers formed TDE's original lineup and remain the label's most recognisable artists.
Since the label's launch in 1997, TDE has grown to become one of the most important labels in hip-hop right now. Kendrick's latest album DAMN. became the fastest selling album of 2017 so far, debuting at number one on the Billboard 200 with 603,000 units moved in the first week and managing to outsell Drake's More Life. 
With an incredibly diverse artist roster, four number one albums, over 3 million records sold, an ever-expanding global fanbase and Grammy nominations, there's not much that Tiffith hasn't accomplished in the industry. So how did he do it?
Independent artists: learn how to build a fanbase and make money from your music. 
Strategic partnerships
As an up-and-coming player in the rap industry, Tiffith knew that he would need to form some important partnerships to survive which is why early on he was already looking to ally TDE with like-minded labels. The first, and arguably the most significant, partnership was the joint venture deal Tiffith cut with Strange Music for Jay Rock's 2011 debut album Follow Me Home.
Not only did the partnership allow Jay Rock to release his long-awaited album and revive his languishing career; the connection with Strange Music provided him with the opportunity to tour with Tech N9ne, E-40, Glasses Malone and Kutt Calhoun on the Independent Grind Tour. This was an invaluable experience which no doubt helped the Watts rapper expand his fanbase.
Strange Music also provided an independent business model for TDE to follow. As TDE's president,  Terrence "Punch" Henderson, explained – "We try to model what we do now after their business model, and we added our own little seasoning to it. We're trying to go on and be listed with the great empires: Death Row, Roc-a-Fella, Bad Boy, Cash Money. We want to be listed with those guys and at the same time bring our own flair to the game."
For Jay Rock, Strange Music was that other family member that gave him a boost, and now TDE got what they need to put him where he belongs. Now he's 100% TDE, and I told him 'You better murder it, Jay Rock.'
Tech N9ne
Not long later in March 2012, TDE announced that they had formed a joint venture deal with Interscope Records and Aftermath Entertainment, a major move which would take the label to unprecedented heights. But don't get it twisted, TDE and its artists were still retaining creative control over their music – an important reason as to why the partnership has worked out so well.
Take a look at Kendrick's liner notes for Good Kid, M.A.A.D City and To Pimp a Butterfly and you'll notice how little Dre has actually contributed music-wise. Aftermath and Interscope are there to provide the financial backing, marketing resources, distribution capabilities and of course, Dre's mentorship to Kendrick. 
It's the same reason why Mac Miller went from independent to signing a partnership with Warner Bros. Major labels have the money and connections to help take independent artists to the next level of their career; as long as the artists remain focused on their music and core fanbase, it's a win-win for both parties.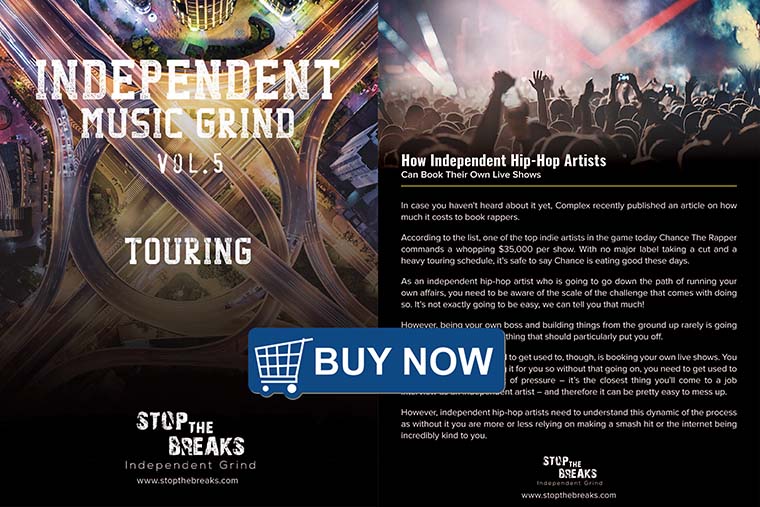 Long-term focus
You can't be successful in the rap game if you don't have a long-term mentality. Like great independent businessmen before him, Tiffith understood he had to sacrifice the short-term riches to create long-term wealth.
Kendrick was signed to TDE in 2003 when he was just a 15-year old rapper. Tiffith saw the raw potential in him and took the time to develop him from a good rapper to an incredible artist.
I put him in the booth and put this double time beat on, trying to throw him off. He went in there and started going off! So I'm trying to play like I'm not paying attention. He notices I'm not moving and starts going crazy. So I look up and I'm like, 'God damn. He's a monster.' So the next day I had a contract for him
Same goes for Q, Jay Rock, SZA and anyone else in the crew – it's not about becoming a superstar overnight for TDE, it's about laying the groundwork by putting in the hours to create great music and building a loyal fanbase.
TDE's early releases – Setbacks, Section.80, etc. – didn't have much success on the charts, but they were instrumental in creating a core fanbase for the label's music so that when Kendrick blew up in 2012, they could capitalise on the momentum.
When I did decide at the end of '04, early '05 to really mess with the music, I had the dream of it being this big. This took me by storm, though.
Not chasing record sales
Even with two Billboard number one albums and a handful of successful radio singles, you wouldn't call any of the TDE artists hit-makers. All of their success on the charts and radio stems from consistently putting out great content and slowly building up their fanbase through touring, social media, feature appearances, interviews and plenty more.
Just like we saw with the recent success of Logic and J. Cole, TDE focused on creating a core fanbase instead of chasing hits and managed to build a loyal following that will come out to support them for the long term.
What people don't know about the independent game is you need some bread to actually do it. We actually had success on both. Section.80 sold over 100,000 copies and that was all just us—nobody else. Then of course, with good kid, m.A.A.d. city, you see that success.
As a result, Good Kid, M.A.A.D City debuted with 242,000 copies sold – the second biggest hip-hop opener in 2012, Oxymoron topped the Billboard charts in 2014 and To Pimp a Butterfly became Kendrick's first number one album with 324,000 copies sold in its first week.
Strong record sales are important for any label to survive but my point is that TDE didn't make that their primary objective. Tiffith and his artists focused on creating great music that resonated with their target audience and let the numbers speak for them.
Independent artists: learn how to build a fanbase and make money from your music. 
Transformation into powerhouse label
Just think, in July 2011, TDE has just dropped Kendrick's Section.80 which helped create some buzz around the up-and-coming Compton rapper and now just look where they're at – standing on top of the rap game.
I want to get Jay Rock, Soul, Q these platinum records and just sit back. Those are the four dudes that I been with forever and these are the dudes I want to see rich.
2012 was their breakout year with the overwhelming critical and commercial success of Good Kid, M.A.A.D City. Q's Habits & Contradictions and Ab-Soul's Control System, both released in the same year, didn't attract the same level of chart success but topped many critics end-of lists and were two of the best hip-hop records in 2012.
The next year TDE ran shit without dropping one record. Kendrick was officially the hottest rapper in the game after Good Kid, M.A.A.D City and went on a blistering run of killer feature appearances – including the conversation-stirring "Control," 50 Cent's "We Up," Pusha T's "Nosetalgia" A$AP Rocky's "1 Train" and more.
All four Black Hippy members, plus TDE's newest signees – Isaiah Rashad and SZA – rocked up for the BET cypher, asserting their dominant position in the game while Q started to prepare for Oxymoron to drop with a string of successful singles – "Yay Yay," "Collard Greens" and "Man of the Year."
2014 was another great year for the label as SZA and Rashad both dropped their debuts to moderate commercial success, Ab-Soul dropped the well received These Days… and Q scored his first number one album with Oxymoron which also charted in Australia, Belgium, Canada and more.
The album's fourth single – "Studio" featuring BJ the Chicago Kid – peaked at number 38 on the Billboard Hot 100, making it Q's highest charting single to date.
Things don't appear to be slowing down at all in 2015 for TDE. The label kicked off the year with a bang, dropping Kendrick's To Pimp a Butterfly which became one of the most acclaimed albums of the year so far. The album also topped the charts and has sold over 670,000 records to date.
Kendrick also scored his first number one single, appearing on Taylor Swift's "Bad Blood" as well as making a few head-turning appearances on Dr. Dre's third and final album, Compton.
While 2016 lacked a TDE release that dominated the charts, the label still had a steady stream of projects, including ScHoolboy Q's Blank Face LP which became Q's second number one album, as well as releases from Isaiah Rashad, Ab-Soul and label new-comer Lance Skiiiwalker. 
Not to mention Kendrick decided to drop off a random compilation album, untitled unmastered., made up of throwaway tracks and sessions from To Pimp a Butterfly. That project still managed to top the Billboard 200, moving 178,000 units in the first week.
And now we're in 2017, a year which looks to be dominated by Kendrick Lamar and Top Dawg Entertainment. DAMN. has been the fasted selling album of the year so far and is one track to be one of the biggest releases of 2017. Boosted by major streaming numbers, the entire project has charted on the Billboard Hot 100, with "Humble" becoming Kendrick's first number solo single.
Independent artists: learn how to build a fanbase and make money from your music.