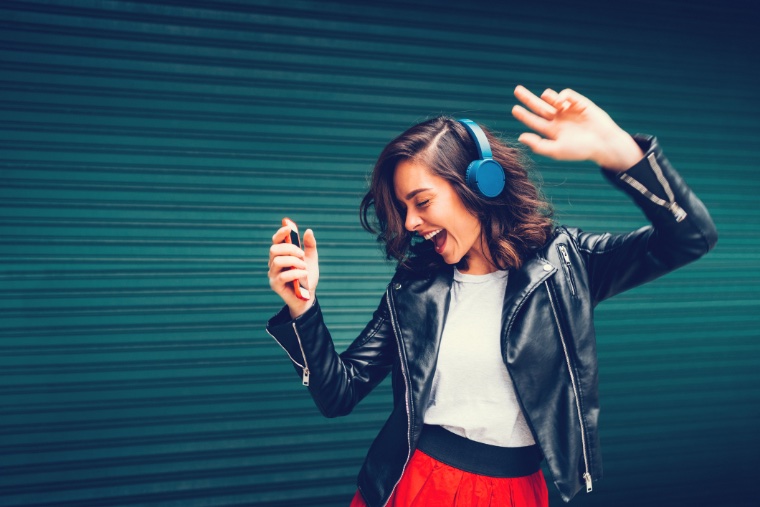 Check our brand new ROXi TV ad ft. @kylieminogue. https://t.co/MEyC7j5OEa
With music from Kylie's new album 'Disco' the ad debuts today across 100 TV channels. 🤩 #roxi #kyliedisco #disco @LONDONAdAgency @BurningReel

— ROXi (@roximusicsystem) November 13, 2020
Despite the growth of homegrown social media-led music talent, there is still a place in the industry for the big tech hitters. Kylie Minogue-backed entertainment technology company, ROXi, has accrued £13 million worth of investment. This has enabled the platform to be integrated with Pay TV and Smart TV platforms. But what is it, and how does it reflect the general public's appetite for entertainment in 2021?
What is ROXi?
ROXi is a music entertainment technology hub that exists to augment the methods of engagement in the music business. The service allows users to listen to tracks, watch videos, sing karaoke, play games, and even tap into worldwide radio stations. Billed as a 'made for TV' music experience, ROXi aims to surpass its rivals by offering music entertainment in a more engaging and accessible way. In 2020, ROXi partnered with Sky to allow Sky Q subscribers to engage with its content. Sky aims to bring the content to 500 million TVs by the close of 2022.
UK music streaming startup backed by Kylie secures £13m funding https://t.co/U9MtCrPRlv

— The Guardian (@guardian) December 7, 2020
ROXi Karaoke
Part of the package of ROXi includes the ROXi Music Video Jukebox. Containing around 55 million music videos, 400,000 are official videos released by Sony, Universal, and Warner's music arms, and 54 million ROXi originals. This means that those listening at home can engage with the karaoke platform, which contains a staggering 140,000 songs.
ROXi's Competitive Edge
Competitors would include video platform YouTube, which has been marred by the increase of ads and the push for its own subscription service. Apple Music and Spotify could also face competition, particularly if ROXi gives a platform to artists that are yet to be featured on the streaming services, such as some of the greatest but more obscure rappers. ROXi offers a way to combine the best of both aspects: the music videos and the streamed songs.
What Does This Show About Entertainment in 2021?
The success of ROXi may be surprising for some, especially as an indicator of where entertainment technology is heading. But it is reflective of how companies are adapting their offering to engage with a consumer base that has an increased choice in entertainment and understands that the power lies with the buyer, not the seller.
For instance, when launching a new phone model, Apple and Samsung have to up their offering with new tech implications each cycle. Their competitors are not only each other, but customer expectations and their previous successes. iPhones are frequently compared negatively to Androids as well as the better tech that was offered on the previous model. ROXi, on the other hand, is in a unique position to offer customers something that encompasses much of what their competitors do separately.
In other areas of entertainment, attracting the customer's attention depends on more than just the variety on offer. The trust that the company is at the forefront of the industry to offer the latest developments in the future is also crucial to customer engagement and loyalty.
For example, as the variety on offer at some online casino shows, players can engage with all aspects of the industry: from online slot gameplay to live poker and traditional table games. To capture players in such a competitive industry, it's important to offer them choice and variety. Across entertainment, Xbox's Spring 2021 cloud gaming update, which will see players be able to engage on other devices from a wide variety of titles could also eclipse its rivals. Elsewhere, traditional cable companies such as NBC are branching out into newer forms of entertainment, such as digital content, to engage new customers.
Much like ROXi, these companies place the consumer at the center of their own entertainment experience. By delivering this variety, the customer will feel appreciated, have their entertainment needs met, and will therefore not need to go elsewhere.
The Kylie Minogue backed company's successful round of funding reinforces what many in the entertainment tech sectors have understood for some time. The company places the user at the forefront of their entertainment experience. The hands-on approach and the way that listening to music has been elevated from being something commonplace to do in the background to being more momentous is reflective of the wider world of entertainment. As other avenues of entertainment reinforce, the user is placed centrally in the world of entertainment around them, rather than just another customer tuning in.