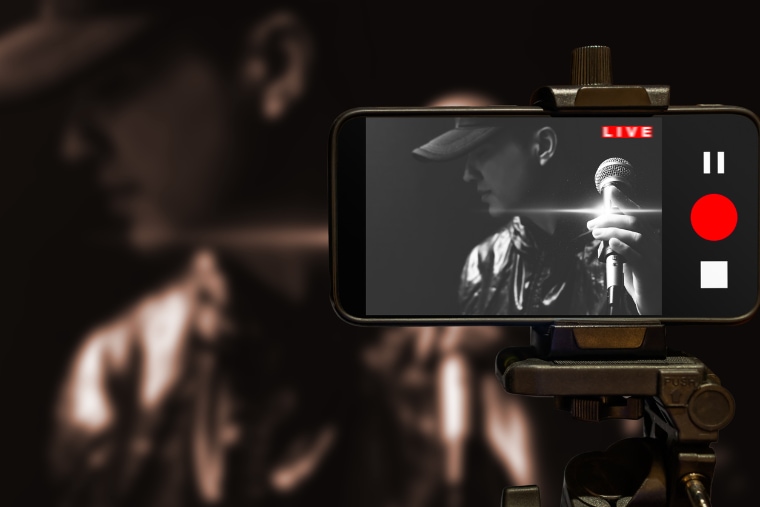 If you are in the industry of producing music, then you understand how valuable a music video is. Singing your songs to the backdrop of amazing visuals is always appealing, right?
With YouTube and other social media being so easy to traverse, you can easily bring your audience to your band and music with amazing videos.
You have seen awesome videos from bands like BTS and Blackpink, right? You can give your music videos the same pizazz with many of the free online tools available.
With technology improving by leaps, it is now possible to shoot, edit, and post your videos right from your smartphone.
But do you know the steps of producing quality music videos?
Here is your go-to guide to making music videos that will get you tons of subscribers and fans! You can use InVideo for making these videos.
Steps for Making Amazing Music Videos
1. Choose the Song
If you are an up and coming band, you might not have a large number of songs in your songbook. And don't choose to write a new song to go with your music video. Choose a song that has been around for a while, and has garnered positive vibes from your audience.
If you plan to cover songs by other artists, then you need to make sure that you have acquired the rights to the song or have cleared any legal issues for the same.
2. Create an Amazing Concept
Once you have the song ready, you need to create a good concept for the music video. You can create a concept that revolves around the deeper meaning of the song lyrics, or you can create a concept that vaguely relates to the song while ensuring the audience's attention.
While creating the concept, decide on how many people will appear on the video. Other than the band members, would you want to incorporate extras? All these questions need to be finalized at the time of creating and finalizing a video concept.
3. Allocate a Budget
Although budgets are not exciting, you must maintain one for creating your music video. You don't need an excessive amount to produce quality videos; however, whatever you need to spend needs to be decided on before you start shooting and producing the video.
Be honest and realistic about what you can spend on creating the video. Once you have an amount specified, you can start allocating to different avenues – costumes, recording equipment, post-production, and marketing.
4. Choose the Cast and Crew for The Video
Once you have the budget sorted out, you need to start thinking about who will appear in the video. IF you plan to have the band members appear, are you going to include other extra characters? Are all the members willing to appear on video?
You also need to hire someone to direct your video. The person must understand the vision of the music video and interpret the same on camera. Along with the director, you also need to hire people to operate the cameras and other sound equipment.
5. Mark Your Filming Days and Locations
Decide on a strategy and schedule for shooting the music video. Even a 2- 3 minute of the music video might take you an entire day to shoot. Choose shooting locations based on your video concept and budget. You want your videos to look good, but you can't choose high-end posh locations on a small budget.
Make a list of the equipment, costumes, and other things you will need to shoot on each day. Forgetting even a small item might derail the shoot for an entire day. You also need to ensure that you keep buffer days for completing each part, as due to unforeseen circumstances, you might need to delay the shoot.
6. Use Live Footage
Nothing converts an audience than reality. Film the band during live shows. Capture the band members' energy as they perform to a live audience, film the interaction with the audience. Insert the footage into the video holistically to mesh well with your decided concept.
Having a few individual shots of each member singing is also a great way to personalize the band to the audience through the music video.
7. Use a Reliable Software
Once you have recorded all the footage you need, you can start the post-production for the music video. Use software that has all the elements you need to mix the song, video, and other sound effects seamlessly. If you choose to go the YouTube route, you can use one of the many YouTube intro makers to produce the video.
You don't need to pay excessively to use the editing software. Most of the editing tools are free to use, with payments only for the pro versions. All the free software is fully equipped to help you edit videos and give you a polished end product.
8. Promote
Once your music video is ready, you need to generate interest in your audience. Here also there would be no need to pay excessively. Use Instagram, Facebook, Twitter, and other social media platforms to promote your video. Post snippets of the video, make a poster for the release, offer exclusive offers for the few registrations. Check this site out.
Approach social media influencers in each platform, and ask for collaboration to promote your video. Many web shows release direct to social media – you can ask to appear on these shows to promote your videos. Once you are sure that you have marketed your video to all your target audiences, you can release your music video.
Conclusion
Here are the 8 essential points to be aware of if you have decided to make a music video. Other than these, the other few things to note are:
1. Don't overdo things. Follow your concept and strategy to create the music video. If you need to make changes, discuss your thought process and reasons with all the members to reach a consensus.
2. Don't use too much background visual and sound effects. You need to focus on highlighting the song and how the video compliments the entire concept behind the song.
Use these few tips and tricks to make amazing music videos that appeal to your target audience and beyond.