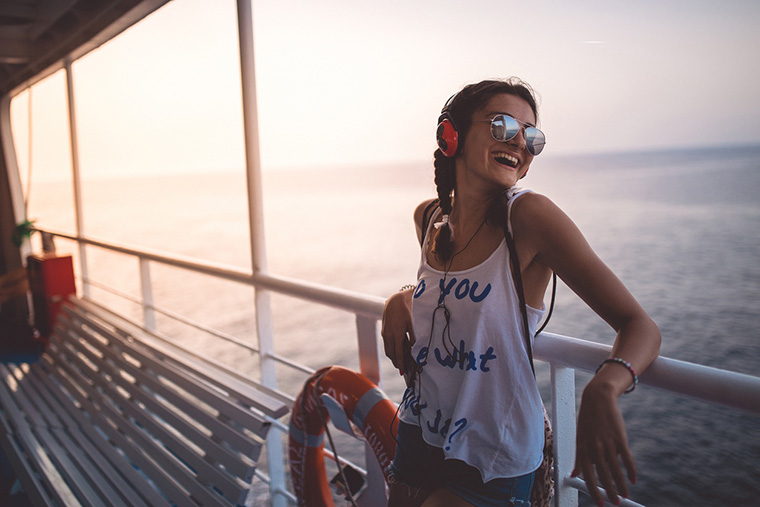 There are some songs that automatically get you in the mood to cruise and get you grooving. Discover the best cruise songs here.
Cruising is more popular than ever. Since 1970, the industry achieved 2,100% growth! If your cruise is right around the corner, you should get yourself in the mood for your cruise. For most, this is looking up the cruise pictures or researching all of the activities to do on the ship and on land. If you're a music fan, you can create a cruise playlist to get you pumped for your vacation.
Here are the best cruise songs!
"Come Sail Away" by Styx
Styx is one of the most legendary rock bands for a good reason. Their songs are catchy and powerful. But one song screams "it's time to cruise" more than the rest of their songs. "Come Sail Away" has appropriate lyrics (I look to the sea/reflections in the waves/spark my memories). The ballad is heartfelt but leaves you happy rather than upset. So sing the lyrics as you prepare to depart on your cruise!
"Under the Sea" by Samuel E. Wright
There's no mistaking you know this famous Disney tune! The minute we hear the opening melody, we can't help but dance and sing the lyrics. This song is especially fitting if you plan on snorkeling during your vacation or participating in any underwater activities.
"The Cha Cha Slide" by Mr. C The Slide Man
Every cruise ship offers cheesy activities. One of them is dancing to classic hits, and there's a good chance "The Cha Cha Slide" will be featured on the soundtrack. So make sure you practice "sliding to the left" and "sliding to the right." Oh, and don't forget to "take it back now, y'all."
"My Heart Will Go On" by Celine Dion
Will you embark on a cruise ship with your lover? You'll likely impersonate Jack and Rose's "I'm Flying!" scene from the Titanic. Even if you're not, you can't help but listen to the famous Titanic theme by Celine Dion before your cruise. "My Heart Will Go On" is bittersweet but it helps us think about the movie and the good memories we gain while on a cruise.
"Kokomo" by The Beach Boys
Honestly, any Beach Boys song is appropriate for a cruise. However, no song embodies the paradise of the beach like their hit "Kokomo." Unfortunately, Kokomo isn't a real place. The Beach Boys made it up for the song. Regardless if your cruise is taking you to Aruba, Jamaica, Bermuda, Bahama, Key Largo, or Montego, listen to this classic song and soak up the sun!
"Soak Up the Sun" by Sheryl Crow
Cruises offer a myriad of fun activities, such as ziplining. But do you want to do nothing, other than sitting back and, well, "soak up the sun?" Then this Sheryl Crow hit is for you! "Soak Up the Sun" is the ultimate summer anthem, reflecting on good times under the sun and at the beach. You can relax by taking a wonderful, Mediterranean cruise and use this song as your cruise anthem!
Whether you want to relax or embark on an adventure, a cruise is an ultimate vacation. To prepare you for your cruise, these cruise songs will get you pumped! Do you dream of being a professional musician? After your cruise, follow the music industry advice we offer on our blog!