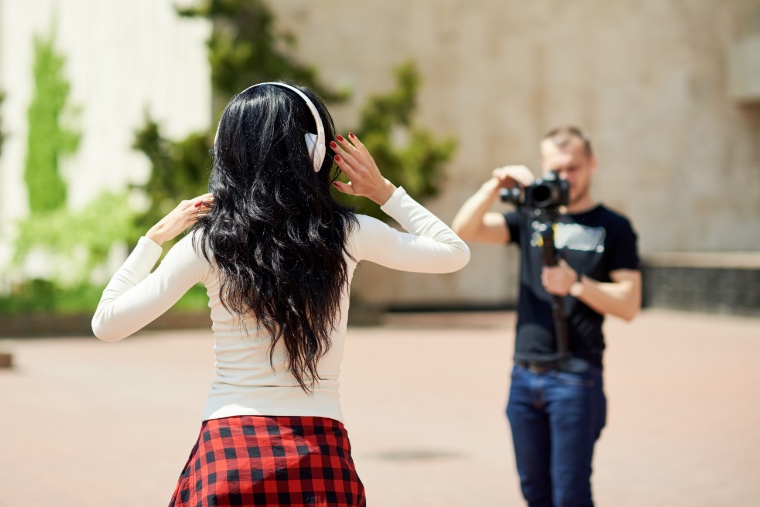 Music videos have become a staple in the music industry. Especially now that technology has encouraged people to become more visually inclined, it's not enough that you're a good singer—you need to have a music video, too. A music video will boost an artist's exposure and visibility exponentially.
Today, all songs are launched together with their own official music videos. These music videos are available for viewing on a variety of platforms. But the best place to visit if you want to see some really cool and new music videos is YouTube. This free music video sharing website has a huge library of music videos that everyone can access from anywhere around the world. You need a music video maker app if you want to make a music video that you can upload on platforms like YouTube, so it's best to check reviews of the different video-making software applications available today. Other than music applications you can make videos with live musical instruments such as pianos by buying pianos for sale online.
But how did the music videos that we watch today came to be? Let's find out!
Brief History Of Music Videos
1894 – Illustrated Song 
Music videos trace its origins back to the 1920s, but the first time music was merged with a film was back in 1894. Edward B. Marks and Joe Stern, who were sheet publishers, hired George Thomas (an electrician) to synchronize the live performance of their song with a magic lantern to project a series of live still images. This would later on become a popular form of entertainment called as illustrated song back in the day.
1920s – Musical Short Films
Things were wonderful for the music video industry in the 1920s and 1930s. The silent era of cinema was starting to end and the whole movie industry was beginning to revolutionize itself by figuring out how to integrate sound into films.
At the time, the revolution was considered to be the end of the cinema industry by a lot of film theorists. But for others who viewed it as a welcome change, they thought it was a necessary thing to do to figure out how sound could affect moving images.
The first film ever to successfully sync audio and moving images at the same time was the Jazz Singer. The Jazz Singer was a pioneer in the whole movie industry as, for the first time ever, people could actually see a music performance that wasn't live! Before the Jazz Singer was made, you can only see your favorite artists and singers through a picture of them, or if you're lucky enough to see them perform live.
1930 – Crying For Calorine (Spooney Melodies)
The Spooney Melodies were a series of live-action shorts produced by Warner Bros. from 1930 to 1931. The series was made to showcase the most popular tunes at the time and was shown in movie theaters before the main presentations, which eliminated the need to see an actual full-feature film just to hear some music and sound. The shorts also feature a performer playing some quick segments of music.
1965 – We Can Work It Out (The Beatles)
As film technology and 16mm continued to improve and became cheaper and more accessible, it allowed everyone to capture natural photos and videos. The growth of broadcast television and the rise of pop culture in the 1960s has developed new ways for music artists to promote themselves.
Widely considered to be the first music video to be broadcast on television was "We Can Work It Out" by the most popular rock band of all time, The Beatles. The band didn't need to promote themselves even more since they were already so popular at the time. They found a way to promote their record releases without having to perform live and that is to create a music video. The concept behind the music video was very straightforward and was meant to blend in with the TV shows during that time.
Music artists of today are also utilizing music video and photography to promote their albums. Their promotional pictures are usually found posted on the photo-sharing social networking site Instagram. Note that they include hashtags, which help categorize content to make it more discoverable by their target audience. You can check out here more information about using hashtags in your photos.
1981 – MTV (Music Television)
MTV was launched in 1981 and, by that time, music videos have already shown their impact to the music industry. During this time, music videos were among the main platforms for new artists to gain attention and rise to stardom. Music videos were also used by consolidated artists to show the public their latest works. It was also during this time that creating music videos were considered to be more costly than feature films.
2005 to 2021 – YouTube Era
Although music videos were already on the internet since 1997, it was only when YouTube was launched in 2005 that the whole music industry changed for good. YouTube quickly took over and became the main platform for artists to gain attention and reach a worldwide audience. What's good about YouTube is that users can easily download music or music videos from the website using third-party downloaders.
Final ThoughtsWith the global pandemic prohibiting live concerts and performances, the only way for artists to consistently reach their audience and gain attention is to launch music videos on the internet. So, it's expected that music videos will become more popular in the future and more important to the global music industry.