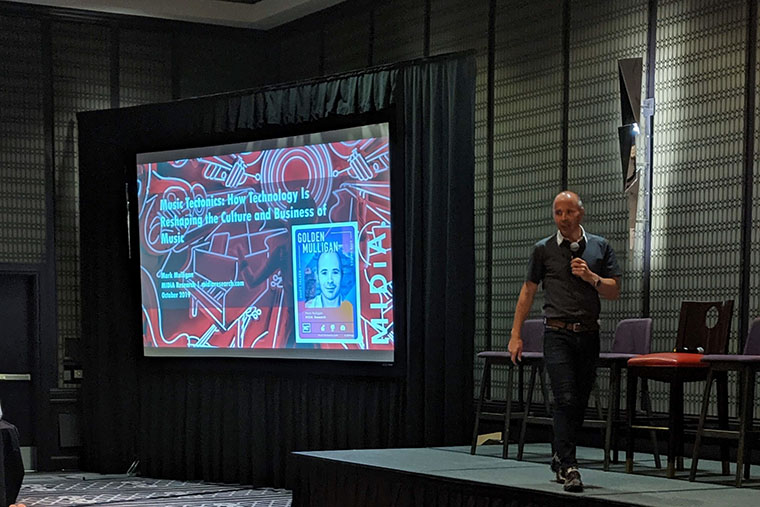 Music Tectonics Releases Thought-Provoking Keynote Recording Thursday, November 14, 2019
When Mark Mulligan of MIDiA Research opened the first annual Music Tectonics Conference in October in Los Angeles, he lobbed visions from the future into the audience. His unique mix of trendspotting, economic analysis, and prediction is now available on the latest episode of the Music Tectonics podcast, available Thursday, November 14, on every major podcasting platform. 
Some of the stand-out information presented in Mulligan's keynote include:
The attention economy has peaked. For the first time since their explosion, mobile game engagement is shrinking. Music apps can expect a similar trend as innovations in any media sector will take away attention from another sector. There is no more time to take away from the market. 

We have reached the end of the mainstream era where massive stars create cultural moments shared by all. The future of amassing large audiences is through one niche at a time across multiple territories around the globe. The broadcast model for expecting large mass audiences to all adopt the same music is over. It's all about segmentation. 

Self-empowered artists will continue to shift the power dynamics of the music industry, even for labels. Many are independent, but regardless of whether they are or not, expect to see more artist-driven approaches to success. 

Publishers currently get about 15% of revenue from streaming services. Labels get 50% or more. As a result publishers are shifting their rights ownership now that it is clear that royalties for masters will continue to get a bigger piece of the streaming pie. 

Streaming will inevitably plateau. Mulligan presents four options he sees for moving forward when that happens. 

The secret sauce of the next music gold rush is how to make money from fandom, not streaming. Mulligan points out China as an example of this move toward monetizing fandom rather than consumption. As a country where popular culture has recently been reinvented with the influence of social media, China offers an alternative model to Europe and North America where past industry patterns are still being transposed onto the streaming world. Mulligan thinks the biggest opportunity coming in music is monetizing fandom.