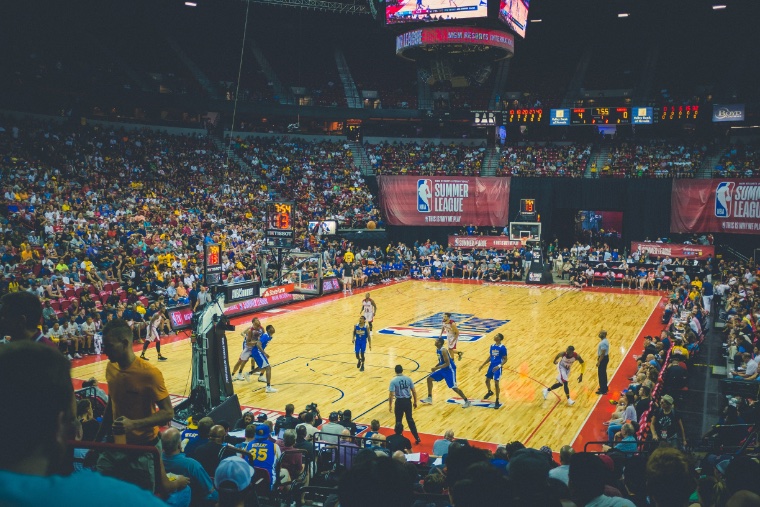 Over the years, NBA players have been given bad raps. Then there are NBA players like Shaquille O'Neal, Victor Oladipo and Damian Lillard who have performed rap, both good and bad. There are even rap stars such as Nas and Master P who played in the NBA. The Detroit Pistons actually extended a tryout last year to rapper J. Cole.
However, there's another connection between rap and the men who work the hardwood in NBA arenas, and that's those NBA players who are mentioned in the lyrics of rap songs.
Several NBA players have also inspired the creative juices of talented rap stars. And some of them are truly touched that they've been included in a hit song, and perhaps even by osmosis, played a role in making those beats come together. A typical NBA betting strategy would involve determining which team is going to win and which team is going to get beat. In this case, though, it's about which players are winning their way into the heart of a rap star and in the process, helping them to put down some winning beats.
Players such as Kobe Bryant, Devin Booker, Magic Johnson, Larry Bird, Bernard King, Lou Williams, Vince Carter, Dwyane Wade, LeBron James and Steph Curry are among numerous NBA players who have either been the subject of, at the very least, earned a mention in a rap hit.
Nick Van Exel
Initially, Van Exel, then a guard with the Dallas Mavericks, was unimpressed when two of the biggest stars in the industry, Jay-Z and Beyonce, combined on the song that included him in the lyrics, their 2003 hit Crazy In Love. Eventually, though, the song grew on him.
"We had that great playoff run and later on, people were telling me about the song," Van Exel told NBA.com. "And then when you went in the clubs that summer, that was the song they were playing, and I'd see people pointing at me.
"It was a good night when that song came on. Then, on the radio, it was the only thing you'd hear. So I was like, all right, this is my jam right here. This is the jam."
Rolling Stone ranked the song No. 3 among the top 100 songs of the 2000s. Eventually, Jay-Z and Van Exel met and struck up a friendship.
"He's a basketball fan," Van Exel said, "and I guess he saw me play and said, 'Man, this boy is killing it.' I also assume my last name was a challenge for him to word-play. The way he spun it and pulled it off, I thought that was nice.
"I officially crowned him the champ."
Kawhi Leonard
After the Toronto Raptors won the NBA Finals over the Golden State Warriors in 2018-19, St. Louis artist S The Second penned Kawhi (MVP). It's a tribute to Leonard's run to his second NBA Finals MVP award as he led the Raptors to their first title.
Leonard won his first NBA Finals MVP with the San Antonio Spurs in 2014, and that achievement was also recognized in song – sort of. Leonard made a cameo appearance in a rap video by TYGA in the summer of 2014.
Markelle Fultz
This one is a bit of a tear jerker, a heart-warming story taking into account the value of the bonds of close friendship. Dennis Smith Jr. and Fultz grew tight during their time together as rookies at the NBA Summer League.
When Fultz encountered his share of struggles to launch his NBA career, Smith Jr., who was also longtime friends with J. Cole – they're both from Fayetteville, N.C. and have known each other for years – was relating Fultz's difficult journey to the five-time Grammy winner during a conversation.
The next thing Smith Jr. knew, J. Cole was rapping about Fultz.
"He was going through a situation and it was a tough situation for someone mentally," Smith Jr. told NBA.com about Fultz. "Cole said, 'Let me holla at him.' They just locked in. Cole chopped it up with him and one thing led to another. Crazy."
Billboard Magazine rated the song at No. 6 in 2019, but it's clearly No. 1 in Fultz's opinion.
"It was dope," Fultz told NBA.com. "Him shouting me out on a song really showed the love and the person he is. I play it a lot, all the time. I love it. To get put in a song is like, dope, an honor."