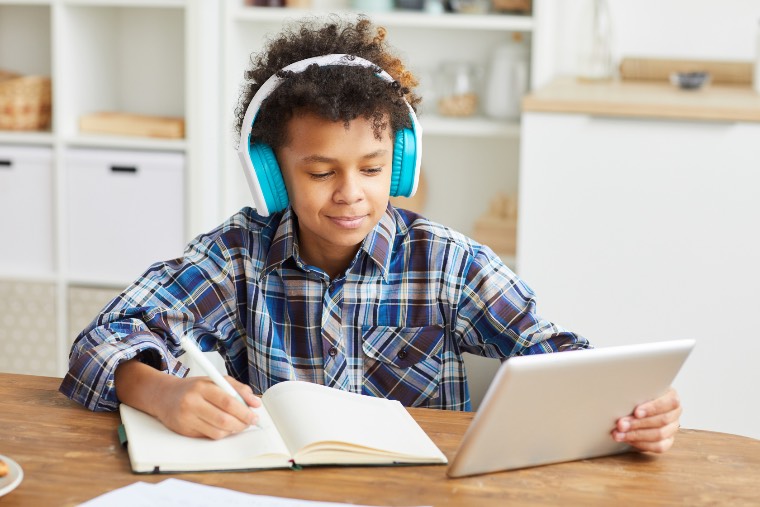 Today's children are more proficient in reading, writing, counting, problem solving, and math than ever before. Although it is a good idea to start learning numbers and literacy at an early age, it may be detrimental to other educational opportunities, such as the fine arts. For example, music education is often overlooked or cut because it seems less important than core subjects. However, there is strong evidence that music supports learning in many ways.
Why is music education important for children?
Children can learn about music from a young age, which will help them develop large motor skills, creativity and social skills as well as improve their attention span and focus.
Recent studies show that early music education can also help a child transfer  their language skills to school. This transfer happens even before children develop literacy skills. Music can be beneficial to them starting in early childhood, such as daycare or preschool.
Below we'll share some ideas for teaching music to young learners.
Homemade musical instruments
You can Introduce your kids to music by making instruments from recycled materials; some examples include a shoebox guitar, a hand drum and maracas. Get creative and find anything in your house that creates noise. Such homemade instruments can be used to make children acquainted with beat, rhythm practice, and much more.
Get up and dance!
Dancing is the easiest activity parents can do together with their children. Music inspires us to move. This is how our children can develop motor skills and express their love of music. There are tons of music videos that can be used to encourage kids to dance. Consider adding some nursery rhymes and kids videos with songs to their daily routine.
Teach kids to keep a beat
Children who are engaged in music from an early age, such as at 2 years old, will be able to experience it better. This is a great opportunity to teach preschoolers and toddlers how to make beats by tapping their fingers, clapping or banging on a drum. Start with songs that use hand motions such as Itsy Bitsy Spider. Give your child a spoon, a pot or a drum and teach them how to beat by tapping or banging to the beat.
Practice rhythm patterns
When young learners are able to follow along with their favorite songs, you can move on to teaching them how to imitate or tap out different rhythms! You can start by picking songs with unique rhythms, like Row, Row, Row Your Boat. Learn how to sing round together, and then talk about rhythms by using rhyming, or reading books. To find out different rhythms and rhyming patterns, listen to several songs!
Listen to child-friendly music
The last and most important tip is to listen to music as much as you can. This will allow your child to discover different styles and types of music. Find kid-friendly music your child likes to dance to and listen to. Listening to more music will help your child discover new genres and songs that will increase their motivation and interest in learning about music.Parents and teachers can get caught up in teaching children the basic subjects but it is also important to teach our children the fine arts. This means music education and visual arts education should be integrated into the school day. Coloring sheets could be one option to get children to work with color and visual images.