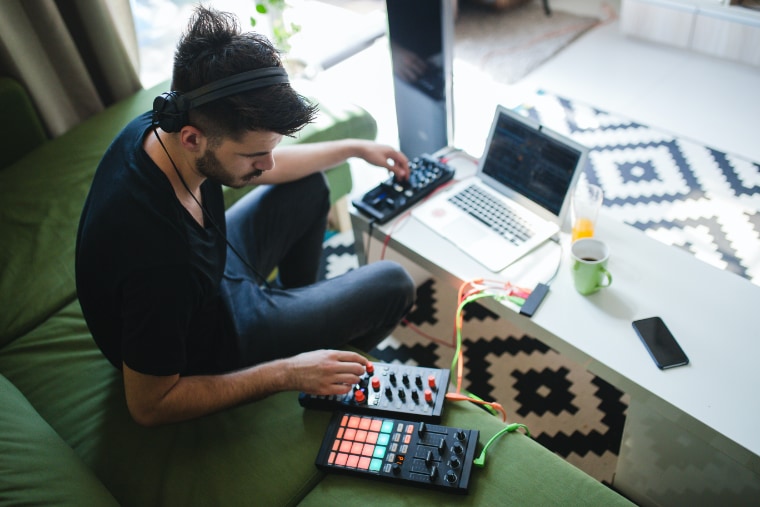 Are you an aspiring artist or music producer looking to get your name in the music world? While you may be talented and skilled in the art, getting the attention of everyone who loves your genre can be tricky. Luckily, a portfolio website can help you break your barrier to fame and get the whole world buzzing about your skills in a blink. Here are the details on how to advance your music career by creating a
portfolio website
.
What is a Portfolio Website?
A portfolio website is a web page you can create and use to showcase your work, products, or services. It serves as an online resume to attract new clients and establish yourself as an expert in your art. Online portfolios contain details about yourself. This can be anything from your band or musician name, educational background, languages you speak, music genre, and achievements. With more than 59.5 percent of the world population using the internet, creating a name for yourself in the virtual world of music has never been more essential than now.
Why Should You Have One?
A portfolio website is an excellent way to
promote your work
and gain new fans. It serves as a repository for all of your best work. Once you have created one, music enthusiasts will easily access your videos, audio files, photographs, and updates on upcoming projects. The music industry is also built on relationships and contacts. As an independent artist, it's tough to keep track of all your contacts. A portfolio website can help you create better relationships with other musicians and music industry professionals. Once they see your impressive projects, they can contact you for gigs, collaborations, concerts, and more.
How to Make Your Music Portfolio Website Standout
Creating an impressive music portfolio can be challenging, but it doesn't have to be. Following these tips will help you make your online music portfolio stand out.
Have a Great Headshot
Your headshot is your calling card. If you don't have a professional picture, people won't take you seriously. Avoid poorly lit, confusing, or just plain ugly photos on your websites. In-focus, well-lit photos are essential for getting you gigs and creating a serious presentation. It will also make booking live shows easier since promoters want quality headshots when advertising open slots.
Add Showcase Videos
Showcase videos are like a movie trailer for your music. They give potential fans and clients a sneak peek at what they can expect from you. Now that everyone has smartphones, it's easier than ever to take videos of yourself performing your craft. Think about including these videos in addition to photos and text blocks. This gives your fans additional ways to experience you and connect with you on a deeper level.
Create an Audio Playlist
Having photos and videos is not enough. Let fans hear your voice. By creating an
audio playlist
on your portfolio, you can not only show off your exceptional talent but also create a virtual store for fans to purchase your music and merchandise.
Include Links to Other Platforms
Connect your music portfolio with all other social media accounts, including YouTube, Facebook, Twitter, SoundCloud, and Instagram. This way, you'll have more platforms to showcase your work and grow an audience. You can also include links to personal websites, blogs, or magazines that have featured you. This will make it easier for potential clients and fans to find you and feel what to expect while working with you.
Update Your Website Regularly
While you may spend more time composing new music and refining your art, try to update your portfolio more often. In the entertainment industry, people like to have something new every day. Regular updates will also keep potential fans and investors coming back for more. While updating your platform is necessary, please do not overdo it. Posting too much can be annoying and make your site appear less professional.
Promote Your Site with Free Downloads
Create a few high-quality tracks and upload them online for free. This gives you valuable exposure on sites that store music. It can also help you gain fans who support your music by purchasing your entire album.
Include Your Achievements and Awards
If you have some remarkable accomplishments, include them in your music portfolio. Besides, displaying your strengths, achievements and awards make you the better candidate among your competitors. The key here is to find ways to turn them into something unique for your music portfolio.
Showcase Every Type of Genre You Do
Do you compose jazz music, or maybe you play classical piano? Or perhaps you play a mean kazoo and some country. Let people know about every music taste or variety they can listen to through your music channel. This way, you will attract fans and managers from every corner.
Summary
Like every other field, music needs a portfolio. A portfolio website is a collection of your best work showcasing your strengths and abilities. Whether you're looking for new work or pursuing artistic opportunities, having a solid site will help you make a powerful impression on potential fans and clients.