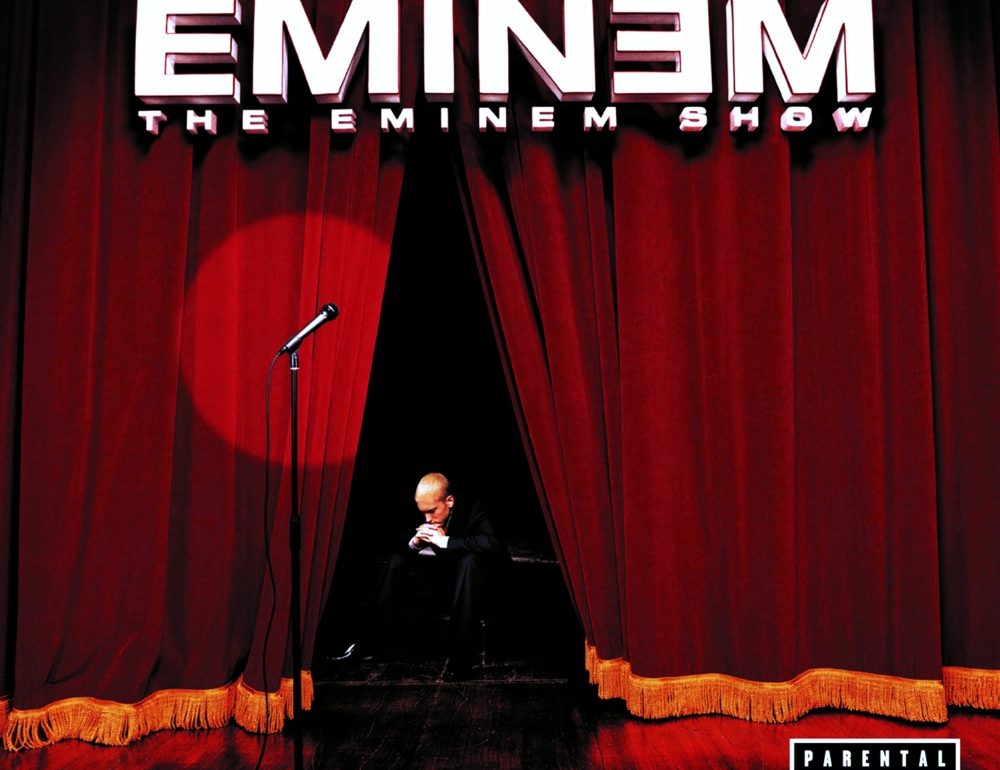 Can it really be twenty years since a blonde haired, blue eyed rapper from Detroit was causing such a stir in mainstream music? Well, you best believe it, because Eminem's 2002 smash-hit album The Eminem Show is now only a year away from being able to legally drink in bars. The album was released on 26th May 2002, and went straight in at number one on the Billboard 200. It was his second album to hit that top spot after 2000's Marshall Mather's LP. Amazingly the next eight albums he'd release from then would also do the same, meaning that Eminem is the first ever artist to have ten consecutive albums debut at number one.
This album absolutely solidified Eminem as one of hip-hop's legendary MC's and was stacked full of hard-hitting songs that showed off his lyrical expertise, his exquisite rhyming skills, his razor-sharp wit, and his innate ability to tick off everyone around him. What better way to celebrate twenty years of The Eminem Show then, by taking a quick look at our pick of the top tracks off the seminal album.
'Without Me'
The lead single from The Eminem Show was 'Without Me', which is a comedic takedown of pop culture, much in the same vein as his previous album's lead singles. The beat is an infectious ear-worm that sounds cartoony, but Em's erratic wordplay, paired with his capacity to fire off insults that are somehow both vicious and funny, lend it a serious edge on repeat listens.
The music video is hilarious from start to finish too and continues with the parody themed wackiness that began in his earlier videos for 'My Name Is', and 'The Real Slim Shady'. Our favourite parody video of his, though, is 2009's 'We Made You', which features among others, him and his master producer, Dr. Dre, in full costume as Tom Cruise and Dustin Hoffman from Rain Man, with Em playing the Hoffman character obviously. It was filmed in Palms Casino Resort in Las Vegas, which is a gambler's paradise.
If you want to visit a gambler's paradise but don't wanna visit Vegas, head over to VegasSlotsOnline, as they bring all the high-octane excitement of Sin City straight to you over the web, wherever you are. They allow you to find the perfect new online casinos for 2022, with each listed choice offering flawless gaming, hundreds of fresh titles, and 100% safe gambling. Plus, they have all the latest bonuses available to their users, meaning you can get cash-back upon sign-up, and even many free virtual slot spins.
'Business'
Dr Dre features heavily on this bouncy beat, as Eminem skilfully tongue twists his way along it, reminding everyone that he and Dre are going to be around for a long time, and that there's nothing any of us can do about it. Apparently, they're gonna be here till they 'grow beards, get weird, and disappear', which is a lyric that makes Em's decision to rock a beard since 2017 seem like he's only a few ramblings away from leaving us. We hope not though.
'Sing for the Moment'
Sampling rockers Aerosmith's early seventies emotive ballad 'Dream On', on 'Sing for the Moment' proved to be a genius move by Eminem, who also helped produce the track. The mash-up of rock and rap syncs together perfectly and was obviously influenced by Aerosmith's earlier team-up with rap-heavyweights Run DMC, on the 1986 song 'Walk This Way'. Interestingly, the band's guitarist, Joe Perry, actually plays the guitar solo that features near the end of 'Sing for the Moment', and even appears in the video.
The lyrics contain Eminem explaining why he makes music, and that he understands why parents of children who listen to his rhymes hate him, but that they're missing the real point. Which is that he often can inspire kids to continue through tough times, as well as swear a lot. It shows the emotional maturity that the rapper can weld and continues on from 2000's 'Stan' as highlighting his thoughtful side on the numerous trappings of fame.
'Till I Collapse'
Now known as one of rap's most high-octane tracks, 'Till I Collapse', is a banging ode to overcoming adversity, and is such a powerful foot-stomper that it finds itself featured on nearly every gym workout playlist on Spotify.
The shouting style flow that Em uses on the track, at this point still felt not overused by the rapper and had listeners feeling that they could take on anything. Add in the typically booming Nate Dogg (RIP) sung chorus, and it's truly a spine-tingling affair, absolutely deserving of its place as a 'nothing can hold me back' anthem.