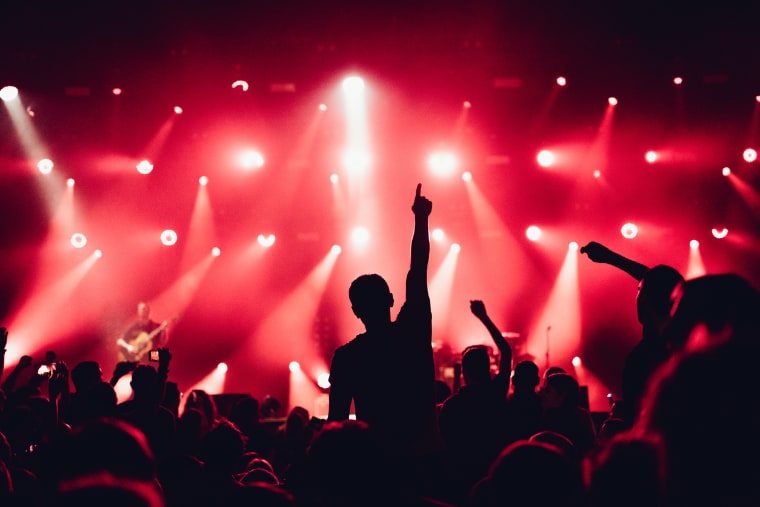 Music-lovers and slot fans unite!
If you love music and gaming, there's nothing better than combining your two passions into an intensely fun and melody-filled good time with music-themed slots.
Get ready for exciting games and big wins with an incredible gaming experience and the soundtracks from your favorite musical genres.
Rock 'N' Roll
From glam rock to heavy metal and everything in between, these rock-slot tributes are sure to get you singing along at the top of your lungs.
Guns N'Roses
Relive your favorite classic rock with the Guns N'Roses-themed slot by NetEnt. As soon as you press "play" you are instantly immersed in the theme with an intro video featuring the band rocking out to Sweet Child O'Mine.
You get to pick from a setlist of 5 hit songs while you play, featuring favorites like Paradise City and Welcome to the Jungle. Rock on with Axl Rose, Slash, and Duff McKagan as the high-paying symbols to look for, along with guitar picks from their albums.
With special features like expanding wilds, Appetite for Destruction Wilds, Encore free spins, Legend spins, a solo multiplier, and a Crowd-Pleaser bonus, it is chock-full of big wins. Make sure you turn the volume up for this one because this one's so good you might actually think you're at a live show, rather than playing a slot game at all.
Motörhead
What could be more perfect than authentic footage of Lemmy and company singing their iconic gambling-themed song, Ace of Spades? For rock fans out there, it doesn't get any better than the Motörhead slot by NetEnt.
Activate rock mode as you listen to famous anthems like Overkill, Killed by Death, and Iron Fist while exploring the Mystery Reel, 75 paylines across 5 reels, and loads of special bonus features.
Pay homage to early English rock with this exciting slot with tons of chances to win big.
Kiss
Rock out American-style with the classic band, Kiss. The game's symbols are all on-point with individual band members, the group, an electric guitar, and Gene Simmons' notorious tongue all included.
This slot's killer soundtrack includes Detroit Rock City, Rock and Roll All Nite, and Shout it Loud. Crank up the volume as you spin a massive 5×12 reel that creates 100 paylines with multiple-line wins.
With tons of bonus features, free spins, and a 20x multiplier, you'll feel like a rock star too playing this awesome slot by Williams Interactive.
Broadway Tunes
Andrew Lloyd Webber's Broadway masterpiece takes center stage when it comes to musical theatre-themed gaming with two different Phantom of the Opera slots!
The Phantom's Curse
Based on the musical Phantom of the Opera, The Phantom's Curse slot is a theatre fan's dream come true. This musical masterpiece incorporates the classic soundtrack as well as amazing 3D graphics.
GREAT LOOKING 3D FREE SPIN SLOT
Relive the timeless story of the phantom, complete with captivating opera music and an immersive visual and auditory experience. With 40 fixed paylines, free spins, and bonus features, this mysteriously beautiful slot is a winner in our book.
The Phantom of the Opera
Hold your breath as the curtain opens… the opera is about to begin. This epic slot-adaptation of the 2004 film version of Andrew Lloyd Webber's classic Broadway musical.
Use the Phantom's mask scatter symbol to activate your choice of bonus features and choose from free spins like Music of the Night or All I Ask of You. With 243 ways to win, authentic imagery in the symbols, and leading characters from the movie featured, this slot is jam-packed full of thematic features.
The game features a superb soundtrack that you just can't help but sing along to and the classics features from the musical that make you feel like you're in the film.
Jazzy Slots
Take a trip back to New Orleans of yesteryear with these slot games inspired by jazz music. Grab a scotch on the rocks, start tapping your toes, and get ready for the best jazz slots around.
The Jazz Club
Step into an authentic Bourbon Street jazz club and sit back for a drink or two while you enjoy the tunes. This slot from Playtech has taken Jazz to the next level with its perfect atmosphere and laid-back tunes.
The Jazz Club offers Expanding Wilds, ample scatter payouts, and the main bonus game, the Jazz Solo Bonus where you can win up to 14 free games, with winnings multiplied by 4x!
Jazz of New Orleans
Mellow and progressive, lighthearted and cool — the Jazz of New Orleans slot is the hottest new jazz club around.
Opulence is the keyword here with bonus rounds, scatter symbols, and a chance to win 200 free spins! Gaze at the backdrop of the city of New Orleans as you spin your way to the lap of luxury with your favorite boozy tunes to carry you along.
Rock on & Win Big
As the famous Jack Kerouac once said, "The only truth is music" and for music-loving gamblers, there's no better combination than your favorite tunes and thrilling games.
Never again be bored by the generic background music of regular slots with these great music-themed slot games, you're sure to find one that suits your taste and ramps up your gaming experience.