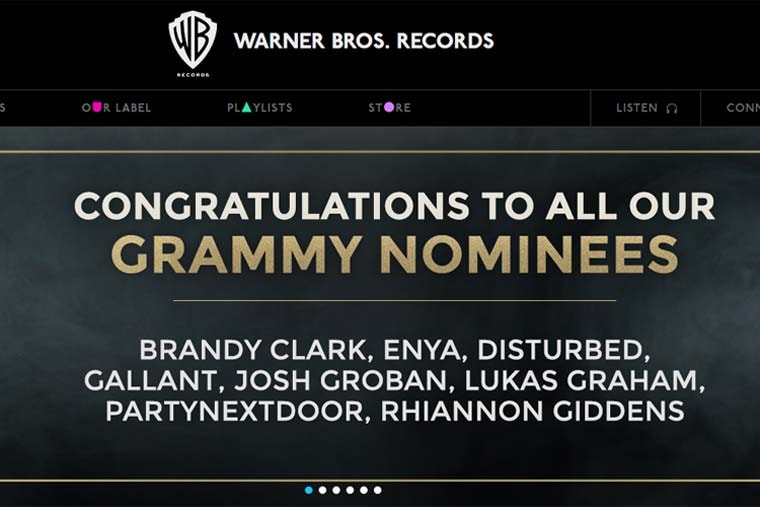 Eric McLellan began working in the music industry as an intern at Universal Motown Records in 2004. Upon graduating college Eric worked at Sony Music in Creative Services and video production for four years.
He came onboard at Sire Records in 2008 and worked his way up the A&R ranks. Eric is currently Director of A&R at Sire Records / Warner Bros. Records and most recently ADA. His position entails discovering, signing and developing artists to the iconic Sire Records roster and handles all day-to-day A&R duties at the label.
Eric's more recent signings include rapper Deniro Farrar who he brought to Vice Records and Warner Bros. Records and UK band Alvarez Kings. Eric also manages a buzzing Miami rapper named Cashy.
Stop The Breaks had the pleasure of interviewing Eric about a range of topics, including his come up, what A&R means in today's era, how an independent artist can promote themselves using the available tools, Sire Records, and plenty more.
1) Tell us a little about yourself and your background.
Let's see. I grew up an only child along the Jersey Shore area, in and around an incredible music scene. Baseball and art are my true passions. I love hip-hop and all the subcultures and am an avid-vinyl toy collector.
2) What made you want to work in the music industry?
There were many elements, really a succession of events leading up, that I think ultimately lead me to realize I want to work in the music business. As backstory, I've always been a fan of music! That's the number one thing in this business.
Around my junior year of school a lot of music business schools began popping up like NYU, Berkeley School Of Music, USC, Northwestern. I took a look at a lot of their curriculums and noticed there were core business courses, but also some specific music related coursework.
I met with my college advisor and learned that at Monmouth University there was actually a music business program. The one caveat, I had to sing and/or play an instrument to be part of the program and I couldn't do either!
Then, I learned in the Humanities Dept there was a program called Interdisciplinary Studies, where studies must have a certain grade point average to be accepted into the program, then they meet with advisors to build their own major.
I kept all of my business courses, but added in music courses such as "Blues To Rap," Jazz In American Culture" "The History of Rock & Roll," "Record Production," and "The Business of Music."
The courses were taught by a quirky and fiery music business veteran named Ron Frangipane, who was actually John Lennon's arranger, he produced for Janis Ian , wrote "Sugar, Sugar" by The Archies and even won an Emmy.
My professor would tell incredible stories of his career and of the music business. Around this time I also got my first internship at Universal Motown in the A&R dept. Once I interned I really never looked back! I knew this was what I wanted to do.
3) I think the title A&R is one of the most misunderstood in the industry. Can you explain what your job entails?
A&R stands for "Artist & Repertoire" historically an A&R person would take an artist, a producer, a band, writers, etc and put them in a room together and record a session for the record label. A&R's are also responsible for signing artists to recording deals.
While many of these elements remain at the core, today, with the advent of technology and resources available on the Internet, many artists already have a sound or clear direction of their music. They can record inexpensively and put music out online for the public to discover.
If I had to define A&R today, I would say it's more like Artists and Relationships. That's really what my job entails – finding artists, meeting with artists, signing artists and working with them to execute their musical vision!
On the relationship side I'm meeting new people in various disciplines of the business whether it be managers, lawyers, producers, mixers, mastering engineers, bloggers and press people, booking agents, brands, DJs, tastemakers, tech people, app developers, and whoever else might be a potential ally to partner with when working with artists.
An artist who is signed to label relies on the A&R as your music point person inside the label. We're really like an executive manager inside the building who the artist and artist manager can turn to for help and advice.
The A&R works the building and helps to facilitate the artist's goals. We are the teacher, advisor, confidant, counselor, good guy, bad guy, and central hub.
4) What's a typical day for you like?
Every day is different. I usually wake up and check my phone and see what emails or calendar items I have for the day. I'll answer some of the emails quickly that I can get to.
Ones that involve more time or thought I will wait until I get into the office. I commute to NYC everyday so during that time I can catch up writing emails or listening to some recommendations in my inbox. I get a lot of unsolicited music which I listen to.
Searching for music is probably the biggest part of my job and another aspect of my day. I'm checking out blogs or hypemachine and other online charts. I'm researching new artists and producers.
Perhaps reaching out to some of these people to develop relationships. In the evening I may go see an artist perform.
Then we have artists on the roster who are signed to Sire so I am tending to their needs. Talking with our artists and managers about business. Strategizing. Meeting with our press and marketing depts if we have a release coming up or band in market.
Really every day is a new day. There's no magic wand or blueprint in the business and a hit can come from anywhere. Brainstorming, planning and strategizing are at the root of it all.
5) What do you look for in an artist?
I look for an artist who could potentially change pop culture. Do they have something to say and what do they stand for? Obviously the songs are first and foremost, but also are they marketable and do they carry themselves a certain way. Star power. Do they light up a room when they walk in.
6) In today's world of blogs and social media, how does an independent artist build up a loyal fanbase?
I think you actually just answered the question – independent artists build up a fan base through blogs and social media! Soundcloud really levels the field for artists.
It's all about the music on that platform and there's real engagement and community. The music has to be good. After that then establish a strong team. get yourself a strong visual person.
Use YouTube to your advantage! Incredible visuals and songs can help you crack the blogs. Blogs hype up your music and the perception is that you are one to watch and on the rise. Continue growing the fan base with socials and create demand. Start getting shows and playing live.
Be the best from your local area. Secure a booking agent. Get national and international tours booked. Grow your merch business. Once all of those are lined up don't be surprised of a label or two starts knocking.
7) What role does a label like Sire Records play in an artists' career?
Sire is a true iconic and historical label. Madonna, The Ramones, The Cure, The Cult, Depeche Mode, Talking Heads, and Ice T just to name a few have all graced the roster. Today, we have a new crew of young artists paving the way and defining a sound.
We help the bands grow and develop and remain true to themselves. There's an indie spirit associated with Sire. We will finance and help the band make a record.
We have access to a team of experts in marketing, press, touring, merch, radio and various other departments. Any label's job plays this type of role in their artist's career.
8) What do you think are the crucial different between being signed to a label or grinding it out independently like Chance The Rapper?
Chance has all the freedom to do as he pleases. He's built an incredible social following and his music is really a marketing vehicle to his live show and merch business. He has leverage!!
9) If you had to advise an up-and-coming artist on how to be successful in today's music landscape, what would be your number 1 tip?
Get a video director on your team who makes Incredible visuals!
10) Last question – who's your top 5 rappers dead or alive?
1. Tupac
2. Biggie
3. Jay-Z
4. Andre From Outkast
5. Eminem
Kurupt gets an honorable mention. One of the most underrated lyricists of all time.
Related posts in Independent Hip-Hop Promotion & Marketing: