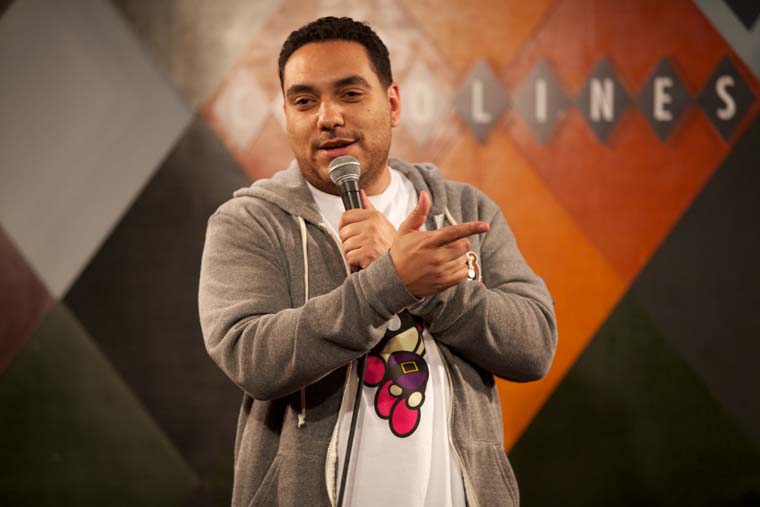 It's hard to summarise what Cipha Sounds does. For the hip-hop heads out there who don't know it, Cipha is an OG in the rap game – his first big break in the game was DJing for Lil' Kim in the early '90s as she toured around the world.
Shortly afterwards, he joined Funkmaster Flex's crew and started spinning at the legendary Tunnel club and on Hot 97. Since then, Cipha has worked at radio stations like Eminem's Shade 45, managed artists, produced music, became an A&R as well as hosted the HOT 97 Morning Show. He played a crucial role in breaking Rihanna and Rick Ross to the masses back in the day.
He's also branched out into comedy and hosts a hip-hop/comedy podcast called Juan Epstein with fellow Hot 97 host Peter Rosenberg.
I recently had the pleasure of interviewing Cipha Sounds – he spoke about taking over Angie Martinez's spot at Hot 97, spinning record at The Tunnel, what current joints could be classed as Tunnel Bangers, his top 3 rappers today and much more.
Enjoy the interview!
1) When you moved from Hot 97's Morning Show to take Angie's spot in the afternoon, how did you like it? 
It has been an amazing move. That slot was actually my dream job. I never thought I would be able to get it because no one ever thought Angie would leave. I could do my comedy and DJ at night and still get a great night sleep. I missed the action in the mornings but not the waking up at 4.30am.
2) You article – The 75 Greatest Tunnel Bangers – is one of my favourite Complex articles of all time. For those who weren't there, can you describe a typical night spinning at The Tunnel?
The Tunnel on a Sunday has a very special place with me. It was an era right before hip-hop really blew up and became so mainstream. The crowd was tough. You had to really kill it as a DJ to get the crowd going in there. The energy was tremendous.
To this day, I have never been to a club that made me feel like the Tunnel. It was like bootcamp for DJs. If you could kill the Tunnel, you could kill it anywhere. I never have fear getting on the turntables anywhere cause I know I ripped the Tunnel back in the day.
3) A Tunnel Banger is a special kind of song. Do you think there's any songs from the past 5-10 years that would rock at The Tunnel? For instance, could you imagine "Danny Glover" or "Type Of Way" becoming Tunnel Bangers?
Yeah, there are many songs that would be Tunnel Bangers nowadays. But the difference is you can hear those songs anywhere. Radio, internet, every club. What made a Tunnel Banger was that you would only here these songs in the tunnel for a long period of time before they would play in other clubs. That's what made the songs bangers. (Bobby Shmurda "Hot Ni@#a" would be a Tunnel Banger).
4) I remember you talking about 2Pac on the Combat Jack show. It seems like you have a pretty interesting relationship with his music, you went from hating anyone dissing the East and then getting to love 2Pac's music?
Yeah, I admit I was caught up in the hype of "coastal beef" but as I got older I realized its all about good music. If that many people loved Pac, I had to at least check it out.
5) In my opinion, Jay-Z's lyrics "Who's the best MCs, Biggie, Jay-Z, or Nas?" still stands true today. What is it that makes Biggie one of the greatest of all time?
They are all great but Biggie is my favorite because he could do any style. Party songs, street songs, slow jams, down south. Very versatile. Biggie's rhymes still amaze me.
6) The Jay-Z interview for the Juan Epstein podcast is still one of the best Jay-Z interviews of all time. Do you have a personal favorite?
I love doing the Juan Epstein podcast but I honestly could not pick a favorite. There are so many legendary interviews.
7) If you had to replace these lyrics "Who's the best MCs, Biggie, Jay-Z, or Nas" with 3 rappers today, who would they be?
HHHHHHHAAAAAAA, that is a rough one. I would say Jay-Z, Kendrick, Kanye, and Drake. Yeah, Jay still got it.
8) Real quick – your top 5 favourite hip-hop albums of all time?
Ready to Die – Biggie
Aquemini – Outkast
Revolutionary but Gangsta – Dead Prez
Chronic 2001 – Dr Dre
36 Chambers – Wu-Tang Clan
9) Random fact for those who don't know – you were in the Spike Lee / Edward Norton movie 25th Hour. How the hell did that happen?
It was super random. A guy named Mike Karen who worked at Atlantic records knew someone involved with the casting and suggested me. I went to meet Spike and he told me to get a hair cut and show up the next day. He said I was exactly what he was looking for. Boom!!!