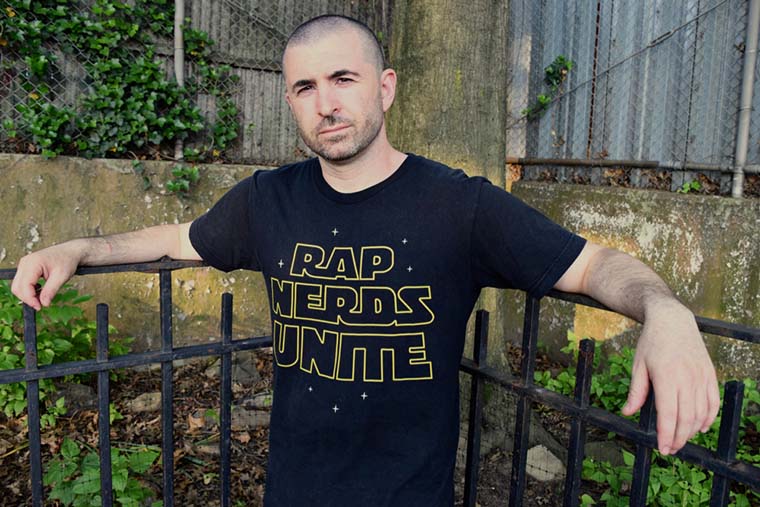 Stop The Breaks is extremely fortunate to have a network of really dope people and businesses that we constantly learn from.
As we continue to strive to become one of the top online resources for independent artists, it is important that we cultivate relationships with people such as Matt Diamond.
As the founder of Coalmine Records, a Brooklyn, New York based independent hip-hop record label, and Diamond Media 360, Matt is in a great position to school Stop The Breaks on the inner-workings of record labels, and how getting into successful writing routines can help with great music.
the independent music landscape, promoting artists and more.
1. For those who don't know, tell us a little about yourself and what you do.
My name is Matt Diamond—I'm a bonafide rap nerd/hip hop enthusiast, fancier of the American Staffordshire Terrier, and fan of olympic freestyle wrestling.
I started the Brooklyn-based indie label, Coalmine Records in 2005, and the online marketing/PR company, Diamond Media 360, which became incorporated in 2011.
2. As the owner of Coalmine Records, based in Brooklyn, can you tell us about what goes into launching and running an independent record label?
It all starts with a passion for good hip hop, and your gumption to be successfully involved in its curation. For me, I started putting out 12-inch records at a time when the vinyl industry was in its decline, prior to its current resurgence.
Not a particularly smart play, but everything was (and still is) a learning experience in this ever fleeting industry.
At the time when I launched the label, the blog culture was fledgling, and you had to rely on physically mailing product to deejays and print magazines for exposure.
Now, you can service deejays and pitch to media outlets in the press of a button, so in a way it's easier, but a bit more detached of a process. Nothing beats personally mailing a physical record to your favorite deejay, or scrambling to a newsstand to see your record reviewed in your favorite publication.
I have a deejay background, and as a long standing consumer of vinyl, it was always on my bucket list to executive produce a record and see it sold on the same shelves where I shopped.
I was always more of a fan of the 12-inch single and mixtape culture than album, per se, which is why a lot of our catalog to this day consists of singles, mixtapes and compilations. But starting with a 12-Inch was great practice for what followed suit.
For my first release, "The Raw," I put a promising Saigon, a veteran legend Inspectah Deck, and a local up and coming Brooklyn rapper (and friend) Bekay all on the same track, and the rest is history.
From there, I was hooked, and was focused on how to make this into a livelihood. I built a lot of relationships, and made a lot of mistakes, but the one constant is that I've always stayed focused on the next idea.
I think that's the key—you can't get complacent. A label or music executive is only as good as your next idea or project. You may not have control over whether or not you'll break even, but you'll always have control over your ideas.
You learn to make better decisions, be a bit more thrifty (w/o being cheap), and develop a better overall business acumen. And if the stars are aligned, and you cover all of your bases, you could turn a profit and live to do it all over again.
3. What do you think of the independent hip hop scene these days? I personally think we're in a golden age for independents.
I think the independent hip hop scene has never been as prodigious as it is now.
The term 'independent' used to define a more specific style of rap that was released independently, where as now it pertains to the DIY culture of releasing music farm to table without the influence of the machine.
This year alone we've seen independent releases from veteran legends like Snoop Dogg, Kool G Rap, and Showbiz & A.G., to name a few, but have also seen breakout artists like Joey Badass, D.R.A.M. and Blackbear, and more achieve incredible success all independently.
But as far as the independent style of music that old heads such as myself came up on—yes—it's there in abundance, so it's just not possible to complain of their being a shortage of good rap.
But if you're feeling a certain way about the culture, just enter the following names in your Spotify search bar and be quiet: Oddisee, Roc Marci, Freddie Gibbs, Saga & Thelonious Martin, Domo Genesis, Nolan the Ninja, Westside Gunn, Conway, Aaron Rose, Alpha Faktion, The Underachievers, Blu Nottz, Hus Kingpin, The Alchemist, Smoke DZA…the list goes on.
4. What's the most challenging thing about running a record label in 2017?
The biggest challenge I find is getting the necessary looks that you know you're gonna need from both a media and retail angle, to make your release a success.
From a media standpoint, it means landing the top premieres, features, and overall online support. From a retail angle it means getting the right exposure in the iTunes Music Store, and landing tracks on the big Apple Music and Spotify playlists.
The very inclusion of just one track on a big playlist could be the very difference between losing money and breaking even, or breaking even and being in the black.
Sometimes it's heartbreaking because you know that these decisions are often made by just one person, so to see that there's so much on the line at just the touch of a button can be uneasy.
It's interesting if you think about it; years back labels relied on people getting off their ass to physically go to a store and buy the product. Nowadays, you can have playlist tastemakers literally press a button that can have your song featured on a playlist that can have your track streamed by millions in a revenue generating capacity.
So in a sense, the success of a lot of artists that are buzzing is further magnified by getting look after look. If it seems a bit manufactured, well, it is.
5. Tell us about Diamond Media 360 and how it fits within your brand.
Diamond Media 360 is the result of starting a label and soaking up game. It's essentially an à la carte menu of label services from Online Marketing/PR, digital distribution, radio promo, social media management, graphic design, and so forth.
Shortly after I started Coalmine, artists, managers, and other labels started reaching out, not for a deal, but in hopes of yielding the same exposure for their artists that I was able to achieve for mine.
To keep the brands separate, Diamond Music Group was spawned in around 2009. By 2011, I incorporated the name Diamond Media 360 and have been staying busy with an ever expanding list of clients that cover various sub genres.
To date, my services have been acquired by the likes of Red Distribution (Sony Music Entertainment), Fat Beats, Foundation-Media, Clockwork Music, Redefinition Records, as well as a long list of artists and labels from around the world.
6. What are the biggest mistakes you see independent artists make when it comes to promoting and marketing?
By far, the biggest mistake I see artists making is using their social media platforms to just regurgitate links to their same song over and over and over again.
There's nothing wrong with Tweeting out your song link, or RT'ing the link of a more notable blog that supported you, but keep it to a minimum. Add the song link to your bio, and/or pin a Tweet with the link so your followers have access to your new track or video, but the last thing you wanna do is spam your fans.
Your followers and potential new fans would way rather learn about what makes you tick, than they would prefer seeing your humble brags of who's fucking with your song.
If you're an artist, chances are you have a unique opinion, a profound thought, or a bone to pick about something—share those ideas.
Create engagement, and save your marketing for your publicist or team. Another tactic that needs to die in 2017 is @'ing media outlets and bloggers to post your stuff.
That's one sure-fire way to not get posted, while simultaneously landing on their shit list…please dead all that.
7. What are your next moves for 2017?
Now that we're past the halfway point of 2017, I've been doing a lot of regrouping. I'm in the process of transplanting my catalog from one distributor to another.
Our label releases have been somewhat light with Saga & Thelonious Martin's Molotov LP being our sole new release of the year so far, however, we have released Aaron Rose & J57's Elixir EP on vinyl, along with a limited 7-Inch run of our previously released single, "Easter" from The Artifacts.
We also have a vinyl reissue of Sean Price & M-Phazes' Land of the Crooks EP set to drop shortly, and we're putting the finishing touches on the full length version of Gods in the Spirit, Titans in the Flesh from Blu & Nottz, which combines both previously released EPs as one full length LP, equipped with a couple bonus tracks.
We've also re-mixed/mastered the first EP, Gods in the Spirit, so that it's sonically in-step with it's sequel. I recently got the album artwork back from Dan Lish, and it's nuts.
I think that heads are gonna be excited to have a full length body of work from these two. Shouts to Raw Koncept.
As far as Diamond Media 360 goes, I'm still here just paying attention to what's going on, and adapting to the ever changing landscape of the industry.
As of late, I've been placing a more equal emphasis on publicity combined with both digital and retail marketing. I can't say there's a lot of boutique marketing brands out there that are covering all three bases, so I think my strength lies in just being scrappy and resourceful, without charging an arm and a leg.