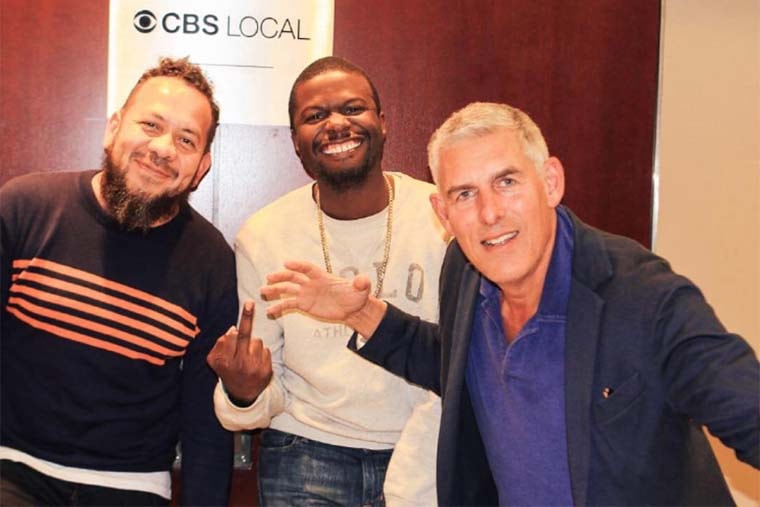 In this hip-hop era of the online world, blogs and social media, it seems like anybody with a laptop and an opinion is trying to become the next tastemaker.
But let's not get it twisted, right now, there aren't too many people who can fuck with Brian "B. Dot" Miller when it comes to spotting the up-and-coming talents.
Complex named B. Dot as one of their 10 Music Industry Heads Who Should Be A&Rs and have credited him as instrumental to the rise of Macklemore, Kendrick Lamar, J. Cole and Mac Miller.
As a graduate of Delaware State University, B. Dot came up through the ranks writing for major publications like XXL, VIBE and The Source.
He is currently the Content Director at RapRadar.com, working as Elliot Wilson's right hand man, covering the latest updates in hip-hop culture.
Stop The Breaks had the pleasure of interview B. Dot; we spoke about his come up, working at RapRadar, spotting Macklemore's talent before he blew up, 2015 in hip-hop and more.
1) As the Content Director of RapRadar, you're one of the leading tastemakers in the hip-hop world. Can you talk a little about how you got to this position?
Ah man. Well, the recession had just hit and I was out of my job at XXL. I had kept in contact with Elliott Wilson who was my former boss. He was recently let go as well approached me about starting a website.
Coming from the print world, I was skeptical about doing a website. I didn't have any experience in that world. But I needed a job and I trusted Elliott's vision. Fast forward six years later and here we are.
2) What is it like working at RapRadar?
It sucks! Just playing. Honestly, I couldn't ask for a better job. I use that term loosely, because I don't feel what I do is work. It's really great. I'm blessed.
3) Complex credits you as instrumental in the rise of Macklemore – what was it about him that made you take notice?
Well, Macklemore was going to be a star whether I recognized it or not. But, I had went to his show in New York on the recommendation of a friend. I think this was 2011 or 2012. It was sold out, which I thought was interesting because New York is such a tough market.
I didn't know any of his songs, but his energy on stage was palpable and the records sounded like hit music. When he performed "Wings," "Can't Hold Us" and "Irish Celebration" I knew this guy had something special.
4) Were there any artists that you thought would have blown up by now but just can't seem to get their momentum going?
All the time. Locally, Denzil Porter from the Bronx and 360 outta Queens come to mind. Super talented guys. I think they just need someone in power to help them get over the hump.
I like what Manolo Rose is doing. 3D Na'tee, Dutch Rebelle and Dustin Prestige are dope too. I would also bet my money on guys Nipsey Hussle and Freddie Gibbs. They're way too talented for the underground.
5) With Drake and Kendrick going gold with their latest projects, a number one album from Big Sean and upcoming releases from ASAP Rocky and Kanye, 2015 looks like it's going to be a pretty incredible year for hip-hop. What are your thoughts on the year so far? Any particular releases you're really waiting for?
This year is good so far. I don't think it's as amazing as everyone says it is though. I really love Kendrick's album. I wish Drake would stop bullshitting and put out Views from the 6!
Nas said he's releasing an album this summer, so I'm here for that. I feel like Jay Z will drop too this year. But that's wishful thinking.
6) The online world has completely changed how people discover and consumer music. With countless artists popping up every day, what is your advice for an up-and-coming rapper on standing out?
Pick another profession! Honestly, I don't have the answers. No one wants to hear that bullshit ass, "keep grinding" speech. I always tell new artists: how do you make someone care, when no one cares? It's up to them to figure out.
7) In terms of the independent hip-hop scene, which artists do you think are making the most waves?
To me, Macklemore is the king of the independents. But, I like what Nipsey Hussle is doing. Freddie Gibbs. Troy Ave. Those guys come to mind.
8) Just one last question before you go: your top five dead or alive?
This might be the hardest question! In no order: Biggie, 2Pac, Jay-Z, Nas, and Ghostface Killah. Eminem is my 6th man.
Related posts: