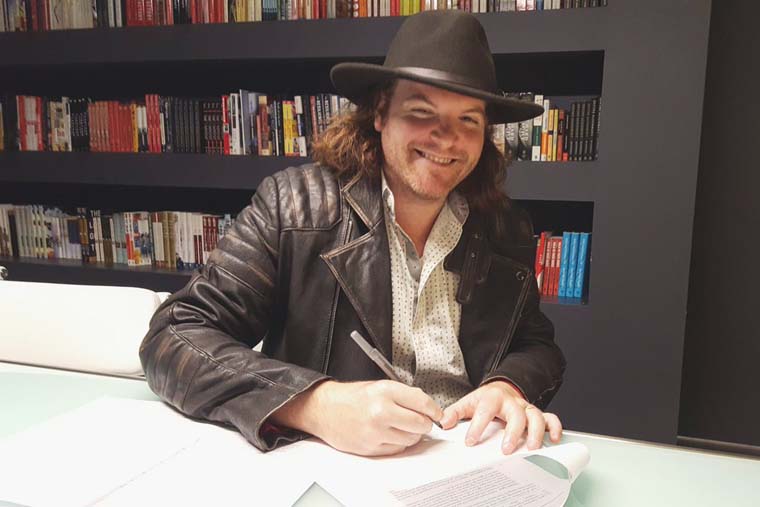 I recently had the pleasure of interviewing OG music journalist, Paul Cantor, a writer, editor and music producer based in New York.
As someone who's been in the music journalism game for over 10 years, writing for the likes of XXL, Vibe, Rolling Stone, MTV News, VICE and Billboard, Paul had a lot of things about hip-hop music and the music industry in general.
We discussed a range of topics, including his first big break into the writing world, his influences coming up, the recent announcement that Vibe and XXL would be shutting down their print operations, Paul's favourite article, why Medium is such a dope writing platform, the music business' future and hip-hop today.
1) As someone who's been writing about hip-hop for over 10 years, can you talk about how you broke into the rap journalism industry?
I was a communications major in college, with a specialization in journalism. I went to school locally and when I wasn't in class I was running a small recording studio, record label, production and event promotions company.
I was trying to break into the music industry — not necessarily media — and was, as one might say, "all over the place." But, because I was getting that journalism training in school, I started writing things for the school newspaper that were ostensibly about my friends and people I knew.
I basically turned the things that were populating my life into stories, and that, in turn, lead me to connecting with different people in the scene, one of which was the people behind Allhiphop.com. In my last semester I was producing Q&A interviews for them, and one was slotted to be on an artist that an editor from XXL magazine was managing, a bit of a side hustle for him, one might say.
The rapper's name was LG; he was from Brooklyn. Coincidentally, the editor also knew my music manager at the time, and he wanted to buy a beat from me for his artist, which he didn't have the budget for. So, on my way from picking up my cap and gown for graduation, I dialed the editor, scheduled the interview, and later, over dinner — where I interviewed his artist — he asked me if he could have the beat, AND if I wanted to write for him. I told him I did, and that was pretty much how I got my foot in the door.
In addition to launching my career, the song I produced, "Here Witcha," wound up getting a bit of attention, and even got me a name drop on television during an MTV News brief. This was 2004, I was 22, and really, nothing could have been more exciting. Things were happening.
2) Do you remember the very first hip-hop record you wrote about?
I can't remember the first hip-hop record I merely wrote about, because I was active on message boards for many years prior to getting into writing professionally.
I even moderated the UGHH.com Producer Forum for many years — where guys like Illmind, Rook from J.U.S.T.I.C.E. League and even Australia's own M-Phazes used to hang out online — and we would always talk about albums in the threads.
It wasn't professional music reviewing, but in a way, it might have actually been more informative than the stuff that went into magazines. No politics and bullshit, just opinion. However, more specifically, the first record I was ever paid to review was Masta Ace's A Long Hot Summer.
3) Who were some of your influences, people who inspired your writing?
Subconsciously, I think I'm influenced by a lot of the writers who penned things in The Source and XXL, pre-2004, just because that's the type of music journalism that I read growing up. But when you're young you don't really pay attention to who is writing anything. You just read it.
That said, Selwyn Seyfu Hinds, in particular, was one of the first guys who wrote about rap where I was like, wow, this is incredible. Nowadays, I find myself more so just admiring different writers, not necessarily letting them influence or inspire me. And that runs the gamut from fiction writers to non-fiction to screenwriters to memoirists to humorists to bloggers, even to people who write ad copy, tweets and witty Instagram captions.
I'm just a fan of the written word, generally. I greatly admire a good turn of phrase and a great story.
4) You've written for iconic rap magazines like Vibe and XXL in the past. What are your thoughts on these guys shutting down their print operations?
I think it's an unfortunate byproduct of an industry that is maybe not drowning completely, but certainly treading water. Vibe, in particular, is one that stings, because prior to that happening I'd just had an expansive feature article on a certain artist approved, and I was anxious to get to work on it.
I write somewhat frequently for Vibe's website, and still, the cache and audience that comes from a print piece in that mag is tough to downplay. People do read that stuff. On the web, it's a little bit tougher to pull off, at least with the way they seem to currently be set up.
I think the one good thing that may come from it is that both titles may finally fully immerse themselves in the web. Because for many years I'd write things for XXL and people who didn't have the magazine would have no way of reading it. I, in turn, would have no way of promoting that work, and just all around, it didn't work in today's media climate.
However, print is still a great way of reaching people who are less digitally engaged, and it's communal, too. You see a magazine in a barbershop, you pick it up, and it starts a real-life conversation with people in front of you. The value in providing something that creates that type of experience can't be understated.
5) Do you have a favourite article that you've written?
I have a few that stand out. One, is a piece I wrote on the growing trend of what we might call 'pop' rap. It featured guys like Pitbull, Flo Rida, will.i.am, B.o.B. — stuff that no serious rap fan would ever admit to listening to.
This was five years ago, and nobody was really writing ambitiously about this sort of music, and I think all the artists involved saw that I was a bit ahead of where the conversation would eventually go. It was published in XXL of all places, and people really seemed to like it. I would hear artists talking about it and they didn't even know I wrote it.
And, in the past year alone I've delivered a few stories I'm very proud of. One is my Suge Knight interview for Rolling Stone, another is a two-part interview with Kim Dotcom and another is my interview with Megahertz, a producer who mysteriously disappeared.
Outside of hip-hop, one of my favorites is with Paulina Gretzky, which was an exclusive and almost impossible to get at that time. In short, I have an attachment to a lot of my pieces!
6) You posted a very dope article – Why Being a Hip-Hop Producer Sucks – on Medium recently. What is it about writing for Medium that makes it appealing than other channels?
To me, there is great value in simplicity. Medium has a very simple but intuitive design, which makes it very easy to use and inviting to write on. It is, for most people, just a blogging platform. But it has its own unique ecosystem and way of working, and that I find cool.
When Medium launched its music vertical, Cuepoint, they asked me to pen the piece — Kanye West, Chris Brown, deamu5: When Great Music is Made by Despicable People — that would help kick things off. That was a big opportunity for me, and I'm grateful.
7) Where do you see rap journalism in the next 5 to 10 years?
Music journalism, in general, is not in a particularly healthy position right now, so where rap sits in that fold moving forward, I'm not quite sure. There have been many web sites and small documentarians who have picked up the slack, and that's good. One thing dies, another one is born. That's life. So, I think you'll still see rap journalism.
It just may not be what it has traditionally looked like, and the people writing about it may not be the voices whom we've all come to expect. Also, in the future you will see far more artists taking control of their own narratives. Rap journalism is often very promotional in nature, which, if you think about it, kind of makes no sense.
You don't need a journalist to tell readers shit they already know. If artists were smart — and many of them are — they will bring journalists into business with them, and use them to help create their own media companies. It's not as difficult as it sounds and in many ways will wind up serving the same purpose as the music magazine once did.
8) How do you feel about hip-hop today? Who are some of the artists that you regularly listen to?
I feel incredibly good about hip-hop today. The most popular artists are guys like Kendrick Lamar, J. Cole and Kanye West, among others. Whether they're my particular cup of tea or not, the music they make is a lot better than some of the trivial shit we were celebrating just a decade ago.
Even the more controversially-popular artists, like say Macklemore & Ryan Lewis, at least have a sufficiently positive message at their core, which is not something you could have said about many artists just a few years ago.
At the same time, some this music is pretty boring and affectless, so I dunno, I guess you just have to take the good with the bad. The beauty of it all nowadays is that you can just get online and listen to whatever flavor you're looking for. Gangsta rap, emo rap, tranny rap, gay rap, southern rap, trap rap, frat rap, sad rap. That type of stuff could never have found audiences back in the halcyon years of rap magazines and the rap industry.
So, things are much better now in that regard. As far as what I'm listening to, this will probably sound generic as fuck, but I still listen to Yeezus a lot, and I rather enjoy having the DJ Mustard LP playing when I'm in my car. Mostly, I just listen to a lot of oldies and weird random shit, which has been my m.o. for many years. The world of music is rather large and expansive; everything is worth checking out.