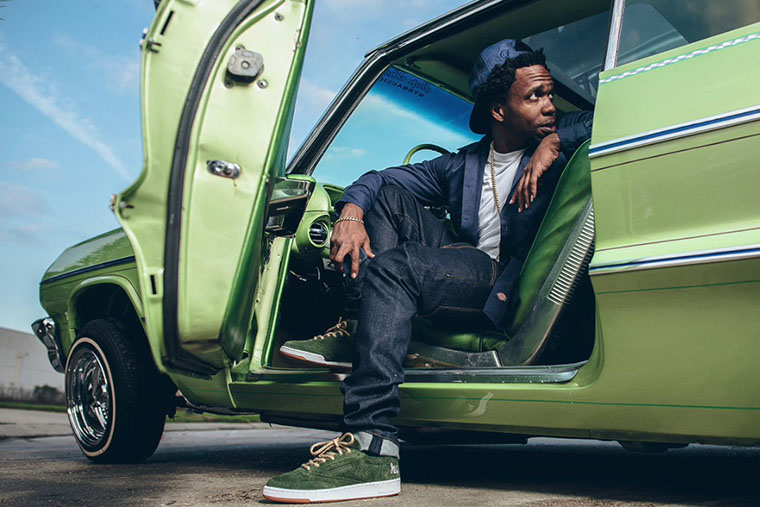 To be a successful independent hip-hop artist is one thing; to use your brand to create a platform to promote other dope indie artists is another level, and that's exactly what Curren$y is doing with Jet Life Recordings. 
Not every recordings group out there offers the same things, and with the help of Jet Life Recordings that can be proven time and time again. It takes a lot of work and patience to get it right, but with the right people behind it anything can go right; and this is what makes Jet Life Recordings so popular; the people behind it.
The label started back in 2011 after Curren$y had just signed a major label deal with Warner Bros. He quickly formed the imprint Jet Life Recordings and immediately signed  Trademark Da Skydiver and Young Roddy.
The crew itself falls under Jet Life Recordings, and everyone involved in it – guys like Smoke DZA and Mr. Marcelo – brings a unique and interesting take on music to the table.
It's not something that you should be too surprised to see in the industry today, though, as indie artists are getting a start from those who are in the industry themselves. Now, artists are acting as producers and talent scouts all at the same time and it's completely altering the way that the industry will work in the future.
Jet Life Recordings is just another part of that, but at the moment they are steadily growing and improving as they look to bring in new members, more acts and more development than they have in the first four years that they have been on the scene, making things happen.
The background of the industry is just about the same as Curren$ys background, anyway; a talented individual trying to impress other talented individuals. As far as record labels go they have had a relatively smooth start and upbringing, giving people a good chance to go and show what they can do whilst bringing in a nice little bit of media for themselves.
However, the strength with Curren$y is that he never took sides – as he mentions himself, growing up in New Orleans you usually had a side; No Limit or Cash Money. Instead, he was friends with both, and he liked both. Now, he is "able to hustle with both of those camps" which naturally has a great benefits for himself, his music and his company in the long run.
His witty nature and his charming background has been a big catalyst for the company, too. The makeup of the group itself, though, comes back to a topic that we hear a lot about; weed rap. However, the likes of Le$ who regularly rap about marijuana are not really up for the whole labels thing.
As mentioned in his great interview here, Le$ – and others – don't want to be known as the guys who rap about grass and weed, they want to be recognized for their skill and their talents as rappers across the board. This was the foundation of Jet Life, really; to give smart, interesting rappers a chance to break free of labels and really push themselves.
Rise Of Jet Life Recordings
The rise of the company has to come from the honesty and the charisma of their main man, Curren$y. He makes a big difference and spends a lot of his time slating fakers and giving the real artist the credit they deserve; in one of his interviews he managed to more or less agree a collaboration with the interviewer to make a film about "fake stoner rappers."
This open and clear personality has been a bit of part of the rise the company has benefitted from. Using the "Jet Life" motto to stand for those who live life to the fullest whilst getting baked beyond usual standards, they managed to create an interesting and positive look for themselves amongst various communities.
Their nature and their overall style was built around getting in rappers who don't mind talking about drugs and talking about the normal tuff, just finding ways of doing it and making it actually a bit more unique.
Everyone in the group has spoken of their dislike of fakes, of labels and of those who just piss around and don't really take their music seriously; the rise of Jet Life is built on authenticity and giving people the help that they need to really come to terms with what they are doing as an artist today.
Jet Life's Key Artists
Obviously, the main name on the market for the group is Curren$y. Having been around and been the actual founder of the thing in the first place, there is no surprise that Curren$y tends to get a lot of the headlines.
He's been around for a while now and has worked with plenty of big names out there like Lil Wayne and Whiz Khalifa, so you know that he brings that bit of star power to the table. His power and his ability to legitimately actually talk about smoking weed also helps him do things in the correct way, setting the perfect example for his team as he goes.
Fiend is another well-known name in the group who has worked with people like DMX and Snoop Dogg, so he is probably well-known for a lot of his work in the 90s and the early 2000s.
He's worked with newer names recently, too, giving the company a nice bit of balance in terms of their "stable." Fiend is well-known for his time on No Limit Records but still provides unique insight today.
Trademark da Skydiver is another big name and someone who a lot of people are interested in thanks to his various associations with good names in the game.
Alongside him, you've also got names like Young Roddy and Le$ who are all doing well for themselves through the brand. One thing sticks out with all of these artists; they are authentic and they don't mind slating those who aren't!