There hasn't been a hip-hop group in history more revolutionary and impactful than the Wu-Tang Clan. Hell, I'd go as far saying that the Wu is the greatest rap group of all time, I'd rank them higher than other legendary acts like Public Enemy, Tribe Called Quest, The Roots and more.
When you think of the Wu, you think of their seminal debut, Enter the Wu-Tang (36 Chambers), one of the greatest rap records of all time, you think of the mafioso masterpiece Only Built 4 Cuban Linx…, you think of Ghostface killing it on "Impossible," you think of the epic music video for "Triumph" and plenty more classic moments.
But let's not get it twisted. Not only did Wu-Tang produce a ton of incredibly dope records and bless with unforgettable rap moments, they also revolutionised the hip-hop industry for generations to come. Let's give it up to RZA, the man who had the long-term vision and ability to implement it perfectly.
RZA: "I'm the driver. And nobody can ask me where we going. I'm taking us to No. 1. Give me five years, and I promise that I'll get us there.'"
Born in Brownsville, Brooklyn, RZA was introduced to hip-hop at 9 years old and grew up to become obsessed with the music. In 1991, everything seemed to be going RZA's way.
He signed to Tommy Boy Records under the name Prince Rakeem and released the EP Ooh I Love You Rakeem. Unfortunately the project was a commercial and critical flop, leading to RZA being dropped from the label.
Learning from the mistakes and negative experience he had at Tommy Boy, RZA went back to Staten Island to recruit his cousins, GZA and Ol' Dirty Bastard, and five other childhood friends, Inspectah Deck, Raekwon, Method Man, U-God, Ghostface Killah and Raekwon to form the Wu-Tang Clan.
Funded by $100 from each rapper, the group recorded their debut record, "Protect Ya Neck," in RZA's basement and released it independently in 1992 as part of the "Protect Ya Neck"/"After The Laughter Comes Tears" single via Wu-Tang Records.
Method Man: "'Protect Ya Neck' was supposed to be the posse cut. So, everybody that showed up with $100 got on the record."
Once released, "Protect Ya Neck" created an incredible underground buzz which the Wu used to parlay into a record deal with the up-and-coming Loud Records. Typical story right? Rap group drops underground single, creates hype and signs record deal.
This is where RZA's genius lies: he managed to negotiate a deal with Loud which included signing the Wu as a group, while still allowing the individual members to sign solo deals with other record labels. In RZA's plan, the only way to conquer the rap game was by the Wu spreading its members across the entire industry.
RZA: "We reinvented the way hip hop was structured, and what I mean is, you have a group signed to a label, yet the infrastructure of our deal was like anyone else's. We still could negotiate with any label we wanted, like Meth went with Def Jam, Rae stayed with Loud, Ghost went with Sony, GZA went with Geffen Records."
From that point on, it was a wrap. Wu-Tang spread their members across major labels like Def Jam and Sony while retaining their unique sound and brand. The Wu-Tang Killa Beez started to swarm the industry like no other rap group had before.
After the success of their debut, which spawned two Billboard hit singles "Method Man" and "C.R.E.A.M.," the solo projects started dropping. RZA was first with the seminal horrorcore album 6 Feet Deep, released as part of the Gravediggaz, which also included Prince Paul, Poetic and Frukwan.
Next up was Method Man with the highly anticipated Tical. The album debuted at number 4 on the Billboard 200 and included the hit singles "Bring the Pain" and "Release Yo' Delf." One of the album's tracks "All I Need" was also remixed into "I'll Be There for You/You're All I Need to Get By" and released as a single in 1995.
"I'll Be There for You/You're All I Need to Get By" became the Wu's most successful single and one of the biggest rap songs of the 90s, peaking at number 3 on the Billboard Hot 100 and winning a Grammy Award for Best Rap Performance by a Duo or Group.
Ol' Dirty, Raekwon, GZA and Ghostface would all drop solo albums following Method Man, with all projects going either gold or platinum. The group's gritty, uncompromising style and penchant for hardcore lyrics provided fans an alternative to Puff's Bad Boy Records and transformed them into a global phenomenon within a few years.
Four years after their debut album, the Wu members reunited for their second album, Wu-Tang Forever. Preceded by the lead single "Triumph," Wu-Tang Forever was released in June of 1997 and managed to debut at the top of the Billboard 200 with 612,000 copies sold in its first week, despite limited radio play and hit singles.  
After a few months of its release the album was certified 4x platinum, making it the best selling Wu-Tang album of all time. Unfortunately, the album ultimately marked the absolute peak of the group's commercial and critical success and it was a slow decline from there.
With 9 superstar rappers, gold and platinum plaques and a steady diversification in their sound, the Wu of 1997 wasn't anything like the Wu of 1992. Ego, money and pride started getting in the way of music and it wasn't long before the members started to go their separate ways.
RZA: "I started this thing as a dictatorship. The second album? That was the beginning of democracy, right? In 1997, I personally tore Wu-Tang Clan up. I won't forget this day, we were on the Rage Against The Machine tour bus."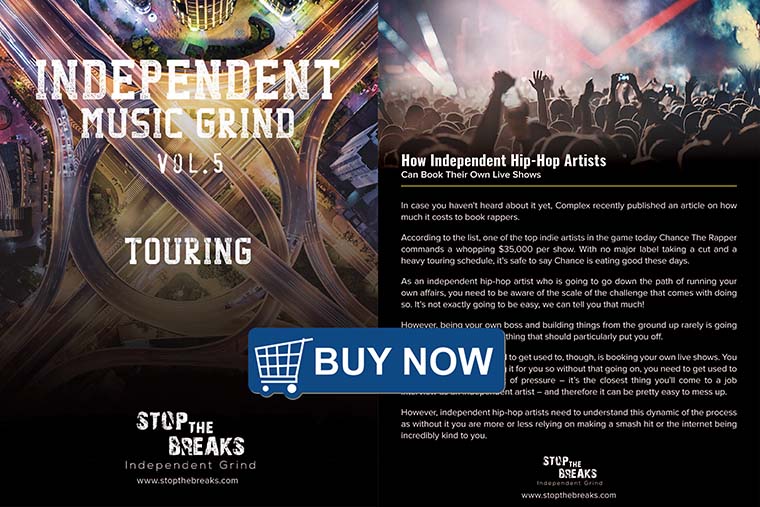 What independent rappers can learn from the Wu-Tang Clan
Like any rap group in history, it was impossible for Wu-Tang to stay together once they blew up into a worldwide force. It was only a matter of time before the incredible Wu empire started to crumble.
Even though we're still getting regular music from guys like Ghost, Rae and Meth these days, the group as a whole is a shadow for their former self.
Having said that, what the Wu managed to accomplished between 1993 and 1997 is unprecedented and has never been repeated to this day.
In only five years, under RZA's leadership, they conquered the rap world, change the music business and provided a blueprint for artists after them on how to stay true to their brand while making money at the same time.
Fanbase + buzz = power
The number one reason why RZA was able to negotiate such a revolutionary deal for the group and its solo members is because he knew the Wu-Tang had all the power.
Thanks to the growing buzz on the streets from "Protect Ya Neck," hip-hop heads were clamouring for more Wu and Loud Records were smart enough to tap into the movement.  
Ghostface: "I remember that day. Me and him was at the house, waiting for it to come on. Kid Capri played it. And it was on."
Whether your goal is to continue grinding it out independently or signing to a major label, the fact remains that having an established fanbase and growing buzz for your music gives you all the power when it comes to making deals.
You might be negotiating how much your advance should be or live performance fees; whatever it is, stick to building up your fanbase and you'll be in a much better position to achieve your goals.
Stick to your sound, don't cater to others
How many artists do you know started out with their own sound and look but compromised it in order to cater to other people's demands? It even happened to RZA early in his career at Tommy Boy Records. Have a listen to his debut project, Ooh I Love You Rakeem, and then listen to a Wu project – it's a completely different sound.
The only reason why Wu-Tang was so successful is because they stuck to their own brand of music, a sound that they were comfortable with and enjoyed making.
Raekwon: "But yo, the Wu, the Wu got somethin' that I know that everybody Wanna hear cuz I know I've been waitin' to hear"
Stay in your lane, perfect your game. Word to Chris Lighty. Stick with making the music you enjoy instead of catering to someone else and you'll find that there are other people in the world who are share your same tastes.
All the great hip-hop artists are constantly working on and perfecting their own sound. Do you think Drake create "Hotline Bling" because he thought it was going to be a hit or because he genuinely loves that type of music and the reason it became a hit is because he's really great at creating that sort of music?
Drake: "The hardest moments, the most difficult ones, in songwriting, are when you're looking for like, four words with the right melody and the right cadence. I pray for that. I'll take that over anything"
Partner up with people who understand your vision
RZA had the vision and the Wu-Tang members had the talent but it took the backing of Steve Rifkind, the founder and CEO of Loud Records, for everything to come into fruition.
As someone with deep connections to the rap game – Rifkind started out by promoting the FatBack Band's "King Tim III (Personality Jock)"in 1979 – he could see how powerful the Wu-Tang movement would become.
Steve Rifkind: "RZA would come every night at 6 o'clock with a yellow legal pad with 27 lines, with 27 things to do. If it was 85 lines, I would say yes to 80 of them. Then one day he was like, 'Why are you saying yes to all of them? Are you scared?' I'm looking at him like, 'Why would I be scared? Everything that you're saying makes sense.'"
Thanks to Rifkind's ability to recognise RZA's genius, the Wu had the platform to launch their music and become a global phenomenon. It wasn't a fluke either, Rifkind also signed Three 6 Mafia, Big Pun, Tha Alkaholiks, dead prez, Mobb Deep, Xzibit, M.O.P. and plenty more legendary acts. Talk about a stacked roster!
For all the independent rappers out there, make sure you partner up with people who understand your vision and know what you're trying to accomplish.
Whether it's hiring a graphic designer for your mixtape cover or a publicist to promote your brand, it's absolutely necessary that they're like-minded people, it's the only way to get the best results for yourself.
Create multiple revenue streams
Aside from creating incredibly dope music, the Wu were also made up of very savvy businessmen who saw multiple opportunities to make more money from their brand.
RZA was determined to make sure the Wu owned their art, setting up multiple records labels like Wu-Tang Records, Razor Sharp Records, Soul Temple Records and more to distribute the music.
Wu-Tang were also one of the first hip-hop groups to create their own clothing line, releasing Wu Wear in 1995 and opening up four Wu Wear, in New York City, Los Angeles, Atlanta and Norfolk, Virginia. The clothing line was estimated to bring in a whopping $10 million at the Clan's peak in 1998.
In addition to the above, the solo members have also embarked on various business ventures: Method Man and Hollywood, RZA scoring film scores and directing movies as well as the constant touring over the years.
We've talked about creating multiple revenue streams plenty of times in our case studies about Chance The Rapper, Freddie Gibbs, Currensy and other leading independent rappers because we think it's the especially important for indie artists.  
In today's era where record sales are being eaten up illegal downloads and streaming, it's more important than ever for independent rappers to create multiple revenue streams to ensure they can make a living from their music.
Figure out how to book your own live shows and hit the road as much as possible to get your performance skills on point, learn more about music publishing and how you can earn more revenue for it, set up an online shop on your website to sell merchandise. There are a ton of ways out there to create multiple revenue streams – you just have to do your research and put in the work!