Baton Rouge representative Kevin Gates has been one of my favourite rappers for the past few years now. Ever since he stole the spotlight from Pusha T on "Trust You" off the Wrath of Caine mixtape, I've kept a close eye on Gates' music and haven't disappointed so far.
All I can do is make the best music I can make today, who cares about what's going to happen tomorrow.
After a breakout year in 2013, where he established himself as one of the best up-and-coming rappers in the game with the one-two punch combo of The Luca Brasi Story and Stranger Than Fiction, Gates kept the dope records coming.
With an incredible ability to blend melodic hooks with intricate lyricism over hard-hitting production, Gates always had the potential to cross over to the mainstream without compromising his sound.
So when I heard that Kevin Gates' debut album, Islah, debuted at number 2 on the Billboard 200, just behind Rihanna's Anti, I guess I was surprised, but not really. Powered by two singles – "Really Really" and and the Billboard hit "2 Phones" (Gates' highest charting song to date) – Islah sold 112,143 equivalent album units with 90,000 copies sold in its first-week.
Gates sold more than Wiz Khalifa and Macklemore – Khalifa sold 64,000 units, This Unruly Mess I've Made sold 61,000 two rappers who are arguably more known and have had bigger commercial success than him.
Despite his edgy, street-oriented music Gates managed to debut behind one of the biggest pop singers in the world. So how did he do it? Well it's what Stop The Breaks has been talking about for ages now – the main focus for artists these days should be in building a loyal fanbase that will support them for the long haul.
I listened to Birdman talk about how it got it out the mud and how it took him 20 years to build his brand. That inspired me. I don't want no handouts, I want to get it out the mud.
It's a scenario we've talked about before – would you rather be a rapper who blew up really quickly and signed to major label or a rapper who took years to build up a fanbase? One of them is Trinidad James, the other is Kevin Gates.
Trinidad James' debut single "All Gold Everything" peaked at number 36 on the Billboard Hot 100 and hit the top 10 on the Hot R&B/Hip-Hop Songs and Hot Rap Songs charts. The single quickly went gold, Trinidad was signed to Def Jam a $2 million deal and released a remix to "All Gold Everything" featuring Atlanta superstars 2 Chainz, T.I., and Young Jeezy.
That's about it for the Trinidad James story. On August 1, 2014 he announced he had been dropped from Def Jam and has been grinding it out independently via his own label Gold Gang Records.
Gates, on the other hand, has been grinding for a decade – he dropped his first mixtape It's My Time in 2006 – and is now reaping the rewards for his hard work and patience.
We passed the music out, we went hand to hand. We went to different neighborhoods, wherever we went, passed them out. There was a time I used to pass CD's out, me and my team and people threw them on the ground. Kids wouldn't listen to it, but me and my team kept pushing.
Even though Gates isn't technically an independent rapper – his record label Bread Winners Association has a partnership deal with Atlantic Records – there are many things independent rappers can learn from him for slowly building a loyal fanbase.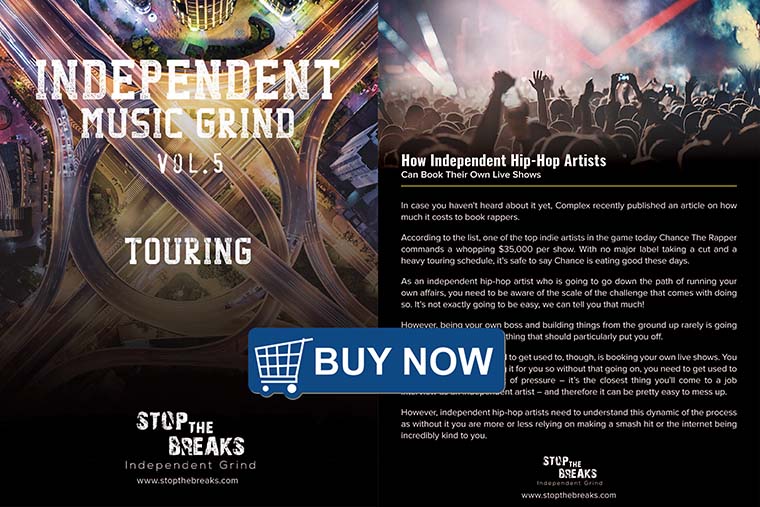 Quantity + quality music
First of all, as always with the rap game, it starts with the music. Doesn't matter who you are, whether you're Drake or you just started rapping four days ago, it's all about making dope music. Kevin Gates is one of those rare artists who manages to drop a large quantity of very exceptional content.
I don't know what writer's block is. I don't even believe that exists for me because my mind is always working and thinking.
In 2013, Gates' breakout year, he dropped The Luca Brasi Story and Stranger Than Fiction – two projects that created serious buzz for him. To keep things moving, he dropped another two projects the next year – By Any Means and Luca Brasi 2.
The latter project also featured the August Alsina-featured single "I Don't Get Tired" which charted well on the Billboard rap and R&B charts.
In 2015, while preparing to drop his debut album, Gate was a little more quiet, only dropping the surprise mixtape Murder For Hire (although he did embark on a nationwide tour with Chevy Woods the previous summer). Then Islah in 2016.
Six projects in a little over three years and they were all dope. Very few rappers can say they have done that, although leading independent rappers like Currensy and Tech N9ne can certainly claim it. Quality music is the most important priority but in this day and age, unless you're Drake, Kendrick or Kanye, people aren't going to be willing to wait 2-3 years between projects.
We're not saying that independent rappers should be dropping music every few months, but providing regular content to your fans is very important and a key way to build a long lasting fanbase.
The content can also include things like videos. Kevin Gates is one of those artists who really understands how powerful the visual medium can be in engaging with his fanbase – just take a look at his YouTube page and check out how many videos he's dropped for his singles. All dope videos too. Quantity plus quality. That's the key these days.
Perfected his sound
One of the main reasons why Kevin Gates is able to drop so much music is because he's been working on and perfecting his sound over the years. A rapper's sound makes up a large part of his branding and provides the fans with familiarity.
Gates is a master of combining melodies with technical displays of lyricism over hard-hitting beats and as a songwriter, Gates creates visually stark portraits of his life, whether it's love, drugs, guns, family, whatever it is, his fans knows they get pure honesty from his raps.
As independent rappers trying to brand yourself and your music, you should keep this in mind as you hustle and grind. Figure out what your sound is, what you're comfortable with and what sort of music you enjoy making then focus all your energy on producing your best work. The music you make will define your brand so the sooner you figure it out, the sooner you'll be able to develop a complete brand for yourself.
Atlantic reached out to us, and we're like we got BWA, we got our own brand. They were like 'We like artists with their own brand.
Consistent touring
Like any successful rapper in the game right now, Kevin Gates makes the bulk of his money from his regular touring schedule. Off the back of his 2014 project, Gates embarked on a 37-date nationwide tour, touching down in places like Austin, San Diego, Nashville, Atlanta and of course his hometown Baton Rouge.
By always being on the road, Kevin Gates is building a very strong physical presence around the country, performing and engaging in front of people who might not have heard about him and became fans once they saw him live.
Ask any of the top independent rappers in the game today – Tech N9ne, Chance, Freddie Gibbs – touring is undoubtedly the most important aspect in the indie rap game.
Not only are you earning most of your money from live shows, touring enables you to engage with your fans in ways that digital channels like Facebook will never be able to do.
That's why rappers who are successful on the road are never worried about music sales – who cares about first week numbers if they're making most of their annual revenue from performing in front of thousands of fans around the country and all over the world?