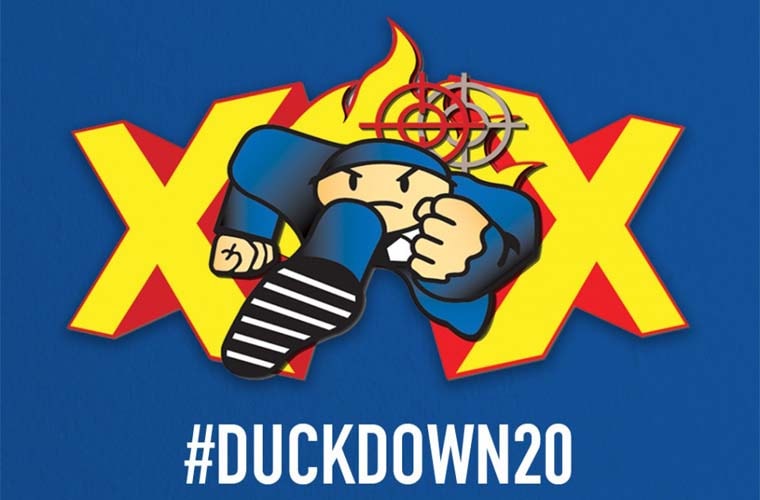 Before there was Strange Music, Inc., before there was Top Dawg Entertainment, before there was Jet Life Recordings, there was Duck Down Music.
Dru-Ha: I think that we've really helped set up a nice model to look at for independent artists and independent labels.
Founded in 1995, the original backpack gun clappers movement conceived by by Drew "Dru-Ha" Friedman and Kenyatta "Buckshot" Blake set the blueprint for future independent rap labels. Leading independent rappers today like Nipsey Hussle and Currensy would have definitely studied Duck Down's successful history on their way up. 
History of Duck Down Music
The company was originally established as a management company in the early '90s to oversee the careers of Buckshot's group Black Moon and Smif-N-Wessun. In 1995, Buckshot and Dru-Ha decided to take the company to the next level and launched Duck Down Music as an independent record label.
In those times there was a lot of independent mind frame activity going on even though it wasn't truly independent record labels so much.
After the successful double release of Black Moon's Enta da Stage and Smif-N-Wessun's Dah Shinin', Duck Down signed a label distribution deal with Priority Records, one of the top hip-hop labels at the time, home to notable acts like N.W.A and Master P's No Limit Records.
Between 1995 and 2000, Duck Down released nine projects with Priority Records, including Cocoa Brovaz's The Rude Awakening, Heltah Skeltah's Magnum Force, O.G.C.'s The M-Pire Shrikez Back and more.
Buckshot knew early on that we wanted to kind of form something that could turn into its own label and allow us to sign other groups and develop our own brand.
Shortly after, Duck Down ended their partnership with Priority and signed a new deal with Navarre Corporation which included the physical distribution of their music in the US and Canada, while retaining their Digital Distribution rights entering in a direct deal with iTunes.
Duck Down Music has continued to successfully release music on a consistent basis, including their famous Triple Threat campaign in 2005 where they dropped three albums over the course of three consecutive months – Sean Price's solo debut Monkey Barz, Buckshot and 9th Wonder's collaborative album Chemistry and Smif 'n' Wessun: Reloaded.
In 2015 alone, Duck Down were responsible for independently releasing Bodega Bamz's Sidewalk Exec, Chelsea Reject's CMPLX and Statik Selektah's Lucky 7.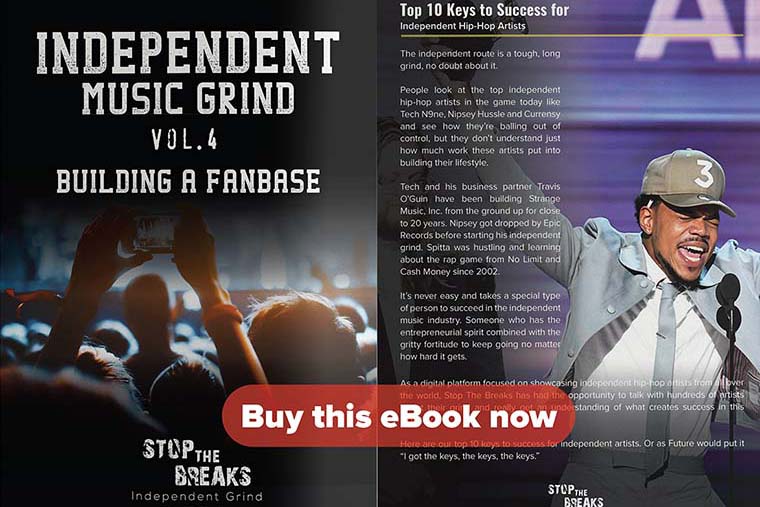 What independent rappers can learn from Duck Down Records?
With over 20 years worth of independently releasing music, dozens of releases and a current roster that includes heavyweight names like 9th Wonder, Boot Camp Clik, Black Moon, Smif-N-Wessun, Statik Selektah, and plenty more, there are plenty of lessons to be learnt from Duck Down Music.
We've kind of shown that you don't need a ton of money, you don't need radio, you don't need certain things to get a movement going and sell independent hip-hop.
As the music industry continues to evolve and we see thriving artists like Chance The Rapper who are shunning major label deals and grinding independently, the enormous impact of Duck Down Music grows clearer every day. 
From setting up their own independent record label to cutting out the middleman and selling directly to consumer to partnering up with major labels for distribution deals, Duck Down were pioneers in the independent rap game and need to be studied by all up-and-coming rappers.
Here are some of the lessons independent artists can learn from Duck Down Music:
Cater to your core fanbase
Make no mistake about it, Duck Down is the home of the original gun clappers. When people talk about original NYC, backpack rap these days, they're referring to the Black Moon, Smif-N-Wessun, Boot Camp Clik era of grimy, Bucktown music.
Duck Down established their brand of hip-hop and created a core fanbase that they catered to for over 20 years. Like we've seen in case studies on successful artists like J. Cole, Kevin Gates and Logic, building up a strong core fanbase is the most important factor in having a longterm career in the rap game.
Over the years you find your market and you understand what it is and you zone in on it and get better and delivering for your customers and your fans.
As independent artists, you don't have the manpower, resources or the reach to cater to a broad audience so your best bet is establishing your core fanbase through strong branding and consistent product. The more you understand your target audience, the more you can cater to what they like and the more they will continue to support you for the long run. 
Collaborate to broaden exposure
As important as it is to cater to your core fanbase, collaborating with other artists can help your expand your reach and gain new fans. As long as the collaboration makes sense and doesn't seem forced, it's a win-win situation for both parties.
One of the biggest reasons for Duck Down's longterm success these past 20 years is because they've managed to cater to their core fanbase, sticking with their original team, while expanding their reach through collaborations that make sense for their brand and fanbase.
Post-90s, we've distributed projects for the likes of Talib Kweli or Pharoahe Monch or Black Rob, different artists that maybe we didn't start their careers but we were kind of a transition for them in that space.
Over the years Duck Down has worked with like-minded rappers and producers like 9th Wonder, Pete Rock and KRS-One. Similarly, the label has always been on the lookout for the latest young talent, signing Bodega Bamz, Skyzoo and Torae – artists who have their own unique sound but still fit in with the Duck Down brand of music. 
So remember – as long as the collaboration makes sense, working with other artists to broaden your exposure and expand your market can definitely be beneficial.
Sell directly to the consumers
As we spoke about with rap game veteran Wendy Day recently, music distribution is one of the most important yet underrated aspect for a lot of independent hip-hop artists these days.
Even though Duck Down Music has had distribution partnerships with major record labels in the past, setting up a direct deal with iTunes for Digital Distribution of their complete catalog of music has been one of the standout moments for them as an independent entity.
We view our direct deal with iTunes as a true achievement.  While many indies may have secured direct deals in the past, with the abundance of music on iTunes it has become increasingly difficult to be accepted as a direct partner.
Not only does the deal with iTunes enable Duck Down to sell their music directly to their target audience, the partnership allows them to manage their product through iTunes' software as well as receive daily updates, enabling them to market their music more effectively to their fanbase.
Create different revenue streams
As we all know, in this music landscape, for independent artists it is getting more and more important to diversify your revenue streams outside of pure record sales. Typically an artist will make money from putting out music, hitting the road to tour and selling merchandise while on tour.
While touring will always be the most important income stream for indie artists, Duck Down Music has shown us that there are plenty of other ways to make money, aside from selling music.
Music licensing – Since 2011, Duck Down has been actively licensing their artist's music on:
TV shows (ESPN's Men's College Basketball programming, ESPN's SportsCenter, HBO's Hard Knocks & Entourage, MTV's Jersey Shore)

Video games (Activision's Call of Duty: Modern Warfare 2, Tony Hawk: Ride, Madden NFL 09, NBA 2K11)

Movies (Limitless)

Advertising campaigns (Smirnoff, Belvédère)
They were putting our music on college basketball and stuff and we realized there was a whole new space in TV for music. We became very aggressive for pitching music for syncs and getting it in the movies.
Brand partnerships – Duck Down have partnered up with a number of notable brands for marketing campaigns:
Scion

Rockstar Games

Coca-Cola

Microsoft Zune

Pepsi Max

VTech

Reebok
Marketing consultation – In 2011, Duck Down launched 3D – their music-marketing and consulting arm to work with other indie artists in navigating the complex music industry.
Working with artists like Talib Kweli and Joey Bada$$, 3D provides their expertise, industry relationships, networking while overseeing project deliverables, budget allocation, co-op approvals, international distribution and overall marketing efforts.
3D's expanded services also include a music supervision department which helps licenses their client's music in film, TV shows and video games, as well as helping artists create and sell artist merchandise.
Between record sales, touring, merchandise, licensing, partnerships and marketing consultation, Duck Down Music has created multiple revenue streams to feed the company and its artists.
It's taken them 20 years to get to where they are today, but hopefully it provides a pathway to up-and-coming independent artists to see what's possible if you're willing to put in the long hours creatively and business-wise.
Related posts in Independent Hip-Hop Promotion & Marketing: