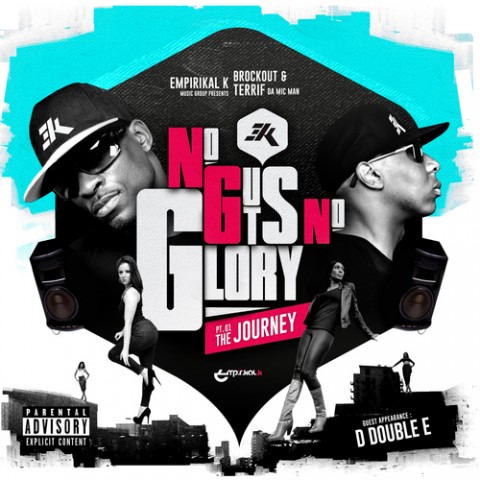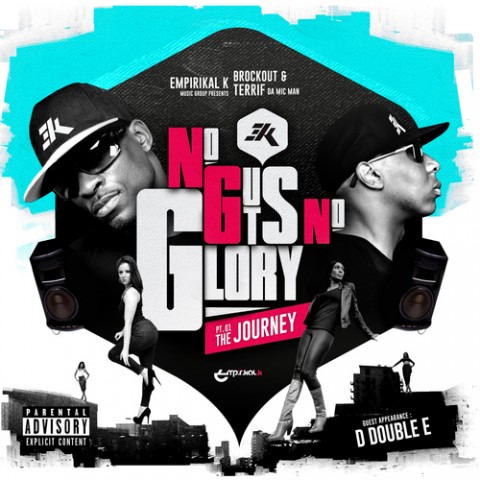 Released: Dec 7, 2014
Label: Empirikal K Music Group
London artists, Brockout and Terrif, have teamed up to deliver their collaboration EP – No Guts No Glory The Journey Part 1 – a hard hitting 8-track project brought to you by Empirikal K Music Group.
Hailing from the streets of London, a rich musical hub which boasts sounds and cultures from all over the world, Brockout was inspired early by classic New York hip-hop albums like Nas' Illmatic and Method Man's Tical as well as West Coast legends like Snoop Dogg.
After linking up with Terrif via the newly launched Empirikal K Music Group in 2010, the two artists have finally come together for the record.
Judging by the EP's title alone, listeners will probably think they're about to get into some epic shit upon their first listen, and they're not wrong. Straight out the gate, the EP's intro track features stirring strings and a motivational speech, perfectly kicking off the project and setting the tone for the rest of the EP.
Which leads us to the EP's real opening song, "Da HOOD DREAM," a rumbling intro which gives us a look into Brockout and Terrif's motivations on why they grind so hard. The track's production is a thumping, trap-heavy beat designed precisely to blow out speakers.
"Pure Realness" on the other hand features a much more unique beat, different to whatever's trending in the hip-hop world at the moment. The rapping is aggressive and relentless but I appreciate the fact that they pay a lot of attention to crafting the hook and making it as catchy as possible.
"Last Word," the EP's closing song is frantic and features nonstop straight rapping as if Brockout and Terrif figured it was their last chance to rhyme and had to get everything off their chest. The "Outro" ends the EP similar to how it started – cinematic sound effects and a rousing speech.
What I love most about No Guts No Glory The Journey Part 1 is the project's running time. In an era where rappers are dropping 20-track tapes full of filler every other month; these guys took their time and energy and poured it into a robust 8 tracks packed full of quotable rhymes, catchy hooks and banging production.
Brockout and Terrif's journey to the top has just begun, I'm going to be watching them every step of the way. Shout out to Empirikal K Music Group for giving these guys the platform to showcase their talent, ambition and passion.
You can stream or download the project No Guts No Glory The Journey Part 1 here. Make sure you also check out Stop The Breaks' interview with Brockout.