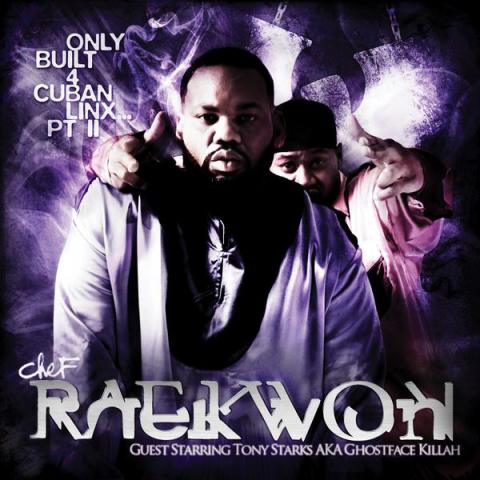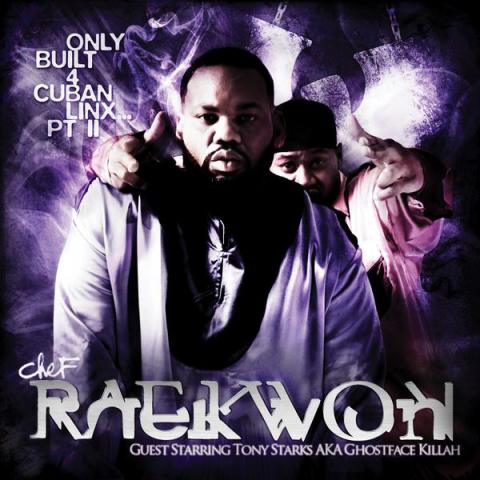 Released: September 8, 2009
Label: Ice H2O, EMI
I think when Raekwon named this album Only Built 4 Cuban Linx… Pt. II, he willingly opened it up for listeners to draw comparisons to the original. He could have given it any other name and relieved himself of the pressure, but no, he raised the standard and made a statement to the world: this is the sequel to Only Built 4 Cuban Linx…, this is the album hip hop has been waiting for 14 years and now they're finally going to get it.
So how does Part II stack up against the original?
Well it seems like Raekwon was determined to find the best people for such an important job. I'll admit I was a little wary when I heard about some of the producers lining up for the album.
I mean Pete Rock, Marley Marl, The Alchemist and Erick Sermon? Granted, these guys are absolute legends in hip hop and their production catalogue speaks volumes about their talent, but it just didn't sound right.
The magic of Only Built 4 Cuban Linx… was that RZA oversaw every aspect of it; from the beats to the storylines used on each track and the flow of the album as well as the members lining up for it.
It was what made the original a consistent and cohesive work, and was a big factor in its audio-movie concept. So when I realised there were no fewer than 10 different producers on an album that had 22 tracks, I began to approach with trepidation.
Thankfully I was dead wrong.
J Dilla draws first blood with his apocalyptic House of Flying Daggers, a track of epic proportions, crashing through the speakers with stomping drums and adrenaline pumping strings, providing the perfect background for Rae, Deck, Ghost and Meth to shine on.
Pete Rock draws upon 1940s film noir to inspire the paranoid Sonny's Missing while the aforementioned Marley Marl crafts the beautifully melodic Pyrex Vision, a hazy, drug-induced interlude on which Rae stops to explain the intricacies of crack dealing.
RZA comes on with only three tracks, but all three are bullseye hits. He psychotically twists the alluring Godfather Theme into a macabre, psychedelic hell on Black Mozart, reminiscences back to the 1990s Wu-Tang sound with the delightful vinyl crackles on the deliciously seductive New Wu and provides exotic drums and caper strings for the sinister Fat Lady Sings.
With his work on Part II, the Abbott succeeds in both representing his skill and growth as a producer while at the same time satisfying Rae and the fans. I mean who didn't smile and think nostalgically back to Ice Cream when they heard the same playful vibe on New Wu?
The two eagerly anticipated Dr. Dre tracks; Catalina and About Me are both stamped with the Doctor's trademark bumping drums, with the former flirting with Jamaican sounds in the form of the steel drums, while the latter postures aggressively with menacing keys and hums.
Erick Sermon and The Alchemist's Baggin Crack and Surgical Gloves, respectively, are more understated, continuing the album's trend of string-driven and coke-induced-paranoia beats, allowing the Rae's narratives to take the forefront.
J Dilla shows up again after his mind blowing debut with Ason Jones, a simple but poignant tribute track to Ol' Dirty Bastard where snippets of the late ODB's conversations are weaved in with stirring strings and Rae's memories of his late brother.
Even the lesser-known producers come through for Part II, and at times out-do the big boys. Necro provides a fittingly foreboding choir on Gihad for Rae and Ghost to tag-team over while Cold Outside and Have Mercywrenches your heart out with their desolate wailing, courtesy of Suga Bang Bang and Blue Raspberry.
Penitentiary, with its fast paced drums and sprinkling of keys serves as a perfect template for a prison breakout tale and Canal Street just serves to pump up your adrenaline again with pure fight music.
The album's closer Kiss the Ring, produced by Scram Jones taps into the good life vibe and sampling Elton John's Goodbye Yellow Brick Road, creates a triumphant and vibrant atmosphere for Rae's ascent to the throne.
Every single Wu member, except for U-God, show up and what we get is a united Clan energy that's been missing since Triumph. House of Flying Daggers reunites Raekwon with Ghostface Killah, Inspectah Deck and Method Man and the result is a Wu-Tang fan's fantasy.
Deck nails the opening verse, ripping into it with razor sharp lyrics and re-affirming his technical prowess ("I pop off like a mobster boss, Angel hair with the lobster sauce, summertime can't top the scorch").
Ghost and Rae prove that they've haven't skipped a beat during all these years with the former threatening to "bust n!ggas down with bats, swell up they joints, elbow, wrists, they shins get cracked" while the latter announces "Yo, I'm an ill dude, always been a real dude, don't f**k around, I will spill on you and kill you in the field, boo." And Meth, as usual, entertains and dazzles with his tongue-twisting wordplay.
Ghostface Killah of course appears as Tony Starks; his diverse rhymes alternating between desolate crime tales (Cold World), thuggish braggadocio (New Wu "My inner strength flowing, I mastered chi kung, Ya'll Planet of the Apes, standing next to King Kong") and a very memorable story of a love triangle gone wrong between him, his buddy and a mutual lady friend on Gihad that all ends in relief for one and bruises for another.
Though not featured as prominently as the original, Ghost's flamboyant and in-you-face lyrical style is still a perfect compliment to the Chef's quite intensity.
Which brings me to the real star of the show. If the first Cuban Linx crowned Raekwon as Mafioso hip hop's finest storyteller, Part II truly seals the title, confirming Rae as the most revered and vivid criminologist in hip hop.
His understated yet ferocious flow keeps you constantly on edge; his husky voice is drenched in world-weariness and his thick slang and dense obscure references makes him Wu-Tang's least accessible but most fitting candidate to carry on the Cuban Linx tradition.
Not only is Rae more focused, he sounds hungrier and more aggressive, maybe realising that this is his last chance to prove Only Built 4 Cuban Linx… was no fluke.
For all the comparison I've made to the original, don't be fooled, Only Built 4 Cuban Linx… Pt. II stands alone as a production and lyrical triumph. Like The Godfather Part II, although it will forever be linked inextricably to the original, it is a classic, judged on its own artistic merits.
It's a modern update with fresher beats, renewed lyricism and a lot of replay value; it draws upon the original for inspiration but it is entirely unique in its own way; and most importantly, it's the satisfying result to an impossible task; the sequel to 1995's Only Built 4 Cuban Linx…, one of the best Wu-Tang Clan albums of all time.