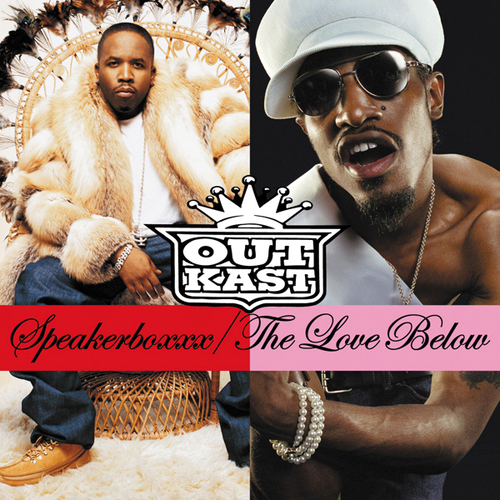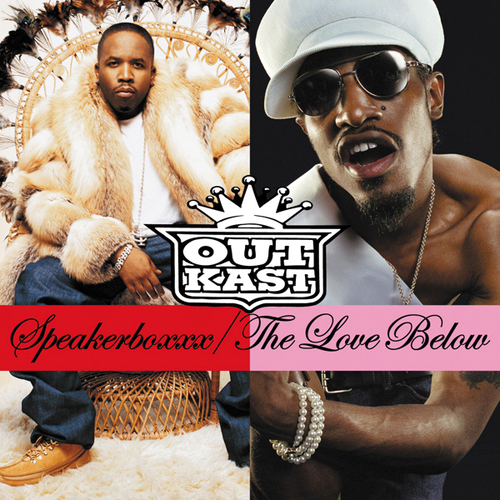 We all knew OutKast would get to this stage. After more than 10 years in the game, 4 absolutely sick albums, what was left to do? How do you follow-up on albums like Aquemini and Stankonia while staying commercially relevant and critically acclaimed? Well, they answered back with Speakerboxxx and The Love Below: two separate albums – one for Big Boi, one for Andre 3000.
Speakerboxxx, Big Boi's half, is rough street music that's overflowing with rugged funk and boom-bap breakbeats. Bass-heavy dance tracks ("The Way You Move"), breakneck electro-grooves ("GhettoMusick") and rugged posse cuts ("Tomb of the Boom") dominate Big Boi's more straightforward hip-hop side as he marches his lyrical swagger all over the record.
On the other hand, The Love Below, is the result of Andre 3000's newly found obsessions for singing and melodies over rhymes and beats. Frank Sinatra-styled crooning, 1950s lounge-jazz, cameos from Norah Jones and Kelis (as opposed to Big Boi's Ludacris and Jay-Z) The Love Below is a marvellous pop record that strives to push the boundaries of hip-hop music. I mean, if "Hey Ya" didn't have you up and shaking it "like a Polaroid," you might as well be dead.
Big Boi and Andre 3000 may have been separated for this record, but they're still OutKast at the end of day, and when it comes to catchy hits, solid rapping, wild-eyed experimentalism and tight albums, you can't get much better than OutKast.
Speakerboxxx/The Love Below is freewheeling hip-hop, dipped in pop sensibilities and filled with a lot of spirit. Whether they're paired together or not, Andre 3000 and Big Boi prove they're at the top of the league when it comes to making good music.