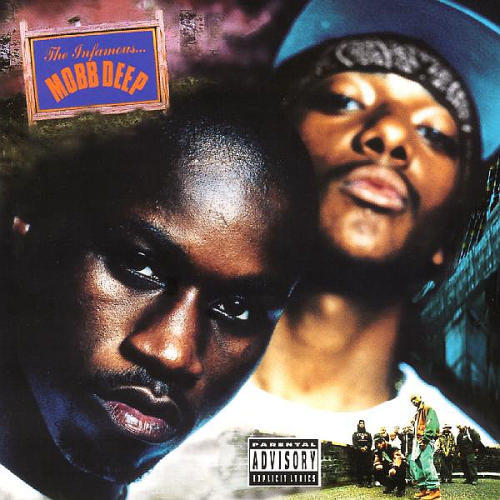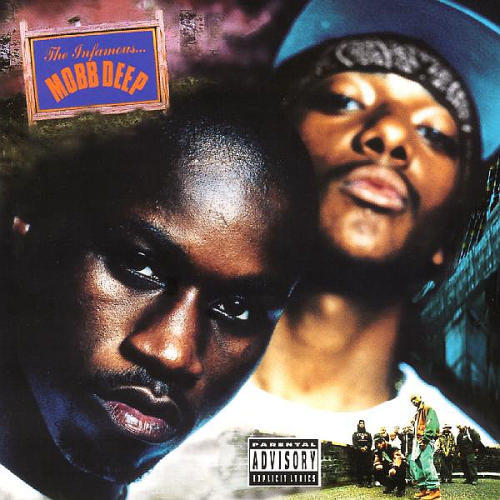 Released: April 25, 1995
Label: Loud/RCA/BMG Records
Take a look at the year 1995 and tell me if that wasn't one of the best years for hip hop music; and in particular, New York hip hop. There was the Wu-Tang onslaught, GZA, Ol' Dirty and Rae each dropping their debut; AZ coming with his silky, mafioso-inspired Doe or Die and the punch-line king Big L ripping up the mic with Lifestylez ov da Poor & Dangerous.
Standing tall among these giants is one album. Thanks in part to that piercing shrill that kicks off arguably the grimiest Mobb Deep cut ever, The Infamous, is forever engrained in the hearts of hip hop junkies. If Wu-Tang, Onyx and Black Moon were the ones who pioneered that raw, gritty, stripped-down vibe of the early 1990s East Coast hip hop, then dudes like Mobb Deep, Smif-n-Wessun and Nas were continuing that tradition.
With a little bit of help from A Tribe Called Quest's Q-Tip, Mobb Deep, and in particular, Havoc crafted a musical backdrop that was akin to a ghetto nightmare. From the bleak opener, "The Start of Your Ending (41st Side)," to the nihilistic closer "Party Over," there's not even a hint sunlight that makes its way through to The Infamous. It's a desolate and uncompromising soundscape – devoid of any life, emotion or positivity.
Jarring drums and ominous guitar loops open up "Survival of the Fittest" as Prodigy compares the duo's situation in the hood as akin to Vietnam. "Temperature's Rising" feels a little more serene thanks to Q-Tip's jazzy touch and Crystal Johnson's melancholic hook, while "Eye for a Eye (Your Beef Is Mines)" literally crackles under rusty piano keys. The bare-knuckled beat of "Give Up the Goods (Just Step)" allow Havoc, Prodigy and fellow Queensbridge dweller Big Noyd to effectively spit vicious battle rhymes.
And then there's "Shook Ones Pt. II" – probably the grittiest street anthem of all time, and next to Nas' 'N.Y. State of Mind', still stands as one of the pinnacles of New York hip hop. That chilling siren that opens up the track, then just morphs into a simple pattern of menacing guitar licks – it was raw and it was simply unforgettable.
And at that time, when Onyx's lyrics promoted somewhat, almost cartoonish violence, Nas' notepad was filled with illuminating urban poetry and Wu-Tang were a little preoccupied with kung-fu flicks, weed and Al Pacino – it was Mobb Deep who kept it close to the gutter and true to the streets.
While Havoc's role as the producer no doubt made The Infamous a cornerstone of East Coast hip hop, it was unarguably Prodigy's rhymes that elevated the duo's status to street kings.
With a menacingly slow delivery and clear-cut flow, Prodigy wasn't the best rhyme professional at the time, but when he rapped – you listened. Even Queensbridge superstar Nas and Wu-Tang heavyweight Raekwon couldn't outshine P on the QB-Shaolin posse cut "Eye for an Eye (Your Beef is Mines)." To this day, Prodigy's ability to cold-heartedly narrate brutally violent situations and educate listeners on the rules of the game, remains unparalleled.
There are no lavish tales of high stakes drug deals or dreams of fancy lifestyles on this album; the duo represented the ghetto mind state that life on the streets was short, unpredictable and eternally dangerous.
And in the same way Mobb Deep represented the mind state of young black males trying to survive while at the same time chasing their money, The Infamous embodied hardcore, New York hip hop to the fullest.
Nas, Biggie, Raekwon, Ghostface would arguably achieve more success, both commercially and critically, but when you think about New York rap music, you think Mobb Deep.