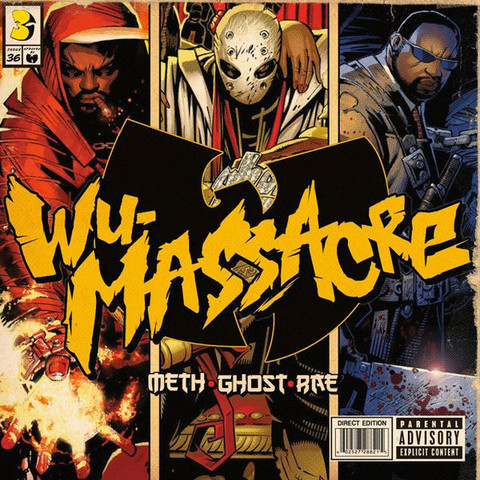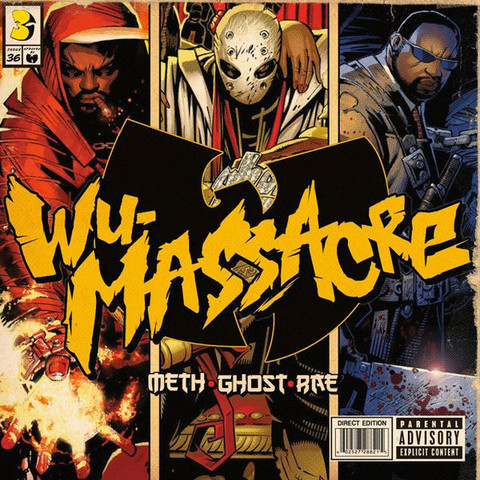 Imagine the excitement from Wu-Tang fans around the world when they heard Method Man, Ghostface Killah and Raekwon the Chef were teaming up for a one-off album. Arguably the three most visible and prolific Wu-Tang members; Meth, Ghost and Rae had proven their combined potency on tracks like Wu classics like 'Ice Cream' and 'Buck 50' and more recently; Ghostface's 'Yolanda's House' and Rae's 'New Wu'. There was no doubt about it – they sounded great together and the chemistry among the trio has always been brimming.
I'll admit it – the marketing campaign for this album literally had me shaking in my boots. Using the 1995 filmSe7en as the basis of the three-part video trailer was absolutely brilliant – seeing the words 'Tical', 'Starks' and 'The Chef' writing in blood sent a chill down my spine. Not to mention the sick album artwork; Wu-Tang hasn't put out album covers this great since GZA's Liquid Swords.
Add that to the fact that Raekwon has been on the comeback trail after the success of Only Built 4 Cuban Linx… Pt. II, Ghost has steadily been grinding it out with top notch albums almost every year and Method Man's ridiculously slippery flow was sounding better and better as time went on. It was only a matter time before they got together to have more good fun. And that's exactly what Wu-Massacre is.
Beat-wise; producers RZA, Mathematics, Ty Fyffe, BT, Digem Tracks Productions and Scram Jones all settle for the same boom bap funk – combining big brass horns and dusty vintage samples with that rugged Wu-Tang grittiness. Urgent, foreboding strings on 'Mef vs. Chef Part II' elevate the duo's verbal joust to another level, 'Smooth Sailing Remix', 'Dangerous' and 'Youngstown Heist' all feature that ambitious Wu swagger with deadly soulful murmurs in the background while 'Gunshowers' remains one of the weirdest yet strangely catchiest beat on the album.
'Criminology 2.5' suffers from a reworking of a much superior beat; BT butchers RZA's original masterpiece and transforms the menacing 'Criminology' into the fluffy 'Criminology 2.5'. And while RZA's Michael-Jackson-sampling 'Our Dreams' shimmers vibrantly with the King of Pop on the hook; it's Mathematics' 'Miranda' that's the production centrepiece. With a passionate Linda Jones sample, Mathematics – with some sharp piano work – crafts the ultimate vintage soul track; subdued keys in the background and Linda Jones' voice positively crackling on the vinyl.
As for the rhymes? Well, Ghost's high-powered, frantic delivery is balanced out nicely by Meth's husky chameleon flow, which in turn is countered by Rae's understated, thugged-out aggression. On tracks like 'Our Dreams', 'Dangerous' and 'Miranda' where it's only the three of them rapping; Wu fans get treated to some vintage Wu rhymes.
Meth re-lighting the torch for New York hip hop – "but that's just New York, I carry the torch, just long enough, to light a Newport and carry this thought", Raekwon with his trademark crime rhymes – "fresh out the jungle where the blue boys run, we carry rugers, smoking toast on your throat like oolas", and Ghost sounding like he's about to lunge off the track at the listener – "Two guns, thumbs up, for me and my posse".
However; for all the hype and excitement generated for this album, I can't help but feel slightly disappointed with the final product. With 12 tracks, 10 songs and running length of half an hour; Wu-Massacre definitely feels rushed. 'Criminology 2.5' and 'Mef vs. Chef Part II' barely break the 2-minute mark, not to mention Raekwon is inexplicably missing on the former. Actually, where the hell is Raekwon on this album? Appearing on 4 of the 12 tracks, it seems like Wu-Massacre was more a Meth and Ghost project rather than all three of them.
But you know what? If Meth, Ghost and Rae just wanted to get together, have a good time, making some great music, then there's no doubt about it – they succeeded. Despite being way too short for emcees for their calibre as well as feeling rushed – Wu-Massacre is a nice chunk of vintage Wu music.
Hard, soulful beats, punch-you-in-the-face lyrics; unique and refreshing – it's entertaining as hell. Judging by the two skits 'Ya Moms (Skit)' and 'How to Pay Rent (Skit)', Wu-Massacre isn't to be taken too seriously. Bottom line is; it's the trio having fun over some excellent beats. So sit back, crack open a beer, light your smokes up, turn up the volume and nod your head along to that Wu sh*t.