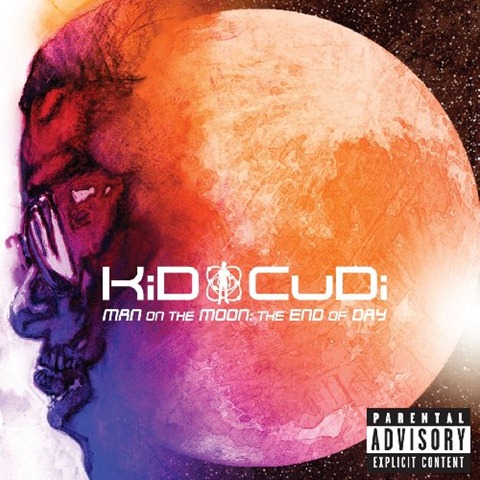 When I bought this album back in 2009, Cudi's smash hit "Day 'n' Nite" were already burning up the airwaves, the electro remix playing all over Sydney clubs and the original version on regular rotation on my iPod.
What made him so intriguing to me was that Kid Cudi was obviously, a different type of rapper, a new breed of artist, eschewing the popular gangster concepts of rap music.
In a genre that mainly promotes overwhelming self-confidence, hardened brag-rap, rhythmic grooves and a sense of invulnerability, Kid Cudi's debut album dealt with polar opposite themes. Moody, melancholic and capable of much deeper lyrics than most hip-hop artists at the time, it was no surprise when I read on some music sites that called Cudi's music "emo rap."
And while some may take offense to the title, if it means an artist who reveals their inner emotions, writes about personal pain and challenges the listener with heart-wrenching truths, I'm all for it.
Listening to Man on the Moon: The End of Day, I think you'd be tempted to say Kanye's 808s and Heartbreaks (released the previous year) had a major influence on the album's style, both sonically and lyrically.  But in my opinion, I think it was more likely that Cudi's presence on the G.O.O.D Music label steered Kanye's direction on that album.
The fact that he contributed 3 songwriting features to that album says a lot. But while Kanye's left-field venture was a one-time experimentation into loneliness and lost-love, Kid Cudi practically lives in that world, delving deeper into his own psyche and angst.
The effect of his dad's death, suicidal thoughts, alienation issues and his self-destructive behaviour all fuel the turmoil of The End of Day. Aside from the infectious groove of "Day 'n' Nite" and the delightful "Make Her Say" where Kanye and Common join in over a bouncy Lady Gaga sample, it's depression, gloom and paranoia throughout.
And to be honest, it can get a little tiresome. Not saying Cudi's a bad rapper, but damn, his monotone flow can put you to sleep at times, and his miserable lyrics just make you want to bump some DJ Quik once the record's over.
I was even tempted to skip the opening track "In My Dreams (Cudder Anthem)" after 30-seconds in because I nearly couldn't stand Cudi droning on.
But on the brighter side of things, musically, this record is everything you can ask from a genre-blending, indie artist like Kid Cudi. The producers behind the baord – Emile, No I.D., Kanye West, Jeff Bhasker, Crada – combine haunting electro-grooves with hip-hop based rhythms, indie rock guitar riffs and synth-pop melodies, resulting in a brilliant collage of floating, melodic soundscapes.
"Soundtrack 2 My Life" sounds like Cudi's gliding through a spacey backdrop with its tingling whistles, "Solo Dolo" blends sparse instrumentals with creepy vocals for a chilling effect and the MGMT-featured "Pursuit of Happiness" swirls around with psychedelic guitar loops and trippy piano keys.
Perhaps he was a little too ambitious with his debut. Judging from the grand title, Kid Cudi imagines himself as the "lonely stoner" drifting in space, creating whatever music he feels like. And while I admire his musical courage, unfortunately, the record doesn't quite hit those lunar heights he was aiming for.
But despite me giving The End of Day a mere 3 stars, it's still worth buying. Truth is, Kid Cudi is an extremely fascinating character and his unique blend of rapping/singing has made him the vanguard for more melody-based up-and-coming emcees. Aside from Kanye and Andre 3000, there aren't that many hip-hop artists out there doing what Cudi is – pushing the boundaries of rap music, blending genres and extending the art-form beyond simply rhymes and beats.