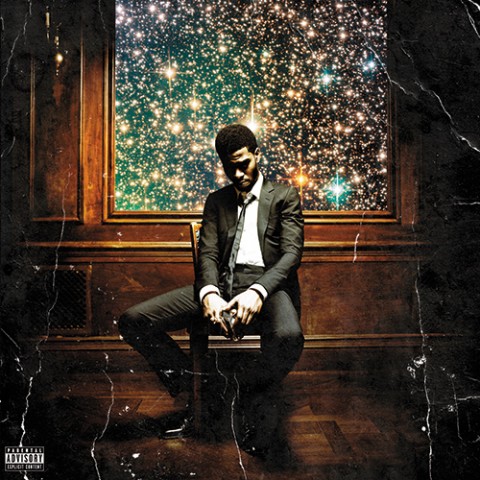 I'm not too sure what the reactions to Kid Cudi's single "Day 'n' Nite" were in the U.S. and other countries, but in Australia, it was a massive hit. Everywhere you went you heard the song, it was all over the clubs and radio; getting considerable airplay, especially the electro remix. But other than that, Kid Cudi wasn't an artist I listened to extensively in 2009.
Despite his debut Man on the Moon: The End of Day featuring some incredible production, beautiful vocals and abstract themes, it was just … boring. Straight off the bat, the intro nearly put me to sleep, and while it included some excellent gems – ""Soundtrack 2 My Life" and "Make Her Say" especially – it didn't match up the intense hype generated by "Day 'n' Nite."
Granted, Kid Cudi is basically the spearhead of the indie hip-hop movement along with Kanye and Drake – artists who eschew the usual gangster fanfare and opt for more introspective topics, write about deeper personal themes and often reveal complex vulnerabilities – so you'd expect a lot of stark, moody content. But still, a little bit of sunshine here and there won't hurt right?
So while I thought Cudi was an extremely promising artist, I approached his sophomore effort Man on the Moon II: The Legend of Mr. Rager wary of more depressing lyrics and gloomy production. And what did I get?
Well, more depressing lyrics and gloomy production. But this time around, Cudi must have taken advice from mentor/friend Kanye West – an artist who excels in balancing the artistic and the commercial – because the tracks are now crafted with a little more pop appeal; catchier hooks, livelier production and just more fun to listen to overall.
Sure, the bland moments still show up here and there, but overall, as a record, The Legend of Mr. Rager flows much smoother than Cudi's debut.
Lead single "Erase Me" is purely him and Kanye goofing around in the studio, rapping about a girl who wants to "erase" Cudi from her life but simply can't because he's everywhere – "I'm in the magazines / on the TV / no matter where you are you might hear me".
Other tracks delve into darker topics: the Mary J. Blige-assisted "Don't Play This Song" examines his past drug addiction and his scattered mentality at the time – "pain, hurt, sadness and loneliness," the chilling "Wild'n Cuz I'm Young" is Cudi conscious of his self-destructive behaviour and realising his bad habits, but really not giving a f*ck, exclaiming – "liquor all night, love it!"
As the record progresses, the bleak themes begin to present themselves more explicitly. Indie artist St. Vincent and underground rapper Cage show up for "MANIAC," a murky and at times surreal track that has Cudi rapping in complete monotone "this my new hideaway / this is my tomb / this is my coffin / this is my place for unruliness," while "Mojo So Dope" is perhaps the lowest point on the entire record as he talks about his brother's drug addiction and his own early use of alcohol to drown the sorrows.
And while the production is still derivative of The End of Day – spacey, electro-grooves sprinkled with hypnotic melodies – it's a step up from the debut.
Despite no less than 10 producers behind the board, the sonic backdrop is surprisingly consistent, playing out like one long drug-fuelled fantasy, the only exception being "Erase Me" with its playful guitar riffs and alt-rock hook. Other than that, eerie sounds float around cold, empty landscapes.
Cee Lo Green appears for the haunting hook on "Scott Mescudi vs. the World," the appropriately ominous album-opener, "Marijuana" features a gorgeously seductive piano loop whereas "GHOST" shifts the tempo up with its vivid strings and subtle guitar riffs.
Ultimately, though this record shows Kid Cudi honing his pop sensibilities, the raw intensity, dark personal themes and heart-wrenching honesty still play a prominent role in the record's content.
The desolate soundscape and lyricism reflect Cudi's fragmented state of mind, and while he's not going to be praised for his rhyming skills anytime soon, he does have a knack of keenly insightful songwriting, making every track a wide eye-opener.
If his debut established him as one of the most imaginative, melodic and intriguing rapper/singers in the business, this record reveals just how left-field Kid Cudi is compared to the rest of the hip-hop industry.