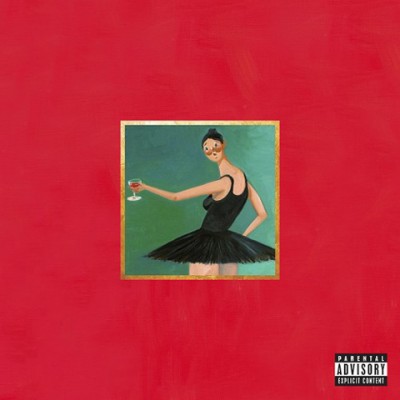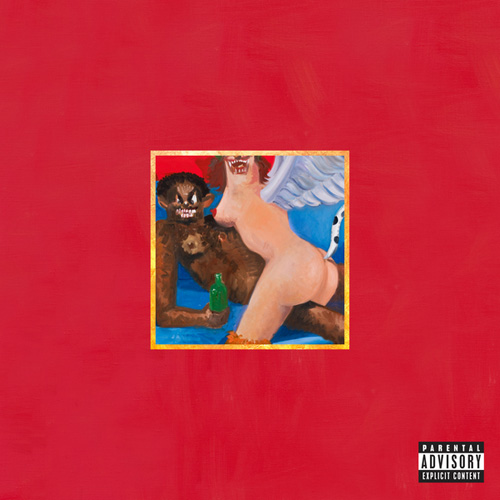 "At the end of the day, goddamn it I'm killing this shit
I know damn well y'all feeling this shit"
– Kanye West ("Power")
Never have truer words been articulated by an artist.
Kanye West may very well be the epitome of that saying "good music is good music", because you may hate him for one of the many asshole type things he's done in the past few years: interrupting Taylor Swift, ranting and raving at award shows, public outbursts, etc., but at the end of the day, goddamn it, you've got to be feeling his music.
Kanye's fifth studio album My Beautiful Dark Twisted Fantasy is the culmination of a decade's worth of ambitious musical pursuits and experimentations; not only presenting a hip-hop artist at the very top of his game, but also a visionary striving to be bigger and better in all aspects of his craft.
Where to begin describing this record?
Well, if you want to take all the elements of his previous work – the slick funk grooves and dusty soul samples of The College Dropout, the grandiose orchestral strings on Late Registration, the glossy synth-pop of Graduation and the tribal electro-rhythms on 808s and Heartbreaks – and you run them through a grunge filter, you'll pretty much get the direction Kanye is striving for on My Beautiful Dark Twisted Fantasy.
The magnificent opener "Dark Fantasy" flicks back and forth between a rousing gospel choir and RZA piano grooves while "Gorgeous" rides a gritty guitar riff. And just when I thought he couldn't top massive singles like "Jesus Walks," "Gold Digger" and "Stronger," he drops "Power" on us. An epic chant accompanied by marching drums and frenzied screams courtesy of King Crimson's "21st Century Schizoid Man," building up more and more until it reaches almost exhilarating hysteria, only to compose itself again with a Dwele outro.
Then there's the blockbuster collaboration track "All of the Lights" which feature vocals from artists like Rihanna, Alicia Keys, Fergie and The-Dream. Oh yeah, Elton John plays the piano as well. A manoeuvre only Kanye West could pull off. The back-to-back posse cuts "Monster" and "So Appalled" form the centrepiece of My Beautiful Dark Twisted Fantasy, showcasing Kanye's power to pull in eclectic guest appearances and coax stunning performances from them. Over the jaw-rattling drum 'n' bass of "Monster" and apocalyptic strings of "So Appalled," 'Ye, Hov, Pusha T, Nicki Minaj and Cyhi the Prynce all wrestle for the hardest verse.
Though far from a lyrical wizard, Kanye has improved drastically as an emcee. He's come a long way from that goofy kid on "The College Dropout" with his songwriting and wordplay getting better with each song. "Gorgeous" is probably his best performance on the record, going from talking about Mount Olympus to "choke a South Park writer with a fish stick" within a couple of bars. Only two verses eclipse him on the album – Minaj's on "Monster" and Hov's stinging bars on "So Appalled" – "would you rather be underpaid or over-rated / moral victories is for minor league coaches / and 'Ye already told you "We Major" you cockroaches."
While the first half of the record is Kanye reminding listeners why we fell in love with him in the first place, the second half is the listeners remembering why we eventually fell out of love. "Devil in a New Dress" drifts through the night time with misty vocal samples swirling around while the isolated piano key on "Runaway" speaks of alienation, frustration and loneliness.
And if you thought this would be the record where Kanye would apologise for his past behaviour and try to amend his mistakes … you're wrong. In fact, he's never sounded more self-absorbed than he does on the jagged "Hell of a Life" where he imagines marrying a porn star, making a priest faint and a nun come. This is Kanye at his excess best; the deranged piano loop on the hook just confirms it.
But if "Hell of a Life" is Kanye's beautiful fantasy, then the following track "Blame Game" is his twisted reality. Over a fractured Apex Twin sample, Kanye's schizophrenic and fragmented mind presents itself fully to the listener. Indecisiveness plagues his mind. And as the paranoia and insecurities intensify, Kanye's vocals split into different characters, each with manipulated vocal pitches. The effect is startlingly bleak and by the end of it, he's left muttering to himself.
The closing track "Lost in the World" samples from Bon Iver's 2009 "Woods," and the folksy singing is heavily contrasted by hypnotic tribal blasts, which segues into "Who Will Survive in America." Kanye gives Gil Scott-Heron the last words, the radical poet speaking on the decay of idealism – "America is now blood and tears instead of milk and honey" – perhaps the most consistent theme throughout the record.
My Beautiful Dark Twisted Fantasy is as close to perfect as a hip-hop record can get. More than anything though, it's a clash of styles: the high art vs. pop culture, sex moans vs. lush orchestras, foul mouthed Chris Rock-tirades vs. revolutionary Gil Scott-Heron writings. And with this record, Kanye is saying to listeners – you've got to take the good with the bad, the beautiful with the ugly, the dark with the humorous, the twisted with the sincere, the fantasy with the reality, and most importantly, Kanye the public persona with Kanye the artist.
Though far from being apologetic – he's self-aware enough to realise his own image, but he's narcissistic enough to say "fuck it." Whatever Kanye's done to offend listeners in the past few years, My Beautiful Dark Twisted Fantasy should be considered his redemption, because this isn't just hip-hop's greatest record of 2010, but quite possibly one of pop music's greatest accomplishments in the past decade or so.