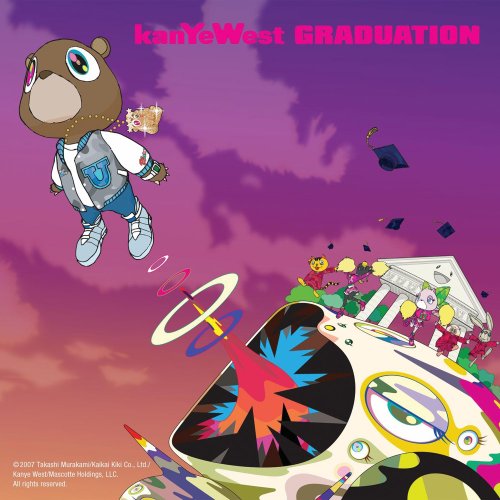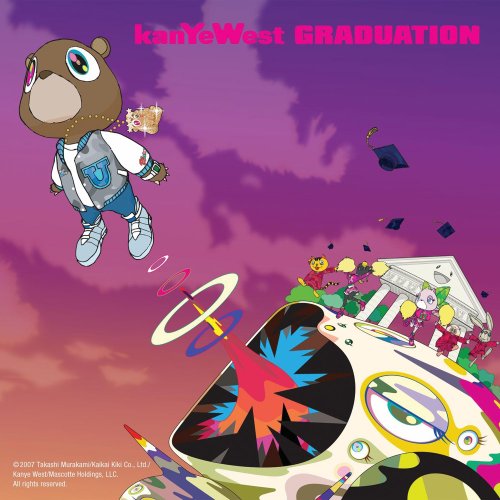 Powered by quirky, soul-drenched samples, the phenomenal "Jesus Walks" and his goofy sense of humour, The College Dropout propelled Kanye West into hip-hop superstardom.
Few dared to question his record-making prowess, especially after Late Registration, as he continued to evolve both as a producer and an emcee.
But it was with Graduation that solidified Kanye West's position in pop culture and music-making folklore. If the two preceding albums established him as an immensely talented hip-hop artist, then Graduation confirmed Kanye as a pop music genius and quite possibly, the most original, talented and imaginative musician working today.
Where his debut explored working family dreams and the monotony of middle-class work and his sophomore explored social welfare and global issues, Graduation narrowed the focus and tightened the writing – it's all about Kanye here. The dazzling rise in the music business, the allure of fame, the controversy, the media, the asshole everybody loves to hate.
But more than anything, it's a celebration. It's as simple as celebrating the fact he's made it this far, stacking paper and popping "champagne on a plane, while gettin some brain."
Jay-Z must have given Kanye advice on record-making because Graduation is The Blueprint-esque, lean and mean. The once-humorous, twice-bland skits of College Dropout are gone as well as the overindulgence of Late Registration.
But while Hov's magnum opus stayed in familiar territory, production-wise, this record overflows with grand musical ambitions, Kanye sampling artists ranging from Elton John ("Good Morning"), Daft Punk ("Stronger") and Michael Jackson ("Good Life"), while keeping the guest appearances to a minimum.
Besides a hook here and there from Mos Def, T-Pain and Chris Martin, the only other artist who raps is Lil Wayne on "Barry Bonds."
Musically, Graduation is Kanye's boldest work to date. He moves beyond hip-hop and reaches far beyond, creating a synthesis between traditional boom-bap rap music and stadium-status, synth-heavy electronic-rock.
For listeners who have long detested Kanye's inept lyrical abilities, Graduation won't change their mind anytime soon. His clumsy flow still shows up here and there while awkward rhyme schemes may have traditional lyricism-based hip-hop heads shaking their heads in disgust.
But you know what? At the end of the day, in the overall grandeur of Graduation, you don't even notice it. Who cares about Lil Wayne fumbling his terribly bland verse on "Barry Bonds," or that the hook on "Big Brother" is simply awful, or that the lacklustre beat for "Homecoming" is only saved by Kanye's cheeky rendition of "I Used to Love H.E.R."
When the soaring synthesisers and glimmering piano keys of "Big Brother" begin to fade away, I can safely say, I just finished listening to the greatest hip-hop record of the decade.