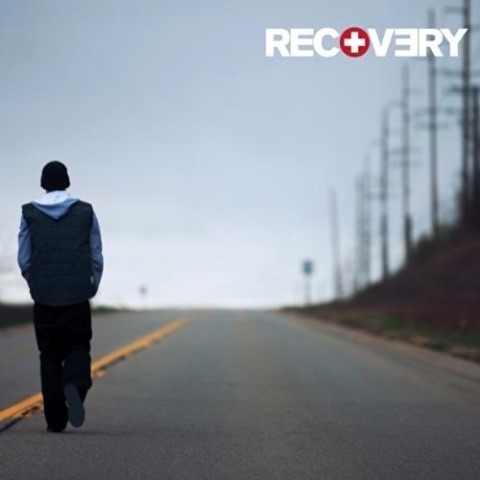 Let's consider Eminem's album progression for a second.
Infinite was a lyrical bonanza; a testament to the sharply-honed rhymes skills he developed in the underground. Despite this, the album suffered from bland beats and no subject variance, making it a die-hard-Eminem-fan-only album.
Dr. Dre and his Slim Shady alter-ego made The Slim Shady LP a wildly entertaining, psychotic ride through the mind of hip-hop's latest madman; while The Marshall Mathers LP, his greatest album yet, was finely balanced between Marshall Mathers and Slim Shady.
The Eminem Show saw him take on Bush and the United States Govt., while eschewing Dre's sparse-funk bangers for his own rock-infused beats.
Then Encore happened. Lyrically tapped out; Em resorted to a gun-toting and celebrity bashing for the most part of the album. Relapse featured some of the most complex rhyme schemes ever employed by a rapper; but the shock tactics didn't work anymore – it appeared everybody, Em included, was getting sick of Slim Shady.
It was time for change.
And so in saying that, Recovery is Eminem's most daring effort to date; collaborations range from a piano ballad with Rihanna ("Love the Way You Lie"); Pink shows up the head-rocking "Won't Back Down"; not to mention Em strays outside his Dre/Bass Brothers comfort zone and reaches out to dudes like Just Blaze, Boi-1da, Jim Jonsin and Havoc for more eclectic beats.
"Space Bound" floats around beautifully with its acoustic-driven melody while Eminem examines unrequited love, but it's the eerie hook that's the true highlight of the track. And despite only producing one track on the album; Dre's "So Bad" is a brilliant concoction of trumpets loops and piano riffs while Just Blaze draws on Haddaway's 'What is Love' for the Lil Wayne featured "No Love".
"Cinderella Ma"' is an explosion of bone-crunching stomps and triumphant rhymes while 'Talkin' 2 Myself' sees Eminem breakdown and make a startling confession – "almost went at Kanye too, God it, feels like I'm goin psychotic, thank God that I didn't do it, I'da had my ass handed to me, and I knew it."
If there's one thing I can never deny Eminem – it's the fact that the dude is a monster lyricist. Time and time again, Em displays exemplary skills as a wordsmith, spewing internal rhymes and switching up flows like no tomorrow ("Cadillac Sevilles, Coupe DeVilles, brain-dead rims, yeah stupid wheels, girl I'm too for real, lose your tooth and nails"), not to mention munching up unseen opponents with a brutal delivery ("every flow got it mastered so every last word that you fuckin fags heard, comes straight from the fish's ass, yeah in other words I'm a bass-turd").
Full of emotional valleys and peaks, this album is Eminem taking chances musically and maturing more as hip hop artist, not simply a rapper. Proof's death ("You're Never Over"), his relationship with Kim ("Love the Way You Lie"), his drug addiction and subsequent new lease on life are the topics that drive Recovery. There was little mention of the passing of his friend's impact of him on Relapse, but here he delves deep into it.
Slim Shady and his wild antics are gone but even though there's not one track that even slightly resembles a chase through the woods, catching Kim and slitting her throat while screaming "bleed, b*tch!" there's something provokingly real when Em says "I'm tired of the games, I just want her back, I know I'm a liar, if she ever tries to fuckin leave again, I'ma tie her, to the bed and set this house on fire"
The only real issue I have with Recovery is that Eminem stumbles over a lot of his tunes. There's absolutely nothing wrong with a rapper singing his hooks, I loved it on 'So Bad' but when it sounds anything like the introduction to 'Cold Wind Blows' or the chorus for 'You're Never Over' – it doesn't fare too well with my ears.
With the latter, Em insists on painfully dragging out the 'you' until his voice nearly cracks. Other than that, I can look past the fact that Lil Wayne sounds terribly out of place or that there's no real centrepiece track for Recovery; no 'Guilty Conscience', 'Stan', 'Lose Yourself', 'Sing for the Moment'-esque genius styled tracks, I guess I can safely say it's all very consistent.
To me, Recovery is good but not quite great. It's an artistic triumph for Eminem in a sense that he's long struggled with pushing past the Slim Shady persona. He's refined his album editing skills, unlike preceding albums, Recovery has no useless skits, and he's approached old topics like Kim from a fresh angle.
Beat-wise he's experimented with different sounds and musicians; collaborated with artists outside the Aftermath/Shady/G-Unit camp and lyrically, he's consistently fire. If Recovery is any indication of what's to come from this new Eminem, then I don't think we'll be waiting too long for that other masterpiece we all know is brewing underneath him.