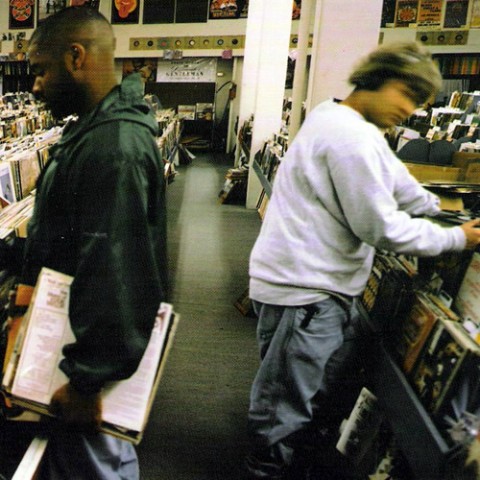 Equipped with nothing more than his sampler and armloads of obscure vinyl records, DJ Shadow meticulously crafted a slow-burning and enduring masterpiece while at the same time holding a finger up to critics of hip hop music and those who dismiss the sampler as a legitimate instrument.
Building upon samples that range from vintage jazz records to film sound clips (Prince of Darkness, 1987), from ambiguous voice recordings to soulful Isley Brothers grooves and from the background synthesisers that appear on Blade Runner to the forgotten funk of The Meters, it's like DJ Shadow made it his quest to incorporate all forms of music, no matter whether it be mainstream or underground, into his album. He even digs into the hip hop crates, sampling from artists like Grand Wizard Theodore, Kurtis Blow, Jeru the Damaja, A Tribe Called Quest and Kool G. Rap & DJ Polo.
Seriously, the man is just genius. I mean, I've heard some pretty wild sampling in the past, or at least I thought I did. From Pete Rock's sublime horn break on 'They Reminisce Over You (T.R.O.Y.)' to RZA's majestic 'C.R.E.A.M.' piano loop to Kanye West's brilliant re-working of Daft Punk's 'Harder, Better, Faster, Stronger', I thought I heard it all before. But DJ Shadow is in an entirely different league of his own.
Using crisp, rock hard drum loops as the basis, DJ Shadow weaves in beautifully haunting vocals, as they drift in and out ('Midnight in a Perfect World'); lightens the mood with funky grooves when it all gets too intense ('Changeling') and floats magnificent synthesisers above smooth bass-lines on the ironically titled 'Why Hip Hop Sucks in '96.'
While 'Endtroducing…' can be quite an intense listening experience – with its thematically dark nature, psychedelic, trippy loops and its pulsating bass-lines – there's no doubt that it's a grow-on-you sort of album and when it does; you'll realise how much powerfully addictive the feeling can be. A wonderfully ambitious concept and flawlessly executed, 'Endtroducing…' will forever be intrinsically linked to the art of sampling.
Masterfully produced and intricately crafted; it's a must for any hip hop fan, well, any music fan for that matter. After listening to this album, a whole new door opened up for me to the world of instrumental hip hop – I discovered similar albums like Blockhead's 'Music by Cavelight', and a number of others by Pete Rock ('PeteStrumentals', 'The Surviving Elements: From Soul Survivor II Sessions') and J Dilla ('Donuts', 'Jay Love Japan').