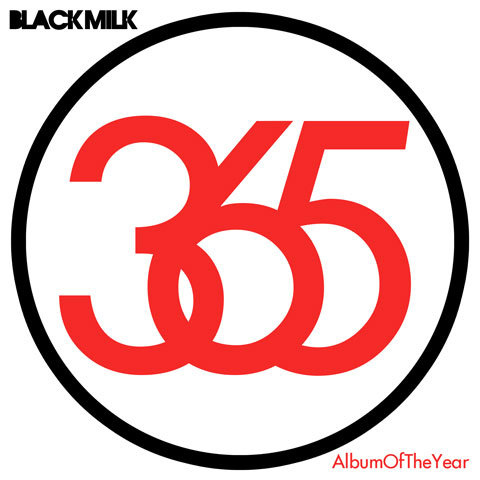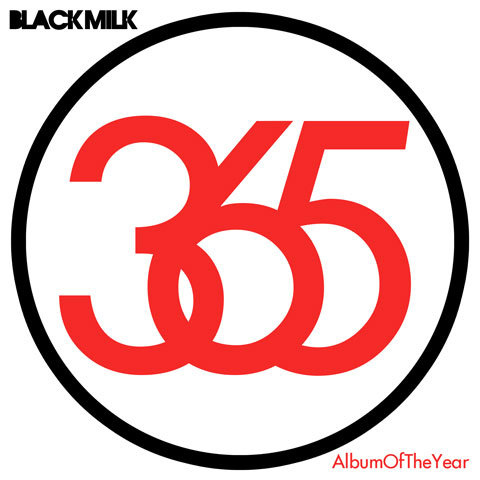 It's quite a statement to make, naming your fourth studio release Album of the Year. With albums by Eminem, The Roots, Big Boi and Nas dropping regularly throughout the year, how dare Black Milk nominate his as the best of 2010?
Well, the thing is … he isn't trying to say that.
As he explains on the opening track '365' – Album of the Year actually means an album about the year that's just passed. From all the life experiences he's gone through since last year, he wanted to "channel those moments through the music." Since his last album, the genre-blending and vastly underrated Tronic, which I considered one of the best albums of 2008 – the multi-talented producer-rapper has been on a blazing run.
In addition to producing a majority of fellow Detroit dweller Elzhi's debut, The Preface, Black Milk's also collaborated with Fat Ray for another 2008 project, as well as handling a number of production credits on albums like Ode to the Ghetto and Pro Tools. He's been mighty busy, that's for sure.
Album of the Year's musical backdrop is, for the most part, deeply rooted in the Detroit hip hop/J Dilla tradition. Black Milk's obviously a fan as well as student of that warm vinyl touch; blending vibrant soul samples with rugged boom bap loops and obscure funk horns on cuts like 'Deadly Medley' and 'Black and Brown.'
Yet on the other hand, Milk's creative enough to craft a sound more imaginative than his hometown's influences – experimenting with drum-n-bass on the heavily rhythmic 'Round of Applause', mixing electronic elements on the trippy 'Warning (Keep Bouncing)' and incorporating psychedelic guitar grooves into 'Distortion.'
The pulsating 'Keep Going' boasts vigorous breakbeats and lively guitar loops – to the point where I wondered whether or not Black Milk hired a live rock band to rhyme over.
Speaking of the rhymes; Black Milk is incredibly balanced with his beat-making talent and emceeing skills. Some producer-rappers are simply brilliant in one arena while barely passing in the other. For instance, no one doubts Eminem's prowess as a lyricist, but his beats aren't always that great, whereas Kanye is a genius at producing music, but when it comes to his rhymes – he's good but not great. (Which is probably more credit than most people give him.)
Black Milk doesn't have a problem with that. Even though I'd say his biggest strength lies with his beats, Black Milk is a very solid emcee. Sporting a razor sharp delivery, a loose, easy flow and capable of stacking rhyme after rhyme, Black Milk's good enough to joust with the best of them. He takes on lyrical heavyweights, Royce da 5'9" and Elzhi on the Detroit posse cut 'Deadly Medley' and holds his own quite well.
In fact, I'd go so far to say he rides the beat even better than Royce; whose unrestrained aggression didn't flow too well with the soothing, acoustic backdrop. And sticking to the theme of the title – Album of the Year – Black Milk deviates from vicious battle rhymes and examines a variety of topics, taking a short look at his life in the past year '365', boasting of his skills on 'Keep Going', tackling girl issues ('Oh Girl' and 'Over Again') and making shout outs to deceased comrades, Proof and Dilla, on 'Closed Chapter.'
Album of the Year proves that Black Milk is one of the few producer-rappers who can hold down an entire album all by himself, with minimal guest appearances, tight running time (a little under an hour) and engaging material. Its consistency may be its one and only flaw – there's nothing on this album that simply jumps out and stays in your head.
But there's no doubt Black Milk is improving both as an emcee and a producer. It's not sonically entertaining or memorable as Tronic, but you can see he's reaching out to different genres and taking more risks with his craft. Album of the year or not, Black Milk's fourth studio release is a sign he's on his way to becoming one of Detroit's most recognisable talents.