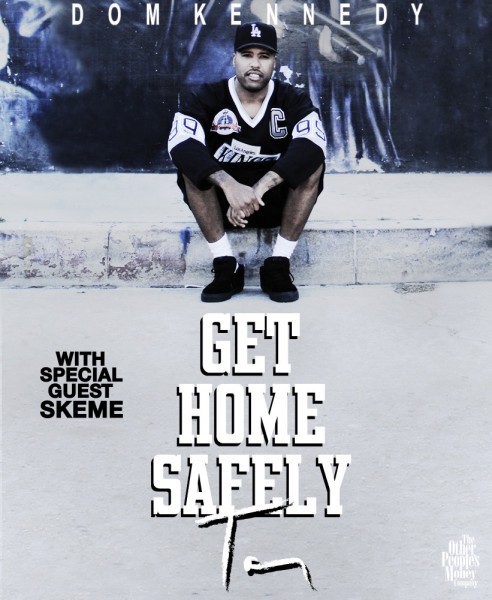 With the release of his second studio album, Get Home Safely, earlier this year, Dom Kennedy will be hitting the road in January, travelling across the US to promote the project.
Released via Dom Kennedy's own label, The Other Peoples Money Company, Get Home Safely features guest appearances from Krondon, TeeFLii, Ty Dolla Sign, Nipsey Hussle as well as Skeme who will also be joining him on the tour. The album managed to move 10,000 units in its first week of sales, debuting at number 23 on the Billboard 200 and has been received very well by critics.
Check out the complete tour dates and venues below.
1/23 Baltimore MD @ Soundstage
1/24 Washington DC @ The Fillmore
1/25 Boston MA @ Middle East
1/26 Philadelphia PA @ Trocadero Theatre
1/28 New York NY @ Irving Plaza
1/29 Pittsburgh PA @ Altar Bar
1/30 Syracuse NY @ The Underground
1/31 Toronto ON @ Hoxton
2/1 Detroit MI @ St Andrews
2/3 Minneapolis MN @ The Cabooze
2/4 Chicago IL @ Metro
2/5 Cleveland OH @ House of Blues
2/7 Miami FL @ Avenue D
2/8 Atlanta GA @ Masquerade
2/9 Charlotte NC @ Fillmore
2/10 Nashville TN @ Anthem
2/12 New Orleans LA @ House of Blues
2/13 San Antonio TX @ White Rabbit
2/14 Dallas TX @ Trees
2/15 Houston TX @ Warehouse Live
2/16 Austin TX @ Empire Control Room
2/17 Baton Rouge LA @ Varsity Theatre
2/19 Denver CO @ Gothic
2/21 Las Vegas NV @ Hard Rock Cafe
2/22 Ventura CA @ Ventura Theatre
2/23 Santa Ana CA @ Observatory
2/24 San Diego CA @ SOMA
2/25 Santa Cruz CA @ The Catalyst
2/26 Sacramento CA @ Ace of Spades
2/27 San Francisco CA @ Regency