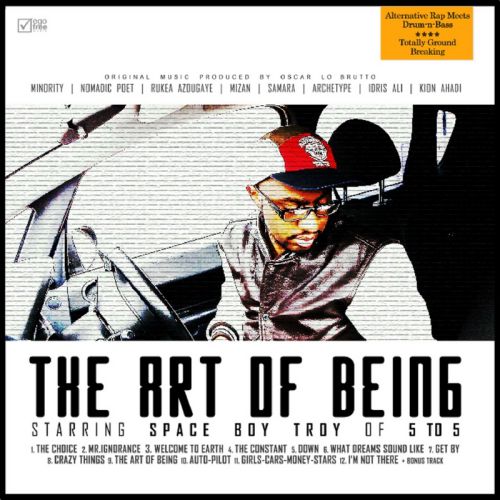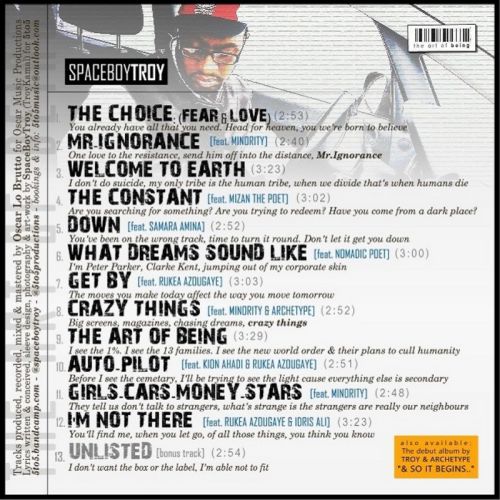 Artist Background: Space Boy Troy (aka TroyKamal) an MC from North West London, producer, music video director & one half of the rap group 5to5. Being a true fan of the 90's golden era, hip-hop has been the constant passion of my life ever since my older brother first played me Critical Beatdown by Ultramagnetic MC's.
My musical influences include A Tribe Called Quest, Coldplay, The Streets, Mos Def, KMD & Slum Village. That said, I'll gladly listen to classical music, 80's pop, jazz, everything except Rihanna & trap music. My life's journey has taken me from the malls & multiplexes of Florida to the holy mosque in Mecca.
I went from drinking serial shots of tequila to stock piling food for the Mayan apocalypse, so far it has been quite a ride. I am fully committed to living an extremely colourful life & just happen to be making up my own soundtrack along the way.
I feel most alive when I am performing on stage, not a battle rapper, I'd rather unify & elevate my people than turn on them for the entertainment of the so-called elites. I am most at home in the studio but spend more time experiencing groundhog day in an office with human batteries firmly plugged into the matrix.
Obviously I'm not judging, whatever works for people is great, but me, I've been awake for some time & my art can't help but reflect that. I have been helping artists express themselves for years & now its my turn to take centre stage, to paraphrase the Chinese proverb; I am living in very interesting times indeed.
Stream The Art Of Being below and hit up DatPiff to download the project. You can also check out our interview with Space Boy Troy here.