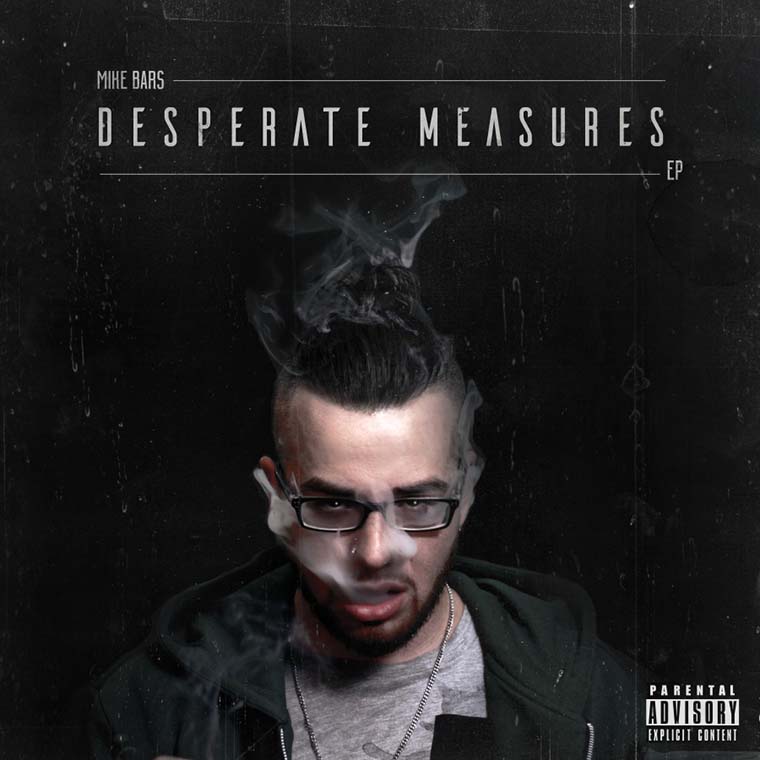 It's been five years since Mike Bars released his debut mixtape 16 Bars (and the wildly viral music video for "There Will Be Blood," which amassed over 3 million views), but the rapper hasn't lost his step in the slightest.
To that effect, the Portland-based spitter is preparing to release his latest EP, "Desperate Measures," an eight-track offering that is designed to reward the patience and loyalty of his ever-growing fanbase.
Throughout the project (which Mike produced, wrote, and recorded himself), "Desperate Measures" plays out as a self-aware, tongue in cheek satire on the horrorcore sub-genre that Mike Bars found himself prematurely pigeonholed into by the droves of fans that came across "There Will Be Blood."
The EP's darker soundscapes and bloody motifs are effectively balanced by Bars' patented melodic raps, devastating double-time verses, and lighthearted humor (see "Whip It," an infectious banger that boasts appearances from the emcee's squad, TreeHouse Gang).
Other notable moments from the project include "Up To No Good," the first single for the project that has Mike trading bars with ex-Funk Volume member Jarren Benton (further cementing his relationship with the former label's members, given the appearances from SwizZz, DJ Hoppa, and Dizzy Wright on 16 Bars).
As if these credits were not impressive enough, the EP was mixed by Blake Eiseman (who mixed the legendary Usher album "Confessions") and mastered by Colin Leonard (who mastered the Migos' smash hit "Bad & Boujie" as well as the entire "Culture" album).
To kick off the promo run for "Desperate Measures," Mike dropped the official music video for "Up to No Good" (which was co-directed and co-edited by Mike and his frequent collaborator Cypress Jones on a budget of forty dollars). The music video has quickly racked up over one million views, adding another viral cinematic to Mike's catalog.
With carefully selected singles, booming production, and potent songwriting, "Desperate Measures" serves as a compelling reentry into the rap game for Mike Bars.
The launch of the "Desperate Measures" EP will be followed by the release of the official music video for the project's second single, "Oh! (Buried Alive)," which was also co-directed by Mike and Jones while being fully edited by Mike himself.