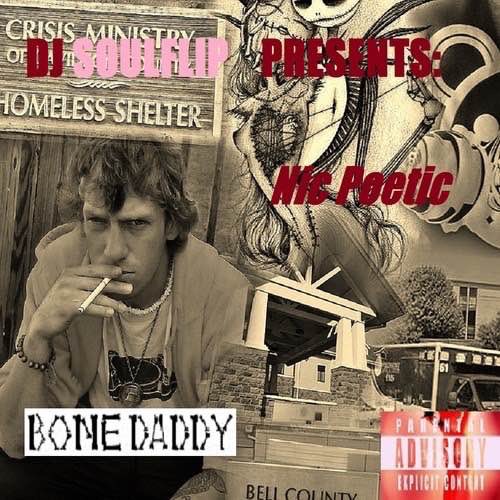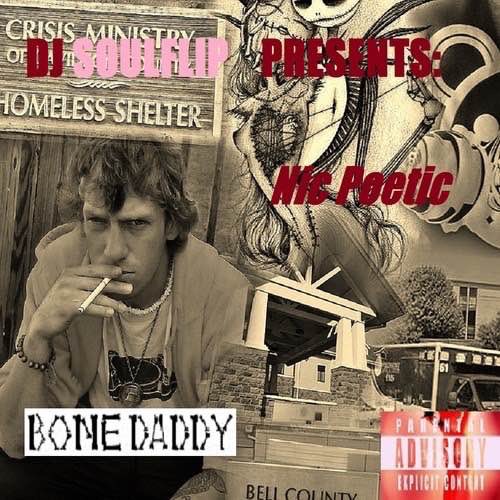 Coming straight outta Lafayette, LA, in collaboration with DJ Soulflip, is The Conscious Lyricist Nic Poetic making his official introduction into the rap game.
After 10 years of rapping and 15 years of writing music; Nic Poetic has finally dropped his debut mixtape Bone Daddy – a 20-track project that showcases all the trials and tribulations the rapper has gone through in his life so far.
With a wide range of life experiences to draw from and musical influences that include conscious rappers like Black  Thought, Brother Ali and Lupe Fiasco; Nic Poetic rhymes with a lot of angst and energy.
From the tape's opening track "Le Collection" where he goes in over Game's "It's Okay (One Blood)" to the bonus track "Fifty Artists" – Nic Poetic is a relentless rapper who consistently switches up his flow, making for a very interesting listening experience.
Bone Daddy features production from DJ Soulflip (who handles the bulk of it), Andy Beatz, Redhooknoodles, SuperKrush Smith, Makaih Beats, RUDE SOCIETY MUSIC andRoger Nodge as well as one guest appearance from DeGrate Love.
Artist Background: I was born in Lafayette, LA and I graduated from Acadiana High School. I also attended Clever High School in Missouri for two years. I have lived in ten states, mostly southeast. I was in the military for five and one half years and got out a couple of years ago. I started writing rock music at the age of thirteen. I switched to freestyling and writing raps at nineteen.
I have done quite a bit of hitch-hiking in my life. I have spent time in rehabilitation centers and jail (misdemeanors). I used to play bass guitar. I was married for just 10 months. I dont really like sports but I have been a huge Charlotte Hornets and Tar Heels basketball fan since I was little. I was a relly smart little kid, I skipped second grade. I have never had any tolerance for racism and prejudice or bullying in general.
I am a Christian, loosely (I have a broad conception of God). Music is my love, my joy, my passion. I believed in music before I believed in God, even. Music is my release, it's how I get the junk out. I am a very angry person without it. When I am not doing music I tend to turn to abusing substances and even violence and crime at times. Thank You.
Stream Bone Daddy below and make sure you hit up DatPiff to cop the tape. You can also check out Stop The Breaks' interview with Nic Poetic here.
Twitter: @nicpoetic
YouTube: youtube.com/nicpoetic
SoundCloud: soundcloud.com/

nic

–

poetic

Facebook: facebook.com/nicpoetic