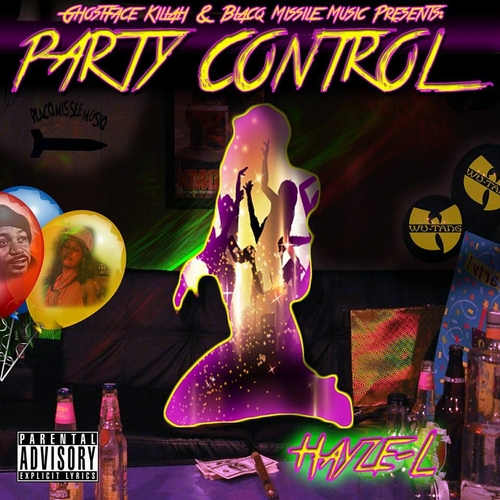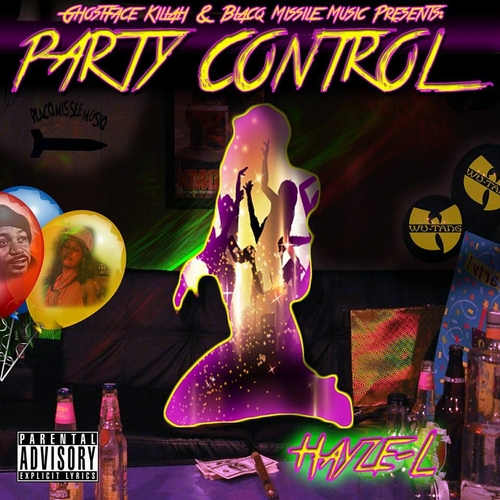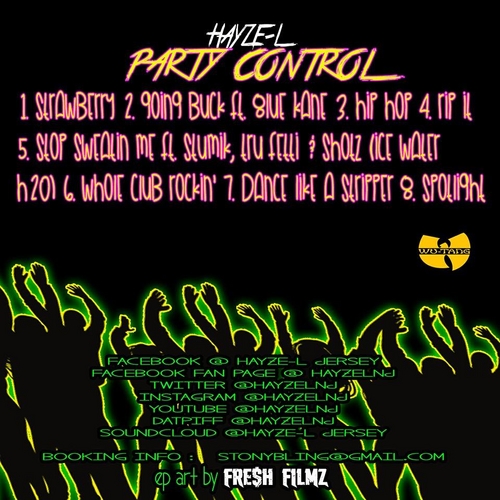 Party Control is the latest release from New Jersey hip-hop artist HAYZE-L. Featuring guest appearances from 8blue Kane, Stumtik, Tru Fetti and Shotz, the 8-track tape is HAYZE-L's first EP and is currently being promoted by the single "HIP HOP" which you can view on YouTube or 24HOURHIPHOP.COM.
As an affiliate of the legendary Wu-Tang Clan rapper Ghostface Killah, HAYZE-L has been on tour with Tony Starks – travelling to Canada and both the East and West Coast of the US to build up her buzz around the world.
Artist background: For many years, female rappers have struggled to establish their talent in the music industry. Sex, money, and drugs often interferes with their motivation to success. But HAYZE-L fits firmly in the category as "Best New Female Underground Rap Artist."
HAYZE-L grew up in the center of New Jersey, battling her 2 different lifestyles. Her mother lived in the suburbs and her father resided in the projects. The separation from the 2 sides of the family forced her to hold many emotions inside her soul.
When she was 12 years old, her parents decided to send her to a psychiatrist , where she received valuable information that would soon change her life. While sitting across from the psychiatrist at a young age, Hayze-l asked the doctor what could she do to let those emotions out. The female psychiatrist replied back in a soft voice, "If you want to be heard.. Just write it down". That same day "HAYZE-L" picked up a pen and piece of paper and never put them down.
In May 2010, Hayze-l graduated from Delaware State University, ending her life of education and still pursuing her rap career. She decided to focus more on her dreams to become a rapper. On July 4, 2010 , Hayze-l met Ghostface Killah at the Borgota Hotel in Atlantic City.
While sitting in the Borgata Hotel, Ghostface looked at Hayze directly in her eyes and asked her, "Are you ready for this sh*t?" She replied back to Ghostface, "Please just have faith in me!." From that day on, Ghostface took Hayze under his wing, and began to show her the music lifestyle that she always dreamed of one day living . Ghost quickly set her up with his cousin Stony Bling, who soon became her friend and music manager.
After meeting Ghostface, he took her on 5 music tours around the world, including, Canada, the West and East Coast of the United States. Other than touring, she has been working on the "ANGEL OF DESTRUCTION" 5 Part series, which consist of freestyles on the hottest industry beats circulating the air waves. Her close connection with members of the Wu Tang Clan affiliates has brought a buzz around the world.
Her real and rugged style of rap is not modest, but has great meaning and quality. She has of way of demanding her respect as a female by using words to describe her emotions. She has also experienced touring life in India, doing shows in Chennai and Bangelore.
Although she is woman she finds a more thug way of expressing herself with a pinch of sexiness. Her determination as a rapper has become a motivation to others. "I love doing this and expressing myself. I appreciate Ghostface Killah and everyone that supports me. This lifestyle isn't built for everyone" Hayze-l says "But I feel like this is my time to shine. And no one can stop me!"
Facebook Friend Page: https://www.facebook.com/profile.php?id=100000637175764
Facebook Fan Page: https://www.facebook.com/HAYZELNJ
SoundCloud: soundcloud.com/hayze-l-jersey
Twitter: https://twitter.com/HAYZELNJ
Instagram: http://instagram.com/hayzelnj
YouTube: https://www.youtube.com/user/HAYZELNJ
24hourhiphop: http://24hourhiphop.com/hip-hop-videos/hayze-l-hip-hop/
Booking Info: Stonybling@gmail.com
Check out the video for "HIP HOP" and make you head on over to DatPiff to cop HAYZE-L's Party Control!