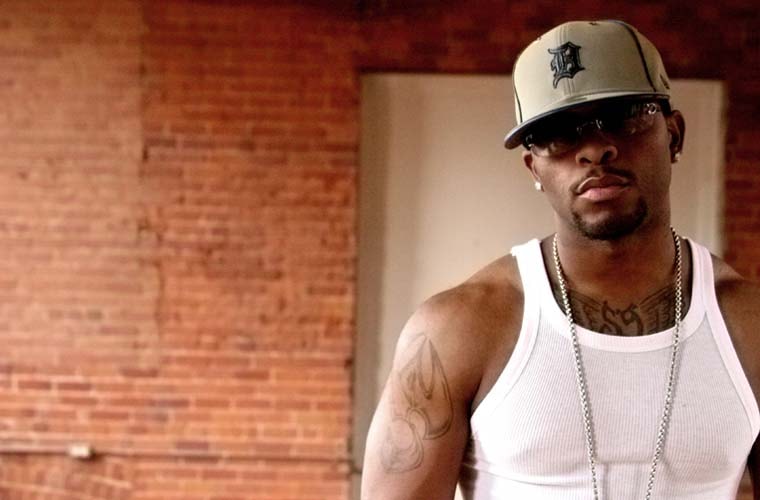 I'm from where ni**as pull your card, and argue all day about Who's the best MCs, Biggie, Jay-Z, or Nas?
Since the humble beginnings of hip-hop, the culture has always been about the same things: Who's the nicest on the mic? Which MC had the best verse? Which rapper bodied which rapper? So much so that these lyrical battles have turned into verbs themselves; how many times have you heard someone say "this rapper got renegaded" or "so and so got ethered"?
Hip-hop is all about competition. At the end of the day, it doesn't matter how much money you make (what up MC Hammer?) or how many records you sold (word to Vanilla Ice). At the end of the day, it's all about who can rock the mic the best.
So here we go, the top 50 to 41 of the 50 greatest rappers of all time.
Independent artists: learn how to build a fanbase and make money from your music. 
50. Canibus – Greatest Rappers Of All Time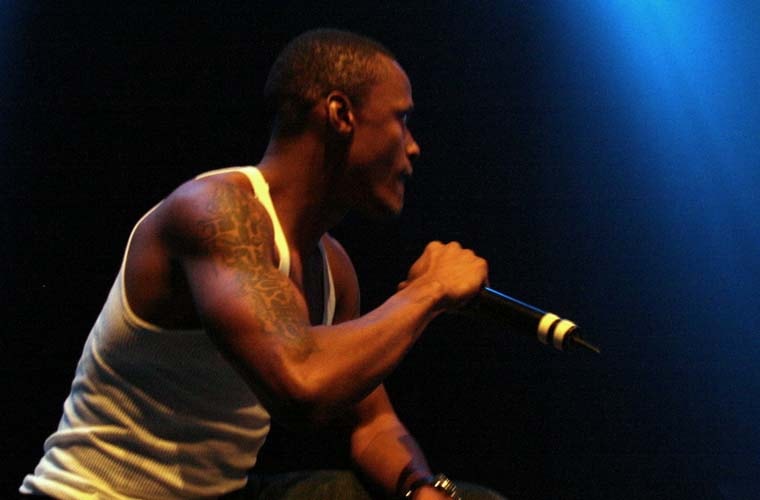 Discography: Can-I-Bus (1998), 2000 B.C. (Before Can-I-Bus) (2000), C! True Hollywood Stories (2001), Mic Club: The Curriculum (2002), Rip the Jacker (2003), Mind Control (2005), Hip-Hop for Sale (2005), For Whom the Beat Tolls (2007), Melatonin Magik (2010), C of Tranquility (2010), Lyrical Law (2011)
Countless years of disciplined practice and arduous rhyme battles have transformed Canibus from a young budding rapper to one of the greatest lyrical genius hip hop has ever seen.
Legend has it; a young Canibus happened to engage the entire Wu-Tang Clan family in a freestyle battle outside a club one time. I'm a little hazy on the details, but from what I've heard, RZA had to call upon Killah Priest to kick off an epic 6-minute rhyme to end it all. Stunning isn't it?
Pound for pound, Canibus is definitely one of the greatest lyricists of all time. His ability to spit non-stop, complex rhyme patterns wrapped around largely philosophical subject matters is without rival. His 'Poet Laurente' series stands next to Ras Kass' 'Nature of the Threat', Rakim's 'Lyrics of Fury', Kane's 'Raw' and G Rap's 'Men at Work' as one of the most astonishing lyrical feats accomplished by an rapper.
49. Pusha T – Greatest Rappers Of All Time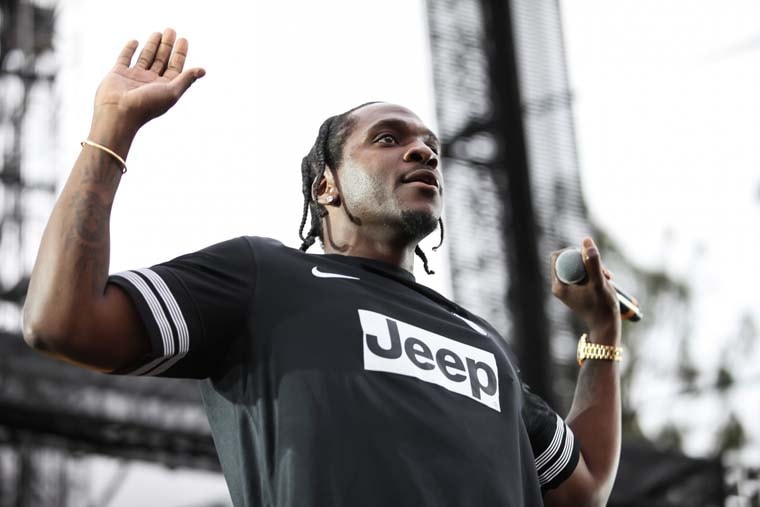 Discography: Lord Willin' (2002) (as Clipse), Hell Hath No Fury (2006) (as Clipse), Til the Casket Drops (2009) (as Clipse), Fear of God II: Let Us Pray (2011), Cruel Summer (2012) (with GOOD Music), My Name Is My Name (2013)
I know there's probably a bunch of Pusha T fans out there who only recently discovered through Kanye West or his collaboration with Tyler, the Creator. What they probably don't know is that Pusha and his brother, No Malice (formerly known as Malice) have been in this rap shit since the late '90s.
As the Clipse, the duo dropped two undeniable classics – Lord Willin' and Hell Hath No Fury – balancing their gritty drug metaphors with The Neptunes' bouncy production and raising the bar for street rap overall. Label woes prevented Clipse from dropping more material but thankfully fans had the legendary We Got It 4 Cheap mixtapes to whet our appetites – listening to Pusha spit over classic LOX, Ghostface and Lil' Kim joints was the best shit ever.
Linking up with Kanye was another wise decision – Pusha basically moved from one super-producer to another. While The Neptunes gave Clipse a unified sound and brand, Kanye provided him with a bigger platform and audience – Pusha's been rapping that street shit on some of biggest rap joints of the past few years – "Mercy," "I Don't Like (Remix)," "Runaway," "Move That Dope."
At the moment, Pusha T is one of the few rappers left in the game holding it down for that undiluted, street hip-hop. My Name Is My Name, Pusha's debut solo album, was another showcase of his unmatchable lyricism and proved why he is indeed one of the best rappers in the game today.
48. DMX – Greatest Rappers Of All Time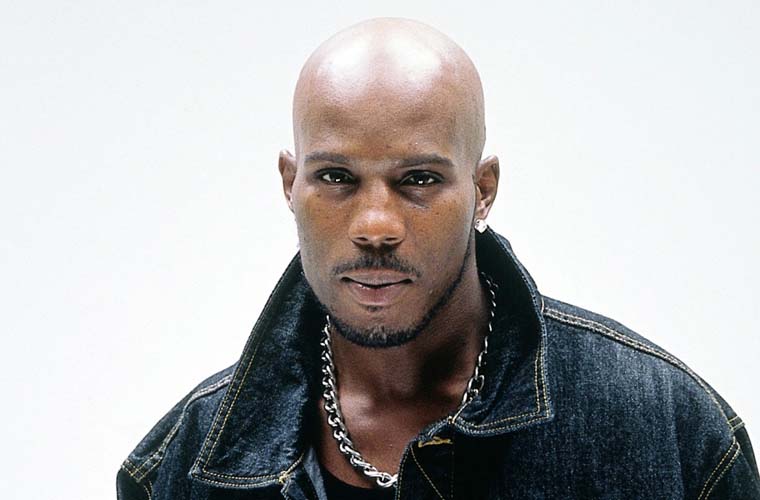 Discography: It's Dark and Hell Is Hot (1998), Flesh of My Flesh, Blood of My Blood (1998), …And Then There Was X (1999), The Great Depression (2001), Grand Champ (2003), Year of the Dog… Again (2006), Undisputed (2012)
A few years ago, Nas openly declared DMX as one of the truest and Kool Moe Dee has proclaimed him as one of the rawest ever to do it. With aggressive street lyrics and hard, catchy beats DMX has become a rare hip hop phenomenon, managing to attain high levels of commercial success while keep it close to the gutter.
It's especially not easy when you rap about the Devil, possess one of the gruffest voices in rap music and don't bow down to any industry trends; but DMX managed to pull it off successfully.
Bursting onto the scene in '98 with two studio albums back-to-back, DMX maintained a prolific and steady body of work that has included strong radio hits ('Ruff Ryders' Anthem', 'Party Up (Up in Here)') and poetic, introspective cuts ('Slippin", 'I Miss You'). Raw, spiritual and and dedicating to his uncompromising brand of music; DMX is one of the greatest rappers of all time and embodies hardcore hip-hop to the fullest
47. Jadakiss – Greatest Rappers Of All Time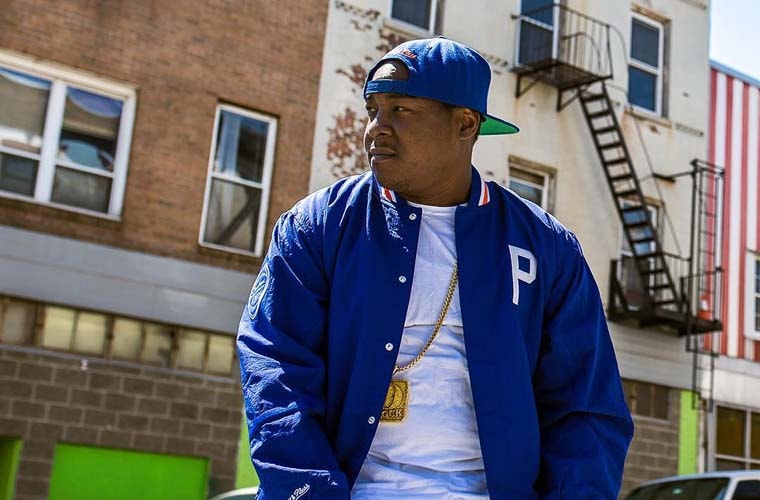 Discography: Money, Power & Respect (with The LOX) (1998), We Are the Streets (with The LOX) (2000), Kiss tha Game Goodbye (2001), Kiss of Death (2004), The Last Kiss (2009)
There are a handful New York MCs who are the go-to guys for feature verses for rappers from other regions. Off the top, I can name Fabolous, the Dipset crew, Raekwon, Ghostface Killah and Jadakiss.
With guest verses for a range of artists over the years, including Fat Joe, Mariah Carey, Kanye West, French Montana and more, it's not hard to see why other rappers love having Jada on their records.
Blessed with an instantly recognisable, raspy voice, Jadakiss has combined his gritty flow and unforgettable punchlines to put out countless deadly 16s throughout his career. In a trio of wolves, it was Jadakiss who stood out amongst The LOX.
The only real thing holding Jadakiss back from moving up higher in the list is the fact that he's always been the ultimate mixtape rapper. For the same reason why he's everybody's favourite features rapper, Jada is exceptionally good at bodying individual verses but when it comes to crafting his own song and album, the mixtape mentality pulls him down.
Still, with nearly 20 years under his belt, Jadakiss has consistently proved why he deserves to be amongst the greatest rappers of all time. Combining his work with The LOX, solo career and countless feature appearances over the years, there's no doubt about, Jada is simply one of the best to ever do it.
46. 50 Cent – Greatest Rappers Of All Time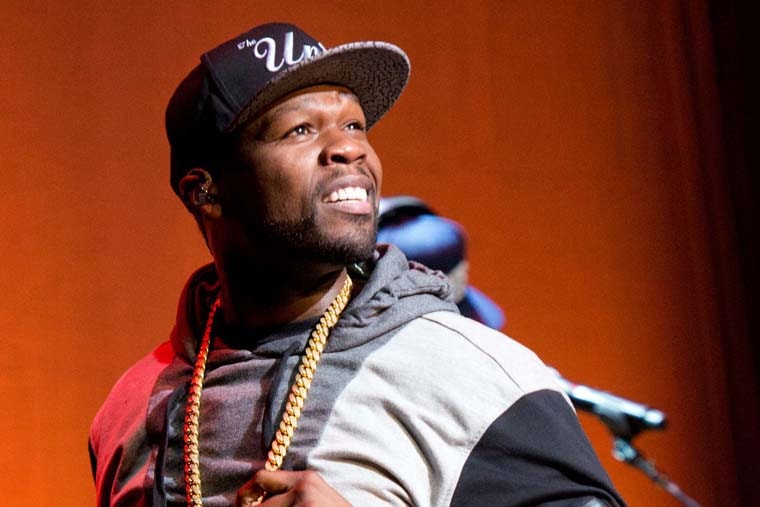 Discography: Get Rich or Die Tryin' (2003), Beg for Mercy (2003) (with G-Unit), The Massacre (2005), Curtis (2007), T·O·S (Terminate on Sight) (2008) (with G-Unit), Before I Self Destruct (2009), Animal Ambition (2014)
There's never been quite a force like 50 Cent in hip-hop. I mean, the rap game has its fair share of insanely rich superstars, from Puff Daddy to Birdman to Jay-Z to Dr. Dre but they all spent decades building up their brand and wealth. The way 50 came through and cleaned up in just a matter of years, it was fucking ridiculous.
Net worth aside, many people don't want to give 50 his props in the art of rap. What he lacks in intricate lyricism, nuanced storytelling and emotional connection, he makes up with his incredible songwriting abilities. 50 is one of the best hook writers in the rap game, no doubt about it. Smash hit singles like "In da Club," "P.I.M.P.," "How We Do," "Hate It or Love It" are classics mainly due to 50's undeniable hooks.
With one certified classic album – Get Rich or Die Tryin' – and a handful of legendary mixtapes – 50 Cent Is the Future, No Mercy, No Fear, God's Plan – 50 has the body of work to back up his success in the rap game. When it's all said and done, looking back at what 50's accomplished in the 10 plus years he absolutely deserves to mentioned amongst the best rappers of all time.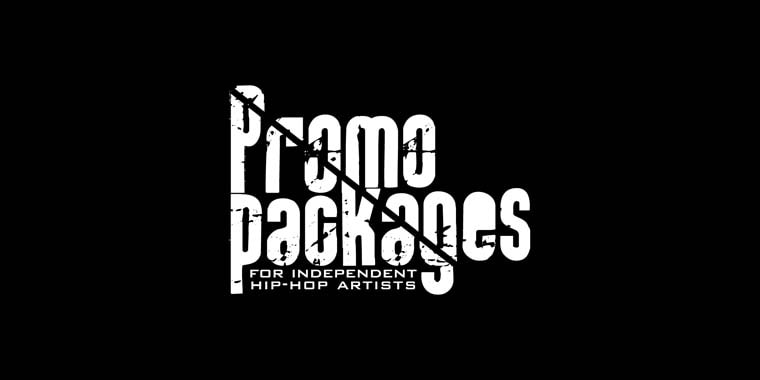 45. Royce da 5'9" – Greatest Rappers Of All Time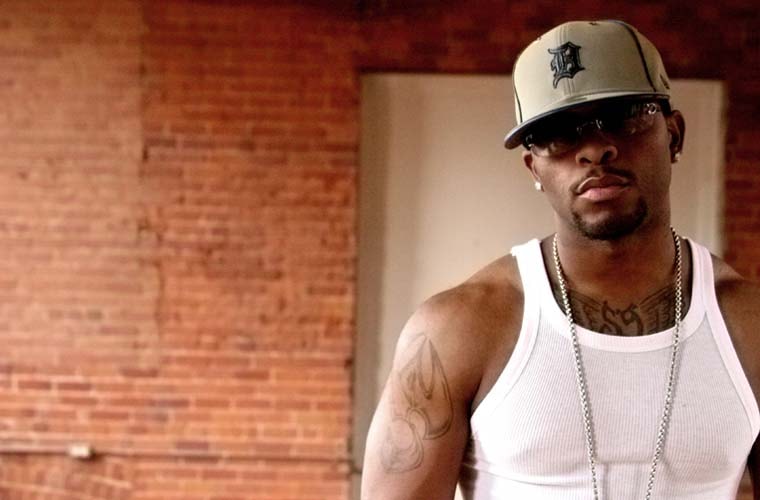 Discography: Rock City (2002), Death Is Certain (2004), Independent's Day (2005), Slaughterhouse (with Slaughterhouse) (2009), Street Hop (2009), Hell: The Sequel (with Eminem as Bad Meets Evil) (2011), Success Is Certain (2011), Welcome to: Our House (with Slaughterhouse) (2012)
Being one of the few rappers on this list (and certainly the only one this high) without a certified classic to his name speaks volumes of Royce's da 5'9"'s raw rapping talents. Openly declaring he's got that Pac-Shady flavour it's not hard to see why he opts for the comparison.
In terms of pure rhyme skills, he's right up there with Eminem. Tight, snappy punch-lines, rapid-fire flow, a mean battling prowess and unbridled fury make Royce one of the toughest rappers in the industry to rap against.
But even with his alcoholic swagger and cockiness on the mic; there are times where Royce reveals himself to be a very vulnerable artist; bitter about his lack of success despite his undeniable talent.
Even though he remains one of the most frustrating of my favourite rappers; The Bar Exam mixtape series alone would warrant Royce's name on this list, but with a couple of classic street cuts ("Boom," "Hip Hop') and solid albums, Royce deserves to be right here amongst the greatest rappers of all time.
Independent artists: learn how to build a fanbase and make money from your music. 
44. Masta Ace – Greatest Rappers Of All Time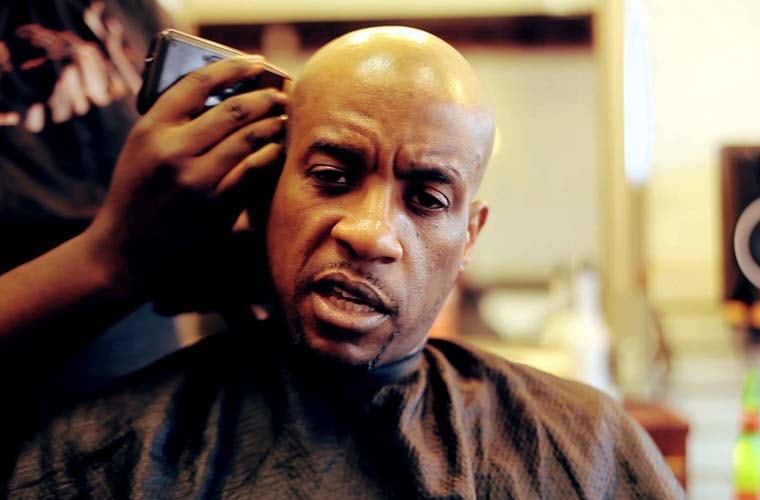 Discography: Take a Look Around (1990), SlaughtaHouse (with Masta Ace Incorporated) (1993), Sittin' on Chrome (with Masta Ace Incorporated) (1995), Disposable Arts (2001), A Long Hot Summer (2004), The Show (with eMC) (2008), Arts & Entertainment (with Edo G) (2009), MA Doom: Son of Yvonne (2012)
Unlike his Juice Crew peers, Kool G Rap and Big Daddy Kane Kane, Masta Ace has managed to continue releasing albums to the present day. Debuting on Marley Marl's 'The Symphony' with Craig G, G Rap and Kane, Masta Ace was somewhat overlooked in favour for the latter two rappers.
But his vivid storytelling abilities coupled with strong rhyme skills have built him a dedicated fan base over the years and proves why he's one of the greatest rappers of all time. The Marley Marl helmed Take a Look Around featured a boisterous Ace on the mic but gradually he's settled down as an industry veteran and continued to drop excellent records. A
Long Hot Summer still remains one of my favourite conceptual albums and it is up there along with A Prince Among Thieves in terms of narrative progression and coherent storytelling.
43. Method Man – Greatest Rappers Of All Time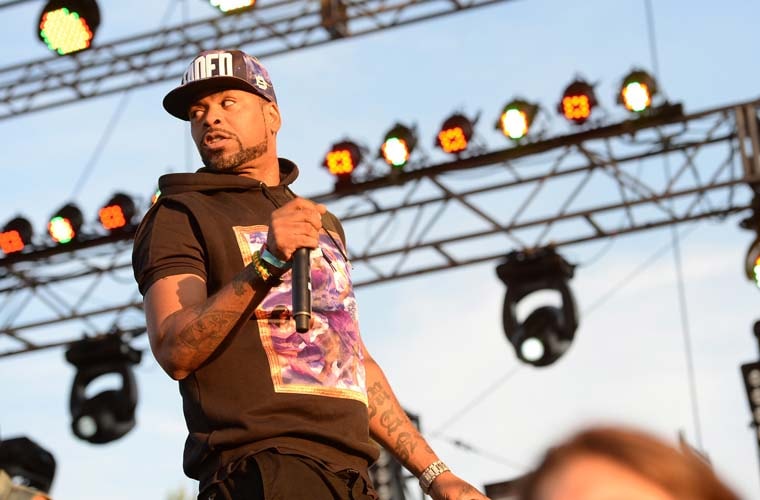 Discography: Tical (1994), Tical 2000: Judgement Day (1998), Tical 0: The Prequel (2004), 4:21… The Day After (2006), Blackout! (with Redman) (1999), Blackout! 2 (with Redman) (2009), Wu-Massacre (with Ghostface Killah and Raekwon) (2010), Enter the Wu-Tang (36 Chambers) (with Wu-Tang Clan) (1993), Wu-Tang Forever (with Wu-Tang Clan) (1997), The W (with Wu-Tang Clan) (2000), Iron Flag (with Wu-Tang Clan) (2001), 8 Diagrams (with Wu-Tang Clan) (2007)
I'll say it right now – Method Man is the greatest rapper of all time who doesn't have a certified classic to his name. Tical was very close but it didn't have that shit that made Only Built 4 Cuban Linx…, Liquid Swords or Supreme Clientele legendary.
As the standout member on the Wu's debut, Meth was the first to get a separate record deal, the first to drop a solo album and the first to score a Grammy with the '95 classic "I'll Be There for You/You're All I Need to Get By" – one of the greatest hip-hop songs of all time – but Meth's career never really took off like we all thought it would.
It's the same problem Busta Rhymes has – both rappers have a great body of work and have no problems bodying rappers on their records, but when it comes to their own album, they don't quite manage to translate that energy into a cohesive project.
Lyrically speaking though, Meth is undeniably one of the greatest rappers to ever hold a mic. He's the entire package – the clever wordplay, the chameleon flow, the husky voice, the catchy hooks – Meth can go bar for bar with any rapper, dead or alive. Whether it was Biggie, 2Pac, Redman, DMX or LL – whoever it was, Meth could take them.
42. Snoop Dogg – Greatest Rappers Of All Time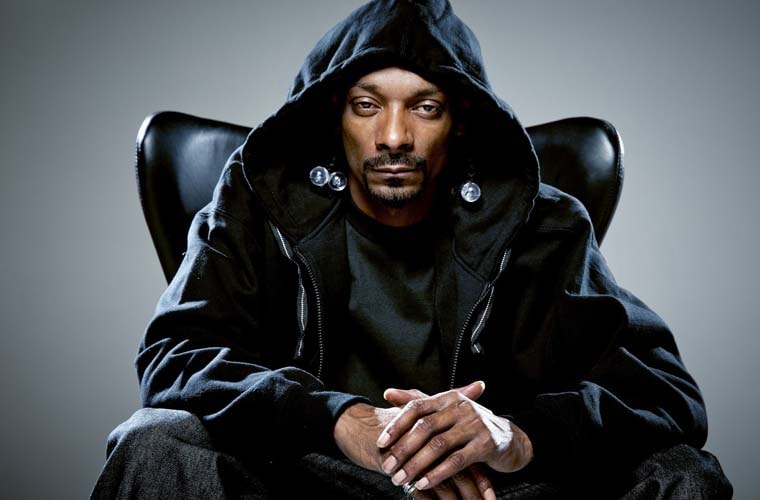 Discography: Doggystyle (1993), Tha Doggfather (1996), Da Game Is to Be Sold, Not to Be Told (1998), No Limit Top Dogg (1999), Tha Last Meal (2000), Paid tha Cost to Be da Boss (2002), R&G (Rhythm & Gangsta): The Masterpiece (2004), Tha Blue Carpet Treatment (2006), Ego Trippin' (2008), Malice n Wonderland (2009), Doggumentary (2011), Reincarnated (2013), Tha Eastsidaz (with Tray Deee and Goldie Loc as Tha Eastsidaz) (2000), Duces 'n Trayz: The Old Fashioned Way (with Tray Deee and Goldie Loc as Tha Eastsidaz) (2001), The Hard Way (with Nate Dogg and Warren G as 213) (2004), Mac & Devin Go to High School (with Wiz Khalifa) (2011), 7 Days of Funk (with Dâm-Funk as 7 Days of Funk) (2013)
For me, Snoop Dogg was a tough one. There was a few times when I was compiling this list that he wasn't even on it. But then I realised as I listened to most of his albums; if you have love for hip hop, you got to have love for Snoop.
As one of the best hookwriters and songwriters in the rap game, Snoop is the man when it comes to making hits. His effortless, melodic flows sounds best when delivered over sunny West Coast funk but he's also one of the more diverse rappers in the industry.
Collaborating with countless artists from Kurupt to Nas to Katy Perry, Snoop has managed to have a hit every single year for over 15 years, that's got to count for something. A gangster, pimp and rapper all rolled up in one; Snoop Dogg is arguably hip hop's most iconic and greatest rappers of all time.
41. Cam'ron – Greatest Rappers Of All Time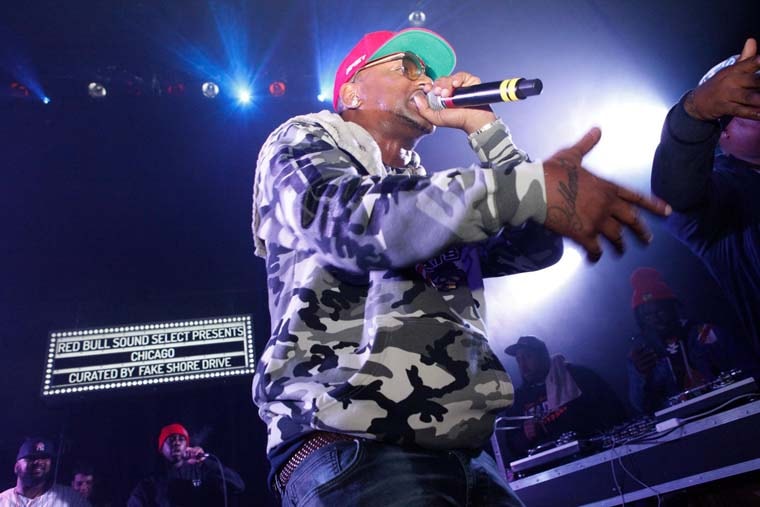 Discography: Confessions of Fire (1998), S.D.E. (2000), Come Home with Me (2002), Diplomatic Immunity (with The Diplomats) (2003), Diplomatic Immunity 2 (with The Diplomats) (2004), Purple Haze (2004), Killa Season (2006), Crime Pays (2009), Heat in Here Vol. 1 (with Vado) (2010), Gunz n' Butta (with Vado) (2011)
During the early 2000s, there was a small window of time that Cam'ron could have become the undisputed king of New York. Dipset was running the streets and Cam had two massive hit singles – "Oh Boy" and "Hey Ma" – both peaking in the top 10 of the Billboard Hot 100. But the 50 Cent hurricane came through and it was over for everybody.
Still, the Dipset movement, which also pioneered that artist-driven mixtapes that 50 and later on Lil Wayne would use to launch their careers, remains one of the most powerful and enduring movements in the rap game. If you count Cam's two certified classics – Come Home with Me and Purple Haze – along with The Diplomats mixtapes and albums, you realise the extent of his body of work.
Then there's his prowess on the mic. Cam's off stage persona has sometimes dominated his lyrics but listening to his bars – he's one of the most slept lyricists in the game, straight up. Cam's ability to cram internal rhymes together rivals that of Kool G Rap's, just have a listen to "Down and Out" – "Drinking sake on a Suzuki we in Osaka Bay." Woo!
Cam been quiet for a few years but by the looks of it, he's coming back into the rap game heavy. His latest mixtape, Ghetto Heaven Vol. 1, shows that the Harlem rapper hasn't missed a step since the 2000s and is a reason why he's one of the best rappers of all time.
Independent artists: learn how to build a fanbase and make money from your music. 
More in the 50 Greatest Rappers Of All Time series: