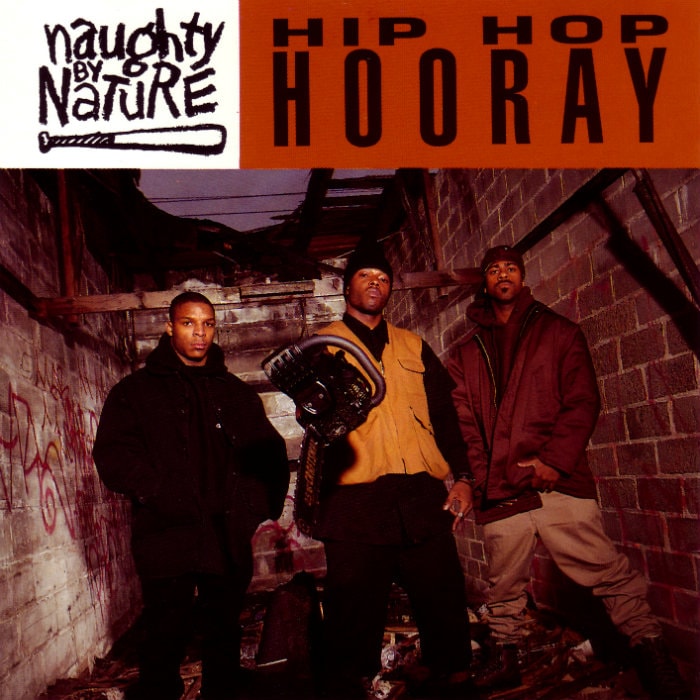 I thought it was pretty hard trying to rank the best rappers in the Wu-Tang Clan or the 50 greatest rappers of all time. Try ranking the top 50 greatest hip-hop singles of all time.
Off the top of my head, I can think of 50 great hip-hop singles in the years 1988, 1994, 1995 or 1998 alone – there's so many incredible songs out there.
So let's get to it, part 1 of the 50 greatest hip-hop singles of all time.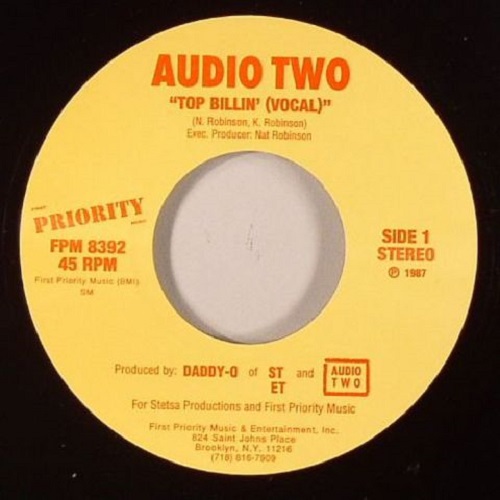 50. Audio Two – Top Billin'
Producer: Daddy-O, Audio Two
Released: October 15, 1987
Album: What More Can I Say?
Label: First Priority Music
I'd hate to call the Brooklyn duo, Audio Two, a one-hit wonder, but I'd be hard pressed to remember another song of theirs that has had the same impact as "Top Billin'."
Produced with Stetsasonic's Daddy-O, "Top Billin'" captured hip-hop at its most youthful, energetic and innocent – playful taunts delivered over a simple, rugged beat.
From Jay-Z to Kanye West to 50 Cent, artists from around the world and through the years have dipped into the super funky "Top Billin'" for their hits, making it one of the greatest hip-hop singles of all time.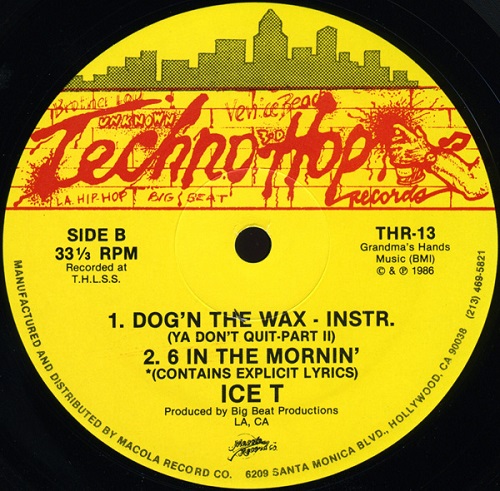 49. Ice-T – 6 in the Mornin'
Producer: The Unknown DJ
Released: 1986
Album: Rhyme Pays
Label: Techno Hop Records
As one of the pioneers of gangsta rap, it only makes sense that Ice-T created an influential gangsta track like "6 in the Mornin'." Influenced heavily by Schoolly D's 1985 street anthem "P.S.K. What Does It Mean?," Ice-T's rhymes are simple yet effective; painting a stark and harrowing picture of West Coast gang life.
Along with Schoolly D and Boogie Down Productions' "9mm Goes Bang," "6 in the Mornin'" was integral to pushing hip-hop towards a harder, grittier era.
Not only is "6 in the Mornin'" one of the most influential rap songs of all time, it's also one of the greatest hip-hop songs of all time.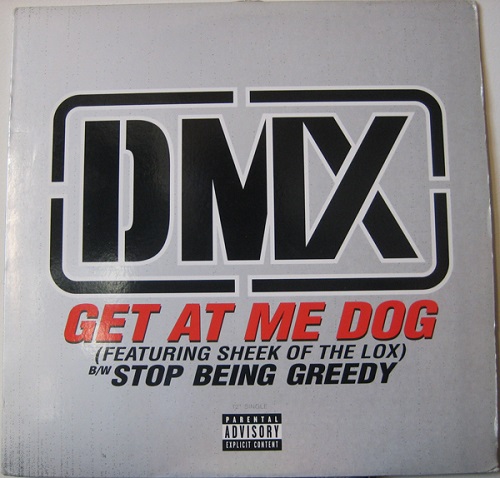 48. DMX f. Sheek Louch – Get at Me Dog
Producer: P.K. and Dame Grease
Released: February 10, 1998
Album: It's Dark and Hell Is Hot
Label: Ruff Ryders, Def Jam
At the start of 1998, hip-hop was completely dominated by Puff Daddy and his Bad Boy army. With hits from Biggie, The LOX, and Mase sweeping through radio like a hurricane, Puff had hip-hop in total shiny suit and champagne mode.
So when a young, hungry rapper from Yonkers started to make some major waves with his hardcore, street sound – it was a breath of fresh air for hip-hop fans hungry for an alternative to the Bad Boy dictatorship.
Kicking off with the super raw "Get at Me Dog," DMX growled, barked and tore his way up the charts and through the streets, taking hip-hop away from the limousines and back to the gutter.
DMX would have bigger hits, more memorable songs later in his career, but "Get at Me Dog" was his firing shot and definitely one of the greatest hip-hop songs of all time.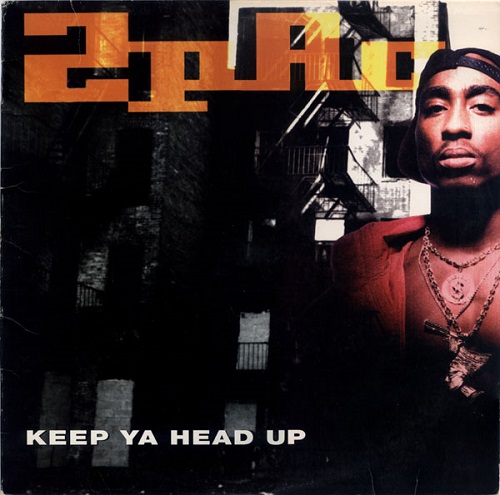 47. 2Pac – Keep Ya Head Up
Producer: DJ Daryl
Released: October 28, 1993
Album: Strictly 4 My N.I.G.G.A.Z.
Label: Interscope
The magic of 2pac and the reason why he's still so dearly loved around the world is because of his ability to appeal to people from all walks of life.
Pac could write a heartbreaking song like "Brenda's Got a Baby," then raise the stakes with "Trapped." He could put out a hit single like "I Get Around" talking about sexing the ladies, then turn around and release a song like "Keep Ya Head Up" shouting out women.
And you know, it was all authentic.
2Pac was truly the realest rapper because he rapped what he felt – whether right or wrong, he said it, and he said it with conviction. "Keep Ya Head Up" was one of the greatest moments in his short-lived career and one of the greatest hip-hop songs ever.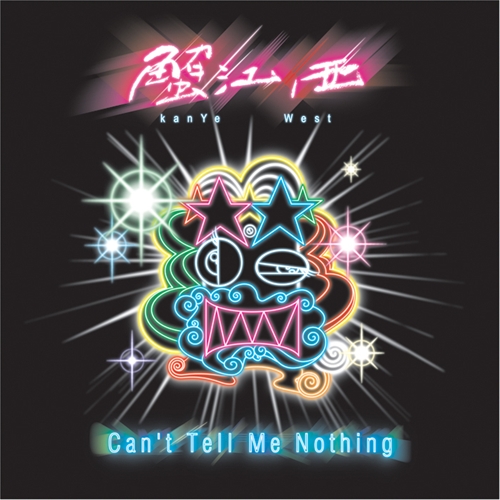 46. Kanye West – Can't Tell Me Nothing
Producer: Kanye West, DJ Toomp
Released: May 15, 2007
Album: Graduation
Label: Roc-A-Fella, Def Jam
Kanye  West already had a bunch of amazing singles before "Can't Tell Me Nothing." From "Through the Wire" to "Jesus Walks" to "Diamonds from Sierra Leone," Kanye already won the fans hearts and burnt up the charts at the same time.
But with "Can't Tell Me Nothing," he managed to strike a chord he hadn't ever before. I'm not quite sure what is was – the soaring production (co-produced with very talented DJ Toomp), the haunting female vocals floating over the beat, the fucking Young Jeezy adlibs, some of Kanye's best bars of his career?
For the first time in his career, Kanye had a radio hit and street anthem at the same time – one of the greatest hip-hop songs he's ever released.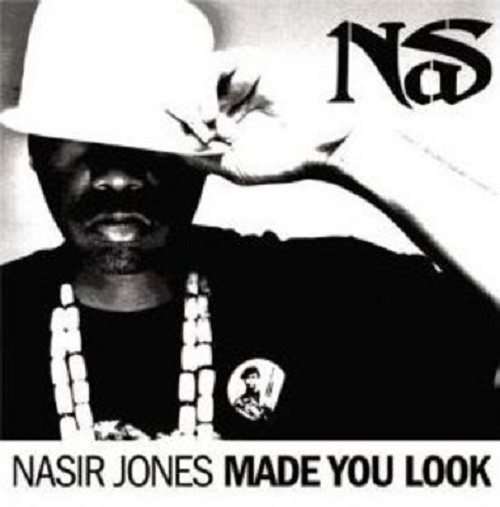 45. Nas – Made You Look
Producer: Salaam Remi
Released: February 11, 2003
Album: God's Son
Label: Ill Will, Columbia
Nas sometimes has a problem with being too didactic with his rhymes – at times it feels like he's lecturing the listener, which makes the song forceful and boring at times.
So when he lets loose with the Grey Goose and just goes off on a track like "Made You Look," it's fucking hip-hop heaven. Nas brought back to the '92, "Halftime" era, just dropping bars and bars of that hard shit. Praise Salaam Remi for the beat. "Where them gangstas? Where them dimes at?"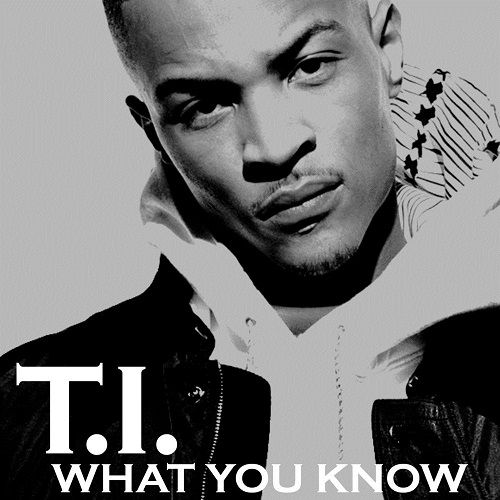 44. T.I. – What You Know
Producer: DJ Toomp
Released: January 28, 2006
Album: King
Label: Grand Hustle, Atlantic
The King of the South isn't as widely coveted a title as The King of New York. Still, when T.I. made the claim to the South's throne, he definitely riled up some feathers.
Who was he to crown himself as The King of the South? What about Scarface? OutKast? UGK? Lil Wayne? Then he dropped "What You Know" and everyone went silent. Or maybe it was that you couldn't hear them over DJ Toomp's soaring, majestic synths or T.I.'s sneers over them.
If T.I. became The King of the South in 2006, then "What You Know" was his coronation track and one of the greatest hip-hop songs ever.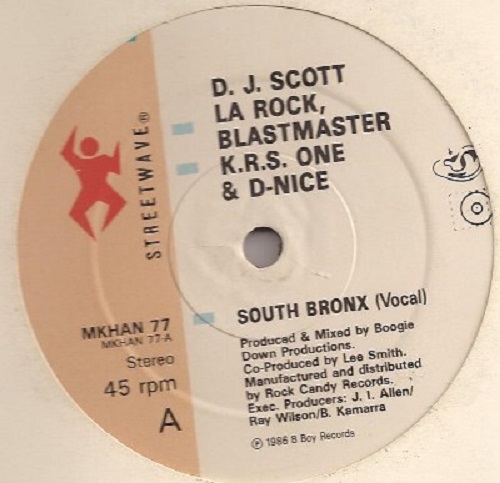 43. Boogie Down Productions – South Bronx
Producer: Ced Gee, DJ Scott La Rock, KRS-One
Released: 1986
Album: Criminal Minded
Label: B-Boy Records
If you're a hip-hop head, then the story behind "South Bronx" should be well pretty well known to you. After KRS-One and his partner DJ Scott La Rock felt dissed by Marley Marl and Mr. Magic when they said their demo was wack, KRS got in the booth and lashed out at MC Shan's tribute to his home, the Queensbridge Housing Projects.
The result? A rowdy, chant-filled track layered over knocking, James Brown drums that had every New York borough jumping. Harlem, Brooklyn, Queens, it didn't matter where you were from – "South Bronx" had everybody yelling out "South Bronx! South, South Bronx!"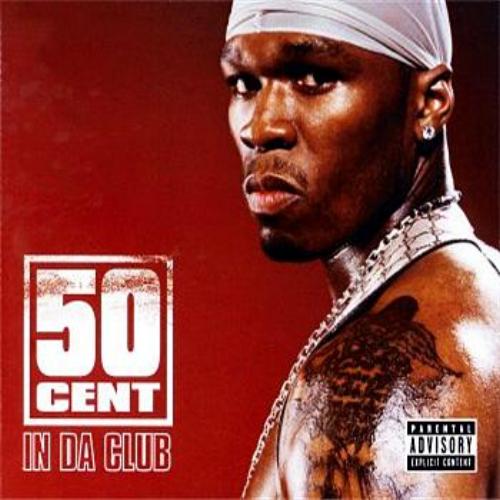 42. 50 Cent – In Da Club
Producer: Dr. Dre, Mike Elizondo
Released: January 7, 2003
Album: Get Rich or Die Tryin'
Label: Shady, Aftermath, Interscope
With a laser-like focus, an unstoppable work ethic and the mixtape game on lock, the top of the rap game was the only place that 50 Cent would be satisfied with.
After overrunning the streets with an onslaught of incredible mixtapes – 50 Cent Is the Future, No Mercy, No Fear, God's Plan – 50 signed with Eminem and it was a wrap.
With Em to the right of him and Dre to the left of him, 50 became the big homie overnight and "In Da Club" was his stamp of approval. Dre's production on the track is phenomenal but it's 50's knack of catchy hooks and his melodic style of rapping that captured the streets and the charts.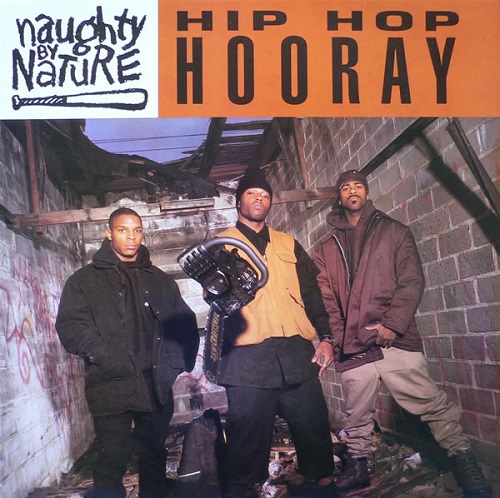 41. Naughty By Nature – Hip Hop Hooray
Producer: DJ Kay Gee, Eazy-E
Released: December 10, 1992
Album: 19 Naughty III
Label: Tommy Boy Records
You know that whole thing where street rappers make a hardcore album but put out a few singles that appeal to the radio and the clubs? Yeah, Naughty By Nature perfected that formula.
With the first three singles from their debut album hitting massive chart success and radio airplay, no-one thought the hip-hop trio could do it their second time around.
Then Naughty By Nature goes ahead and drops "Hip Hop Hooray," topping the US R&B chart and peaking at number 8 on the Billboard Hot 100. "Hip Hop Hooray" is the very definition of a classic party track – it's fun, catchy, timeless – and absolutely one of the greatest hip-hop singles of all time.
More in the 50 Greatest Hip-Hop Singles Of All Time series: