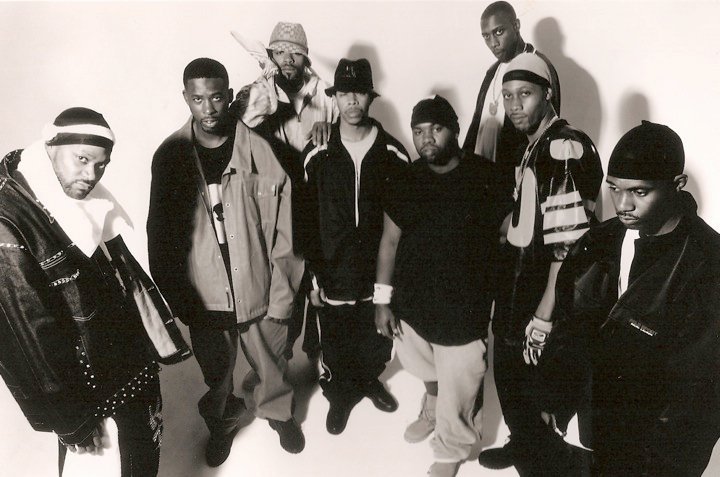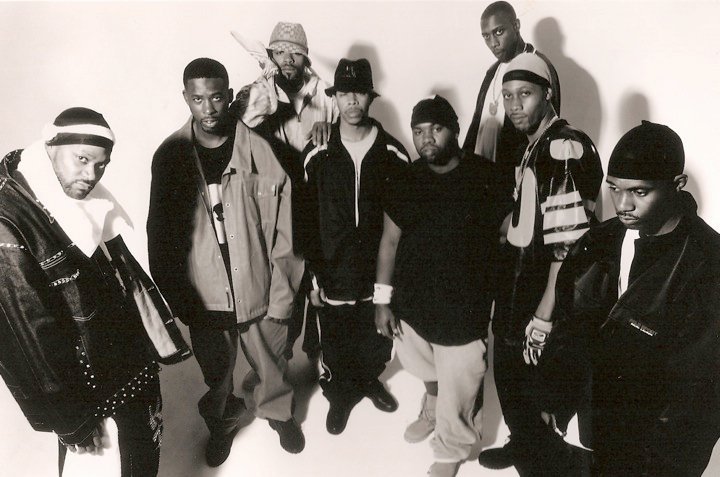 A great posse cut is the very heart of hip-hop. From back in the Juice Crew days when Kane and G Rap were battling it out to see who had the best verse to the classic Wu-Tang cuts to modern day tracks where the hottest rappers in the game team up to make more heat, posse cuts have been around since hip-hop's very early days.
Let's take a look at the 20 Greatest Hip-Hop Posse Cuts Of All Time.
"I don't care who's first and who last, but I know that y'all just better rock this at the drop of a dime, baby."
20. "Swagga Like Us" performed by T.I., Kanye West, Lil Wayne & Jay-Z
When four of the hottest MCs in 2008 came together on a track, you knew it was going to be something special. T.I. teams up with Lil Wayne, Kanye West and Jay-Z for "Swagga Like Us" and proves that nobody on the corner has swagger like these four guys.
Riding a menacing loop of M.I.A.'s "Paper Planes" amidst thick synths and a militant drum-break, the posse proceeds to: embody the spirit of Christopher Colombus , boast about his very over-sized genitals, write somebody's name on a bullet to make them special and "flow colder than February."
Fresh off the success of Graduation, American Gangster, Tha Carter III and Paper Trail, the scorching ones delivered one hell of a posse cut for 2008.
19. "Stop the Breaks" performed by Raekwon, Killa Sin, KRS-One & The Notorious B.I.G. 
The only version I'm familiar with for this track is the one on YouTube, so I'm rather vague about the specific details, like which album/mixtape it comes from, where the vocals originated or even what year it was released. But I can definitely guarantee you this – this is East Coast hip-hop at its rawest.
Over "Wu-Tang" chants and thick basslines, Raekwon, Killa Sin, KRS-One and Biggie go hard. I'm can't even tell you which verse I like better. Rae opens it up like he's performing a stickup, Killa Sin gets bug-eyed crazy with his rhymes, KRS-One brushes off weak emcees and Biggie closes off the track in King of New York fashion – "hail Mary, fuck her, I never knew her, I'd probably screw her and dump her body in the sewer."
18. "The Grand Finale" performed by The D.O.C. and N.W.A.
Listening to this song always makes me kind of sad, realising the world will never be able to hear The D.O.C. rap alongside Ice Cube over a Dr. Dre beat in the same way again. The car accident that damaged his voice has always been one of great tragedies, not just for The D.O.C. but for hip hop in general. Hearing him rhyme on his debut album was something to marvel at, especially on the last track 'The Grand Finale' featuring the N.W.A. posse.
Dre provides the pulsating funk-fest, consisting of thick layers of guitars riffs and fast-paced breakbeats; as well as the intros for each rapper. Ice Cube kicks it off in true N.W.A. style, Ren and Eazy continue their streak of non-stop violence and The D.O.C. wraps the whole track up, wrecking the mic in the process.
17. "International Player's Anthem" performed by UGK and OutKast 
Andre 3000, Big Boi, Bun B, Pimp C rapping on a Three Six Mafia beat? What more could you ask for if you're a Southern hip hop fan? Actually, not just a Southern hip hop fan but a fan of music altogether.
While Andre 3000 undoubtedly steals the show right off the moment he starts rapping, Big Boi and UGK all deliver quality performances, each of their verses revolving around the surprising topics of marriage and commitment with a little UGK, OutKast twist.
But the real star of the track has definitely got to be the production team – Three Six Mafia – who crafts an amazing beat around Willie Hutch's "I Choose You" combined with a blissful choir in the background, uplifting trumpets and when Pimp C jumps it, the track really starts to bounce.
16. "Scenario" performed A Tribe Called Quest and Leaders of the New School
Before Busta Rhymes' title of guest-verse-killer was slowly usurped by the likes of Biggie, Andre 3000, Kanye West and Eminem; he was THE man to go to if you wanted to add some excitement to your track.
The boys from A Tribe Called Quest must have realised this because it's unarguably Busta Rhymes' presence that propels 'Scenario' into the hip hop classics; his whole everybody-just-go-crazy vibe infects everybody listening to the track.  But don't count out Q-Tip and co. While lacking the manic energy of Busta; Phife Dawg, Charlie Brown, Dinco D and Q-Tip all exemplify the light-hearted party rap brags, always teasing but never with any real intimidation – just all good fun.
Add the crowd chants, ("So what so what so what's the scenario") rumbling bass of the beat and we've got the COOLEST posse cut ever.
15. "The Symphony" performed by Masta Ace, Craig G, Kool G Rap & Big Daddy Kane
Ripping a funky piano loop from Otis Redding's 'Hard to Handle' Marley Marl and the boys from the Juice Crew craft the ultimate old school posse cut – boasting to the rap world; a phenomenal line-up. Consisting of Craig G, Masta Ace, Big Daddy Kane and newcomer Kool G Rap, 'The Symphony' established the Juice Crew as a mighty force to be reckoned.
Craig G and Masta Ace start off the track but their simple rhyme patterns and old school light hearted brags can't really compare to the heat brought by Kane and G Rap towards the end.
It's here that people realised Big Daddy Kane actually had someone to contend with in the form of Kool G Rap who simply astounds with his relentless flow and sheer technical skill. Not to be outdone, Big Daddy Kane comes on and shows why he's come to be one of the most influential and respected rappers of all time.
14. "Fight Music" performed by D-12
One of the biggest surprises I had listening to Devil's Night was when I found out Dr. Dre produced this track. In startling contrast to the slow-rolling, hypnotic G-Funk back in The Chronic days and a development on his sparse keyboard-driven work on 2001; Dre crafts the terrifying, nightmarish atmosphere of 'Fight Music', substituting pianos melodies for frantic guitar screeches and pulsating cellos – appropriately underscoring D12's borderline-horrorcore lyrics.
Bizarre goes over the line once again with his rhymes while all the other members drop decent verses; but it's all pretty much a build up. As the chilling strings heighten and the guitar riffs get harder, Eminem jumps on delivering a cleverly disguised social-commentary verse while sticking it to the critics; all through immaculate technical precision.
13. "Eye for an Eye (Your Beef Is Mines)" performed by Mobb Deep, Nas & Raekwon
East Coast hip hop has never sounded as gritty or as grimy since back in the days of Wu-Tang and Mobb Deep. And since RZA's music was so bizarre and unique, it was with Mobb Deep that New York truly secured its own original sound.
On this track, Havoc's jarring drum snares, rusty key loops and unpolished vinyl crackles pretty much epitomises that hardcore stripped down East Coast vibe. Prodigy's slow menacing drawl and sullen street narratives mesh perfectly with Havoc's beat while Nas has never sounded so convincing as Nas Escobar. And before Nas can even finish Raekwon yanks the mic away, launching into a ferocious tirade to close off one of the best posse cuts of all time.
Mobb Deep, Nas, Chef creation… for your nation.
12. "Flava in Ya Ear (Remix)" performed by Craig Mack, The Notorious B.I.G., Rampage, LL Cool J & Busta Rhymes
Truthfully, I feel sorry for Rampage, LL Cool J and Craig Mack every time I listen to this song. Okay people be honest; how many of you, while listening to this song, are instantly hypnotised by Biggie's infectious flow, then fast forward the track to Busta Rhymes' spot? I know I've done it a couple of times. And that's not taking anything away from the former three; it's just that the latter two brought something so special to the song, especially Biggie.
Straight off the top when you hear his voice, you're instantly hooked. Exuding levels of confidence beyond his years in the rap game, Biggie must have known how nice he sounded on the mic as he casually dismisses other rappers and Busta just tackles the verse with his usual gruff scene-stealing manner.
11. "The Worst" performed by Onyx, Raekwon, Method Man, X-1 & Killa Sin
So what is about 'The Worst' that makes it one of the best posse cuts of all time? Well, I can think of a couple of reasons. It might be that thick fuzzy bass line that's bound to get anyone's head nodding, or it could be the fact that my man Raekwon the Chef opens up the track "Aiyyo, staircase to stage now, major waves, tank-top Nautica, flippin your daughter thirty ways", or it could be the fact that Ol' Dirty Bastard voice is scratched in as the hook, or it could be that tag-team match at the end between Method Man and Sticky Fingaz. Whatever it is, I just know one thing, Wu and Onyx need to make more music together.
10. "Da Graveyard" performed by Big L, Lord Finesse, Microphone Nut, Jay-Z, Party Arty & Grand Daddy I.U.
Big L, the rawest New Yorker of all time, gathered up a bunch of talented, albeit overlooked emcees at the time, and they all joined in for one of the hardest posse cuts ever. Buckwild's beat is comprised of nothing but a rusty drum loop, graveyard shrills and dirty bass-lines, but L and co. proceed to destroy the track. Every verse is pretty damn awesome, although L's irreverent taunts of "killin' infants for ten cents" and Jay-Z's double time flow pretty steal the show. If you're interested in what Hov sounded like before  his Reasonable Doubt days, check this track out.


9. "Self Destruction" performed by KRS-One, D-Nice, Ms. Melodie, Delite, Daddy-O, Wise, Frukwan, Kool Moe Dee, MC Lyte, Doug E. Fresh, Just-Ice, Heavy D, Chuck D & Flavor Flav
"Self Destruction" was the collaborative result between Boogie Down Productions and Public Enemy – two of the most socially conscious hip-hop acts at the time. Gathering some of the biggest and most popular names at the time, KRS-One decided it was time to really stand up and protest against violence in hip-hop. With so many different characters on the cut riding the sparse, funky tune, it's hard to choose to a standout verse.
KRS-One deconstructs the whole situation with cool logic, Chuck D and Flavor Flav exchange their trademark rhymes, MC Lyte bounces around with so much energy and Just-Ice attacks the mic hard like always. However, if pressed, then Kool Moe Dee's incredible technical precision and succinct verse gets my vote. Probably the most historically significant collaboration, aside from "The Symphony" and definitely one of the best posse cuts of all time.


8. "Next Up" performed by UGK, Big Daddy Kane & Kool G Rap
To be honest, posse cuts during the 2000s were somewhat lacking in quality. If you want to compare the last decade's stuff to 80s and 90s cuts like "Scenario," and "Triumph" then it looks even worse for the 2000s. Thankfully UGK had our backs. Along with their '07 OutKast/UGK collaboration "International Players Anthem (I Choose You)," the duo also had a vicious joust with Juice Crew's finest – Big Daddy Kane and Kool G Rap.
Twenty years removed from their Golden Age debuts, Kane and G Rap's rhymes are sharper and fiercer than ever, the two emcees barely breaking a sweat as they wrestle control of the track. Producer Marley Marl recreates "The Symphony" vibe with a little Southern twang while Bun B and Pimp C struggle to keep up.
7. "4th Chamber" performed by GZA, Ghostface Killah, RZA & Killah Priest
The siren that kicks off "4th Chamber" has got to be one of the eeriest sounds ever in music. The Abbott laces the track with grungy guitar loops and dark electronica grooves while Ghostface takes us on a twisted journey through history; questioning Judas' disloyal motives, parlaying with Constantine and Henry the 8th and building with Genghis Khan. Killah Priest and GZA lurk menacingly in the background and RZA drops by for an incredibly delivered verse. "Protons Electrons Always Cause Explosions."
http://www.youtube.com/watch?v=Ip0vYR3xJWU
6. "The Anthem" performed by RZA, Tech N9ne, Eminem, Xzibit, Pharoahe Monch, Kool G Rap, Jayo Felony, Chino XL & KRS-One
Nine of the most lyrical emcees join forces on this Sway and King Tech joint and compete for the sickest verse. We've got RZA spouting his Bobby Digital rhymes, Tech N9ne and Pharoahe Monch displaying their astounding rhyme skills, Xzibit coming on rough and rugged, Eminem basking in his Slim Shady sensation, Chino XL sounding hard as hell and KRS-One finishing it off Boogie Down style. But who's the main star? Well, there's no doubt about it, Mr. Kool G Rap takes the cake with an absolutely ridiculous verse that proves why he's the best internal rhyme specialist and one of the greatest rappers of all time.


5. "A Buncha Niggas" performed by Heavy D, Gang Starr, 3rd Eye, The Notorious B.I.G., Busta Rhymes & Rob-O
And it's the Overweight Lover and friends who clock in at number 5. Heavy D, Guru, 3rd Eye, Rob-O, Biggie and Busta all trade vicious rhymes over a funky jazz melody – that's a lot of heavyweight power right there. Being that it was one of his first recorded appearances, Biggie's rhymes aren't as polished as the later years but his hunger and raw talents are obvious  and he manages to eclipse the veterans. Well, except for Busta Rhymes. If you thought he came on strong with "Scenario," that was nothing compared to the energy on this track.
4. "Head Banger" performed by EPMD, K-Solo & Redman
If you've seen the music video for "Head Banger" then I think you'd agree that it's possibly one of the best ever. A bunch of dudes standing around in an abandoned building, rocking black hoodies – it doesn't get much more raw than that. Red, hot funk courtesy of Erick Sermon, Parrish spits some awesome lines, K-Solo is on point and Redman delivers a mean verse. The funkiest EPMD cut ever, and that's saying something.
3. "Back to the Grill" performed by MC Serch, Chubb Rock, Nas & Red Hot Lover Tone
While "Live at the BBQ" goes down in history as one of the most well-known posse cuts, let's face facts, it was all about Nas on that one. "Back to the Grill" on the other hand is more balanced out with standout performances by Serch and Chubb, not to mention it boasts a funkier beat. Still, Nas' rhymes are still irreverent and astounding as they were "Live at the BBQ". I mean, "waving automatic guns at nuns?" "My rhymes are hotter than a prostitute with gonorrhoea?" Goddamn, Nas killed this posse cut as well, no question about it.
2. "Lyrical Gangbang" performed by Kurupt, The Lady of Rage & RBX
"This should be played at high volume. Preferably … in a residential area."
I know traditionally posse cuts usually include 4 or more emcees on the track, but whatever, this track is so fucking hard I just had to include it. Dre jacks a stomping drum break from Led Zeppelin's "When the Levee Breaks", adds some whirring sirens and allow his Death Row cohorts to destroy the beat. First up, The Lady of Rage gets all violent, Kurupt gets creative with the wordplay and RBX sounds like something out of a Freddy Krueger nightmare. This is straight up, the hardest track off The Chronic.
http://www.youtube.com/watch?v=Yq6VJxewjNg

1. "Protect Ya Neck" performed by Wu-Tang Clan
What more can I say about this track that I haven't already said in my past reviews? Should I say how revolutionary it was when it came out; lining up 9 MCs on a track as opposed to the usual 4 max? Or how the lyrical assault of Wu-Tang MCs on our ears was as devastating as a nuclear blast? Or how RZA's beat is an absolute masterpiece – pulling in bits and pieces from all over the place to create the trunk-rattling maelstrom? Or how Wu-Tang's later posse cuts like 'Triumph', despite more commercially successful, could never touch this one?
Well you've heard it all before, I've spoken about this track more than any other track in my Wu-Tang reviews; bottom line – 'Protect Ya Neck' is the best posse cut in hip-hop history.