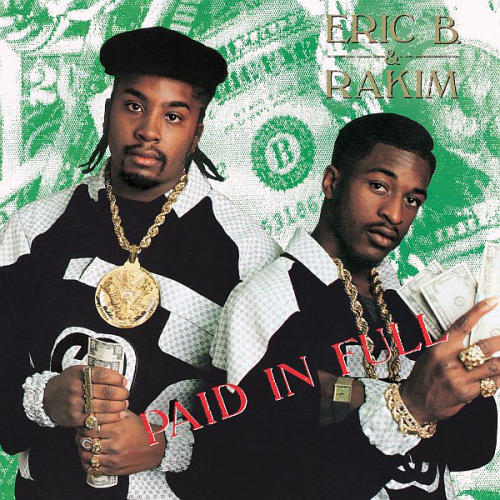 From the '80s stunting of Eric B. & Rakim to the envy rousing Midnight Marauders artwork to the endlessly imitated Illmatic portrait, we count down the top 10 best hip-hop album covers of all time.
10. Pete Rock – Soul Survivor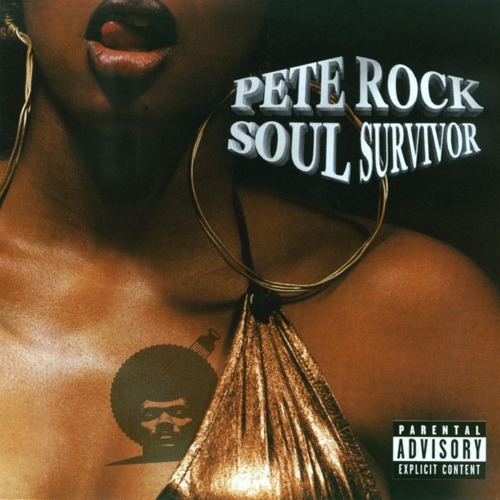 Pete Rock's 1998 solo debut boasted emcees like Kurupt, Big Pun, Wu-Tang members, Common, Kool G Rap, Prodigy, O.C., Heavy D, Sticky Fingaz and lots more, rapping over Pete Rock beats. Needless to say, the album rocks! But the one thing that drew my attention before the music was the album cover.
Man, this had to be one of the sexiest album covers I'd ever seen. A scantily dressed female with large hoop earrings, a cheeky little tattoo on her chest and the icing on the cake – she's licking her lips. Nice! Like the hot funk and soul samples Pete Rock used to liven up his beats, the album cover was smouldering.
9. GZA – Liquid Swords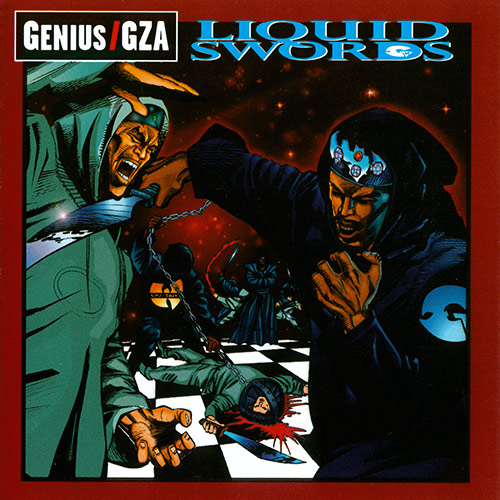 When I first glimpsed Wu-Massacre's album cover and saw the absolute chaos rendered in manga-styled graphics it reminded me of Wu-Tang's earlier artworks; specifically GZA's Liquid Swords. A manifestation of GZA's obsession with chess, the cover shows what appears to Wu-Tang warriors taking part in a massacre on a chessboard.
Rumour has it GZA wanted the dead characters to be shown as Tommy Boy record executives but the label thought it would be a little too much. The artwork was vivid, it was violent and to top it all off, the signature W was transformed to match a G for GZA. Awesome stuff!
8. Jay-Z – The Blueprint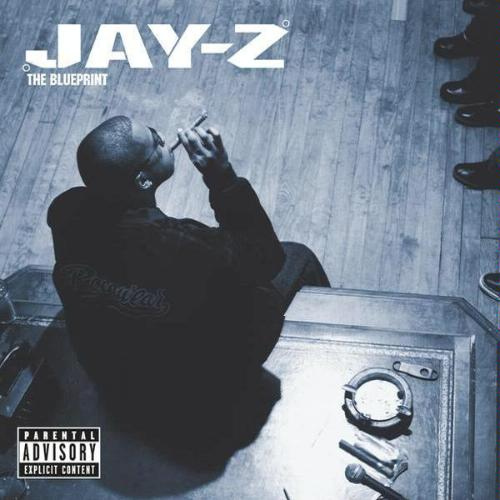 Aside from Reasonable Doubt I didn't find Jay-Z's earlier album artworks (as well as music) that appealing. It wasThe Blueprint's cool, blue-tinged artwork that finally captured Jay-Z at the top of his swagger.
Sitting on the edge of a stage; smoking a cigar; dressed in an all-black suit; sunglasses on; a microphone, ashtray and cigar cutter by his side, it meant one thing – Jay-Z was all about his music and business. It was super classy, very sophisticated and a hell of a lot more subtle than posing next to expensive cars, although way more effective.
7. Common – Be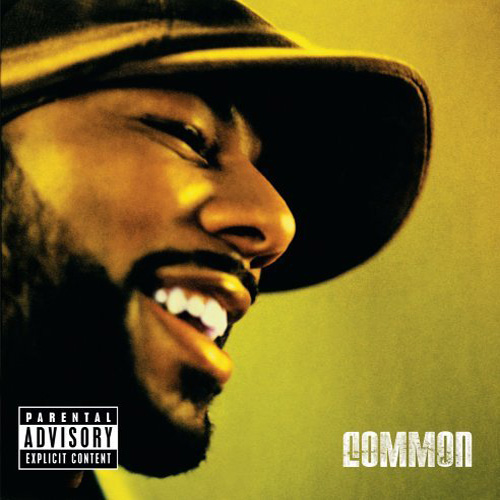 I've never seen a more appropriate album name and album cover as Be. Just be yourself. Just be Common. That's what his 6th studio album was all about. Stripped down to warm, lush soul samples, boom bap breakbeats and corner-style rhymes, Common achieved balance between poignant poetry and harden street braggadocio.
Unlike the ambitious nature of Like Water for Chocolate, this album was short and sweet. The album cover showed a smiling Common with his trademark cap on, bathed in a warm yellow. It was simple but a cover like that said more about the music than anything could have.
6. Raekwon – Only Built 4 Cuban Linx… Pt. II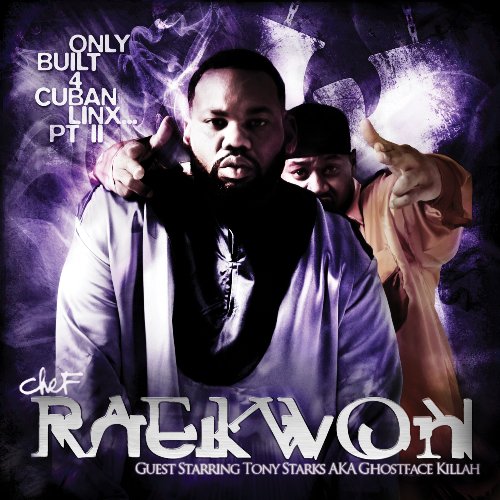 I was actually anticipating this album cover just as much as I was the music. I was thinking to myself, what could it possibly look like? How's Rae going to let people know this is the sequel to his '95 masterpiece. Well, the result was simple yet brilliantly effective. Rae and Ghost are posing in the same way but instead of the fiery red on the original, it was a purple haze, harking back to The Purple Tape mystique.
The two of them looked less aggressive, more comfortable and more content. Rae's also dressed in some sort of gown – "Rick Ruler robe on with rings, walking to the throne, fronting like I know I'm the king." The Don of Mafioso rap was back, bow down!
5. Nas – Illmatic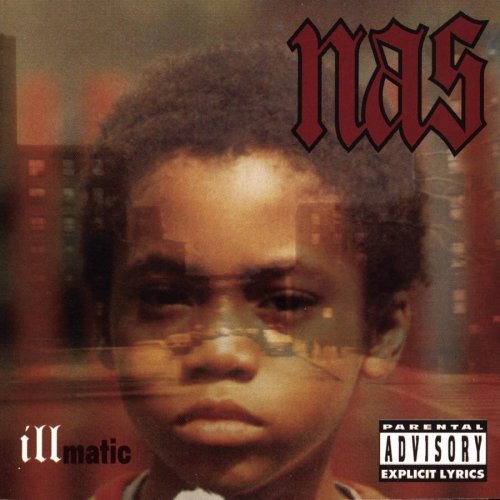 One of the most widely imitated album covers, you can see Illmatic's artwork influence on Biggie's Ready to Die, Bow Wow's Wanted and most recently Lil Wayne's Tha Carter III. But none of these album covers have managed to convey that budding poet vibe more successfully than Illmatic.With his childhood photo superimposed over New York City as the album cover; Nas went on to craft some of the most enlightening poetry hip hop has even seen.
Frantic chase tales through the apartment hallways ('N.Y. State of Mind') and reflections on ghetto desperation were always tinged with a touch of optimism. Despite the gritty street violence Nas wrote about, there was always this childhood innocence; a glimmer of hope that there would be better days.
4. Wu-Tang Clan – Wu-Tang Forever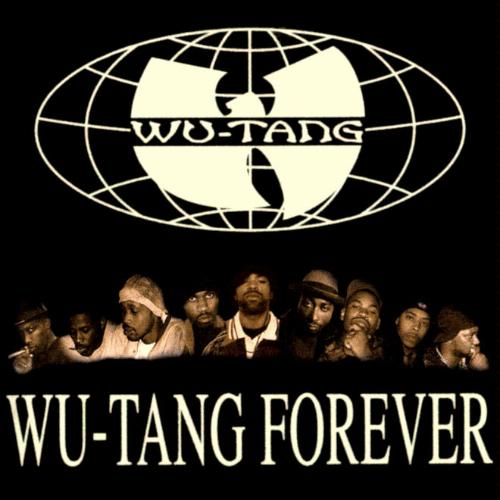 When their debut album first came out, it was uncompromising and shrouded in mystery. Masked ninjas lurking in the shadows, waiting to pounce on unsuspecting listeners with RZA's trunk rattling sirens, GZA's razor sharp lyrics, Deck's battle rhymes and Rae's gun-toting thug-brag.
But with their 2nd group album a lot had changed. Meth had won a Grammy for his collaboration with Mary J. Blige in '96 ('I'll Be There For You/You're All I Need'), GZA's Liquid Swords had been touted as perhaps the greatest Wu solo, Rae had sparked off the mafioso rap trend and RZA had made beats for almost every East Coast rapper at the time.
Needless to say, the Wu-Tang brand was known from Staten Island to Brooklyn; Switzerland to Japan. So the cover of Wu-Tang Forever was basically symbolising their success. All of the clansmen lined up – face clearly shown – the superstar, Method Man was in the centre and behind them; the globe with the Wu-Tang symbol covering it. Total worldwide music domination.
3. Brother Ali – Us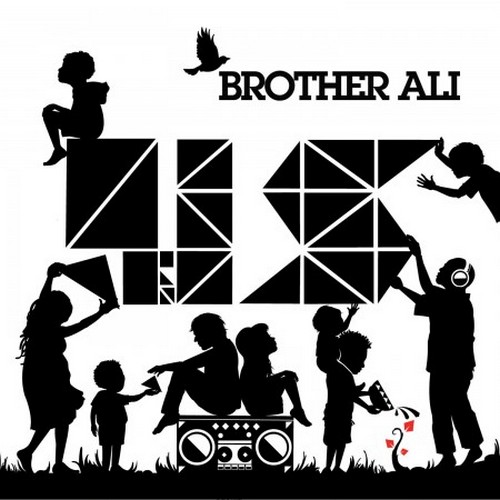 Brother Ali's latest release, 2009's Us was a myriad of heartfelt tales from all ends of the globe. The album artwork fitted perfectly with the music itself. A black and white picture of children sitting on a boom box; fitting puzzle pieces together to form the word 'US.'
Like the puzzle pieces on the front cover, Ali's range of stories – from celebrating his wonderful life ('Fresh Air'), recounting slaves journey across to America ('The Travelers') to unspeakable acts of rape ('Babygirl') – fitted together to form his finest album yet. Refreshingly simple, the album artwork for Us is definitely one of best to come out recently.
2. A Tribe Called Quest – Midnight Marauders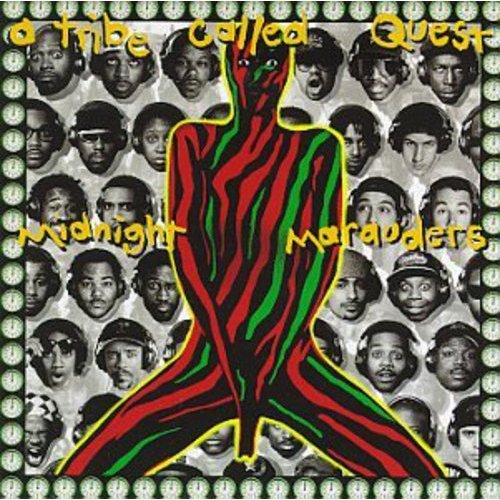 If the cover for Midnight Marauders was anything, it was about the group's absolute love for hip hop. Love for the artists, love for the music and love for the culture. It was all about the reverence young generations of emcees should pay to the old school pioneers.
Apparently the album cover featured 71 of the most prominent hip hop heads in 1993. Figures like Chuck D, Black Moon, Busta Rhymes, Ice-T, Kool Moe Dee, MC Lyte, The Pharcyde and lots more were included. It was a tribute to the originators of hip hop music and was a monumental sign of respect.
1. Eric B. & Rakim – Paid in Full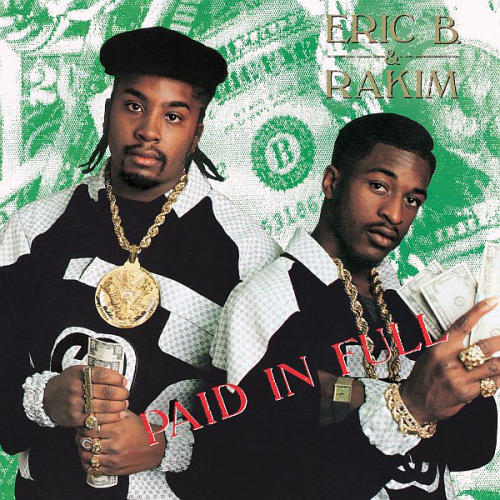 Eric B. and Rakim had one objective with this album – to get paid in full using the wildest, most innovative rhymes since the days of Kool Moe Dee and Melle Mel. Roping in Marley Marl, the hottest producer on the block, the duo went on to re-define both the art of emceeing and producing.
It was strong, no-nonsense music. The two of them dressed in heavy gold chains, showing off stacks of cash and backed by the almighty dollar. Many albums would follow demonstrating the same attitude (50 Cent's Get Rich or Die Tryin') but this was the original. If EPMD's motto was strictly business than Eric B. & Rakim's goal was to get paid in full.