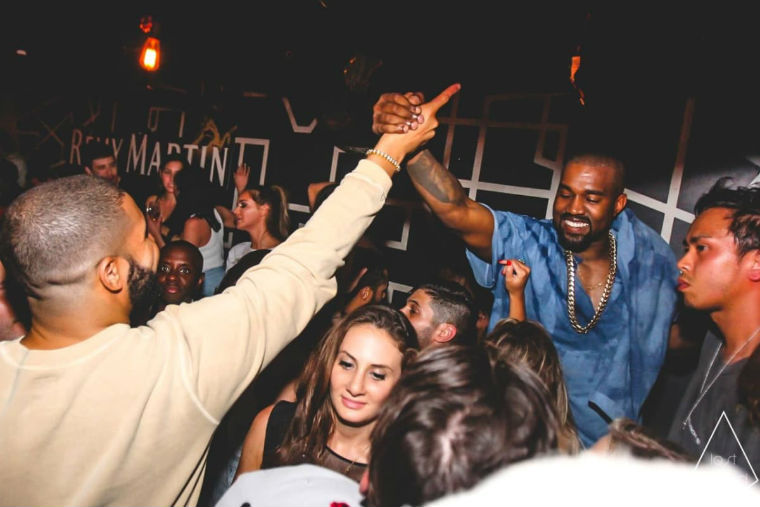 For all the talk that Drake was dissing Meek Mill on various tracks off What A Time To Be Alive, we think there's some compelling evidence that the OVO head honcho was actually firing shots at Kanye on the project's closer "30 for 30 Freestyle."
Here are the lyrics that caught our ear:
"The pen is working if you niggas need some ghost lines
I thought you wanted yours like I want mine
I guess you just making moves on your own time
But just know it'll be January in no time
And your absence is very concerning
It's like you went on vacation with no plan of returning"
So of course we have ghostwriting lines that are going to throw people off and make them think Drake's going at Meek instead but take a look at the next couple lines – "I guess you just making moves on your own time."
This could be referring to Meek not responding to Drake's diss in a timely fashion but we actually believe it's more to do with Kanye not dropping SWISH.
Plus Meek already dropped Dreams Worth More Than Money earlier this year and scored his first number one album so we don't think the line is about Meek.
Then check out the following lines – Drake is talking about it being 2016 soon and that his absence is very concerning. Vacation with no plan of returning?
These lines don't fit Meek. When Drake says January in no time, he means it's nearly the end of the year and we still haven't seen an album of Kanye.
That means we haven't had an album from Kanye since June 18 2013 – his absence is very concerning. Who else has taken a bit of a break from the rap game? Kanye with his new family and fashion duties, that's who.
It might seem like I'm reaching with these lines but Kanye and Drake have always had a very volatile and weird relationship.
It all started when Kanye helped co-write Drake's "Find Your Love," which turned out to be a massive global hit and certainly pushed Drake to where he is today. Drake became a massive star and suddenly Kanye felt threatened as he admitted in XXL:
Drake was the first thing that actually scared me and put pressure on me, because it was the first thing that was blatantly from a similar perspec- tive and lane. When I feel pressure, I step my game up. So I believe that Drake made great music for people to love and enjoy, but he also forced me to step my game up, because I have to be Kanye West.
The result of Kanye stepping up his game was My Beautiful Dark Twisted Fantasy. Enough said. 2011 was the start of the Drizzy-Yeezy cold war and definitely the most intense. It basically boiled down to the Roc vs. YMCMB with Hov and Wayne backing their protege up.
After Birdman fired some slick comments in a radio interview about Jay's bank account, Hov was ready to go HAM on the whole clique:
"Niggas fantasize about the shit that I do daily
Like these rappers rap about all the shit that I do really
I'm like "Really: half a billi nigga, really?" you got baby money
Keep it real with niggas, niggas ain't got my lady's money
Watch the throne, don't step on our robe"
It was the opening salvo to the war and made it very clear to the public what was going on. Kanye added fuel to the fire, throwing some nice jabs on "Otis":
"Niggas talking real reckless; stuntmen
I adopted these niggas, Phillip Drummond them
Now I'm about to make them tuck their whole summer in"
Drake held back during these exchanges but was sure to throw a few counter jabs himself on "I'm On One" – "I'm just feeling like the throne is for the taking" – and "I'm Good" – "Who dont have your heart in your rap shit and got too fuckin comfy."
The biggest punch of the 2011 battle was thrown by Lil Wayne who responded to Hov's taunts with threats of kidnapping Beyonce:
"Talkin 'bout baby money? I got your baby money
Kidnap your bitch, get that "how-much-you-love-your-lady" money"
Talk about taking it to the next level. Surprisingly things died down from there and there really wasn't anything to report on until 2013 when both Kanye and Drake had albums dropping.
In between the critically acclaimed Nothing Was the Same, conquering the Billboard charts and his feature appearances, Kanye had to officially concede that Drizzy was the hottest rapper in the game.
As a sign of respect for the man who inspired him, Drake also passed compliments Kanye's way:
I'm more worried about consistency, bodies of work. There's one guy who is up every night thinking about how to get better, how to do things bigger, and that's Kanye West. He's always going to be the guy who tries to out think and out do everybody. That's my guy I aspire to surpass.
The quote came out of the "Control" controversy and Drake also played it as a slight to Kendrick who he didn't see on his level.
And let's be real here, Kendrick isn't on Drake's level at this point in time. He certainly has the potential to surpass Drake and become one of the greatest rappers of all time, but his accomplishments and body of work isn't there yet.
As for Meek, that whole beef thing? That was just some fun distraction for Drake. He bodied the Philly spitter with two joints and most likely has one in the vault in case Meek gets to acting up, but for all intents and purposes, that whole thing is over.
Drake only has one goal and that's surpassing Kanye to claim the throne. That goal may have seem unattainable until this year. With Kanye distracted by fashion and his family, Drake has used 2015 as an opportunity to really cement his position as the king of the rap game.
Even though Kanye had a few moments this year – "Only One," "FourFiveSeconds," "All Day" – that had everybody talking, these moments are way too few and far between to top Drake's status right now.
It was really this year where Drake showed the industry just powerful he had become. This past year he's been rapping like he's got something to prove to the hip-hop world.
If You're Reading This It's Too Late became the first album to hit platinum and What a Time to Be Alive is predicted to sell over 500,000 copies in its first week. If Drake drops Views from the 6 before the end of this year, then it's all over for rappers.
Kanye would have to drop something earth-shattering with SWISH to scoop the Best Rapper Alive title for 2015. Knowing Yeezy, whenever it's time for him to step up, he will, but the question right now is – does he even want it anymore?