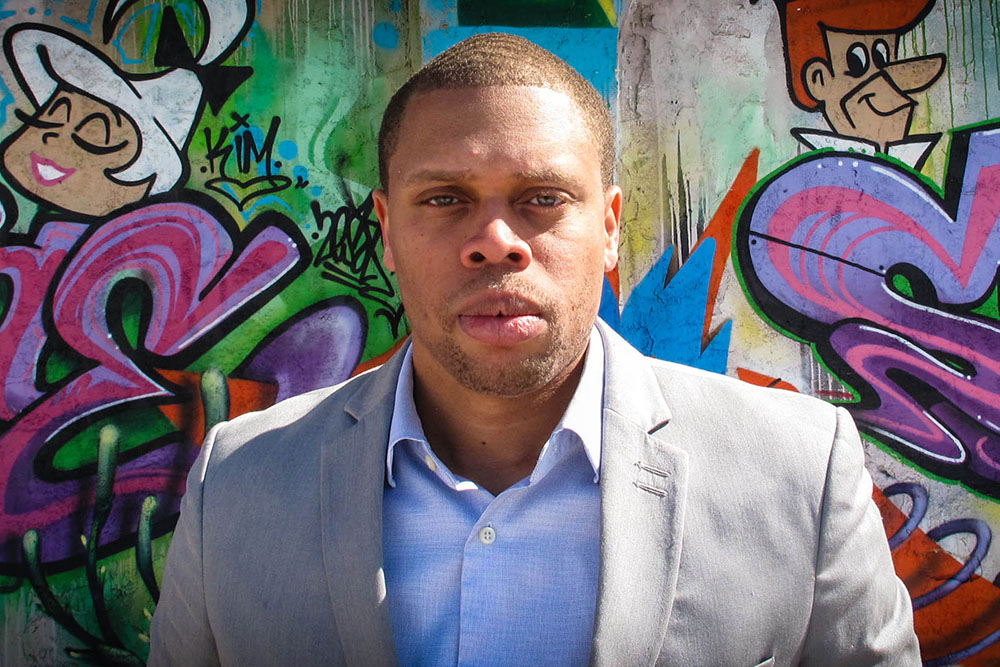 This is a guest post by Balance the Grind, a platform for conversations about work, life & balance.
Timothy Welbeck is an attorney, professor, and contributing writer. As an attorney, Timothy presently serves as the Civil Rights Attorney for the Philadelphia Chapter of Council on American-Islamic Relations (CAIR).
1) To kick things off, could you tell us a little about your career background and current role?
Absolutely. I am an attorney, professor, contributing writer, and hip-hop artist. As an attorney, I serve as the Civil Rights Attorney for the Philadelphia Chapter of CAIR.
There, I advocate for and defend the civil rights and liberties of those who experience discrimination and harassment based on their religion, race, sex, ethnicity, and/or national origin, particularly members of the Muslim community within Pennsylvania.
As a professor, I teach Hip-Hop and Black Culture, along with "No City for Young Men: Hip-Hop and the Narrative of Marginalization" at Temple University. I'm presently writing the book for the latter.
As a writer, I also contribute to The North Star, and have bylines in The Huffington Post, The Philadelphia Inquirer, WHYY, Respect Magazine, et al. I mostly write about various topics like race and social justice, hip-hop, the social implications of the Christian faith, etc.
As a hip-hop artist, I strive to create music that is thought-provoking and relevant, honest and life-changing. My most recent entitled, Living Wage, is an EP that explores the work it takes to live authentically. It is available on all streaming sites.
2) What does a typical day in the life look like for you? Can you take us through a recent workday?
On a typical workday, I wake up, pray, and read for a short while. Soon thereafter, my wife and I begin getting our children ready for school. We have three children, ages nine, seven, and four.
Generally, I workout while my children eat breakfast, get myself ready, then catch the train to my office at CAIR. During the semester, I leave the office in the late morning to teach my courses at Temple.
I subsequently return to my office at CAIR in the afternoon, complete the workday, then go home to have dinner with my family. Once the children are in bed, I spend some time with my wife, then write, grade papers, or work on whatever I could not complete during the day.
I tend to teach a night course during the semester one night a week, so that alters the evening routine slightly, but that is a synopsis of most work days throughout the year.
3) Does your current role allow for flexible or remote working? If so, how does that fit into your life and routine?
CAIR graciously allows me to work remotely on occasions, which proves helpful when unexpected events arise (e.g. a sick child, a vehicle needing repair, etc.).
Over the summer, I teach an online version of Hip-Hop and Black Culture.
This allows me to examine new materials and methods of evaluation to determine what may work well on a larger scale considering the summer session is shorter (six weeks compared to fifteen weeks in the fall or sixteen weeks in the spring) and ordinarily has a fraction of the students of any given fall or spring semester.
Because the summer session imposes significantly less demands on my time, the summer months are generally a time when I regroup, travel, and develop various projects.
4) Do you have any tips, tricks or shortcuts to help you manage your workload and schedule?
There are no shortcuts per se. For me, the key is prioritization of my obligations, and seizing moments as they materialize. What I mean by that is I often weigh the importance of the divergent demands on my time and determine what is truly urgent, what can wait, what will yield rewards both now and in the future, then govern myself accordingly.
Time is the one resource that never returns once spent, but reaps tremendous harvests for those who steward it well. Considering this, I want to maximize opportunities as they present themselves, and do what I can to redeem it, or "reclaim" it as Representative Maxine Waters famously said during a House Financial Services Committee hearing two summers ago.
In a practical sense that means when opportunity presents itself to accomplish a particular task, I do what I can to do so in that moment.
I also do what I can to limit the extent to which my work overlaps: I go out of my way to not schedule court appearances when I have class, I do most of my writing after I put my children to bed, I book most travel on weekends, etc. This allows me to keenly focus on the immediate task at hand before moving along to the next one. Most of my days are full, but I push for balance everyday.
5) What does work life balance mean to you and how do you work to achieve that goal?
That's a good question. For me, work life balance revolves keeping the main thing the main thing. Before fulfilling my various roles as a working professional, I am a husband and father. My wife and I celebrate eleven years of marriage this year.
I love my family more than I love my work. So, while I find great fulfillment in my work outside the home, I would not find myself a success if my home life were falling apart. As a result, I make it a point to be present with my wife and children everyday.
I limit my travel as much as possible, and take them with me when I can. I make it a point to be home for dinner most nights, and get my children ready for school in the mornings.
6) What do you think are some of the best habits you've developed over the years to help you strive for success and balance?
It's difficult to isolate a particular habit, because I do not necessarily believe there is a magic formula to this. More than anything consistency is key. Excellence comes from sustained execution over time.
7) Are there any books that have helped you improve over the years?
No book has shaped and transformed me more than the Bible. I read it daily, have for much of my life, yet still regularly find myself challenged, inspired, and moved by its text.
Aside from that, I am gripped by the scope of history and its implications for the present day. Consequently, I tend to read books with a historical arc, particularly biographies.
So, The Autobiography of Malcolm X and Narrative of the Life of Frederick Douglass both have had a profound impact on me. A. Leon Higginbotham's In the Matter of Color, Michelle Alexander's The New Jim Crow, and Derrick Bell's
Silent Covenants have helped shape my legal worldview while also equipping me with the ability to communicate it clearly.
A number of fictional works stoked my love for reading early in my scholastic career. Where the Red Fern Grows and Roll of Thunder, Hear My Cry are examples of that.
Toni Morrison regularly moves me with her ability to tell stories exquisitely and unapologetically. Anything she writes is worth reading.
8) What is the number one thing you do to make sure you get the most out of your day?
I aim to pace myself throughout the day. I remind myself the race I run is a marathon, not a sprint. When I am at my best, I focus on a particular task, complete it, and then move to the next one. I have to remember that trying to do everything at once will often leave me having done nothing.
Beyond that, I often remind myself that every problem has a solution, so I try not to let any particular obstacle bog me down, but rather search for its solution, then adjust course as needed.
9) Do you have any last thoughts on work, life or balance that you'd like to share with our readers?
It's never easy, but it's worth it. Work hard; prioritize what is most important. Keep the main thing the main thing. In other words, balance the grind.