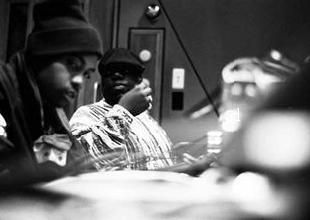 Way before Kendrick Lamar stirred up a storm with his "Control" verse, Nas was firing shots at rappers left, right and centre. Hip-hop heads, did you know that not only did Nas diss Jay-Z on "The Message," he also fired shots at Biggie?
At that time, Biggie was undisputedly the King of New York – his debut album Ready to Die reached multi-platinum status while the singles "Juicy," "Big Poppa" and "One More Chance" stayed in steady rotation on the radio and in the club. Thanks to Puffy's keen commercial sense as well as his incredible rhyme skills, Big had the streets and the chart on lock.
So for Nas, the Queensbridge rapping prodigy declared by critics as the next coming of Rakim – Biggie had effectively stolen his thunder and he wasn't going to stand for it.
Fake thug, no love; you get the slug CB4 Gusto
Your luck low, I didn't know til I was drunk though
You freak niggas played out, get fucked and ate out
Prostitute turned bitch, I got the gauge out
Ninety-six ways I made out, Montana way
The Good-F-E-L-L-A Verbal AK spray
Dipped attache, jump out the Range, empty out the ashtray
A glass of 'ze make a man Cassius Clay
Red dot plots, murder schemes, thirty-two shotguns
Regulate with my Dunns
Seventeen rocks gleam from one ring
Yo, let me let y'all niggas know one thing
There's one life, one love, so there can only be one King
https://www.youtube.com/watch?v=ws3Ks0FGxYM