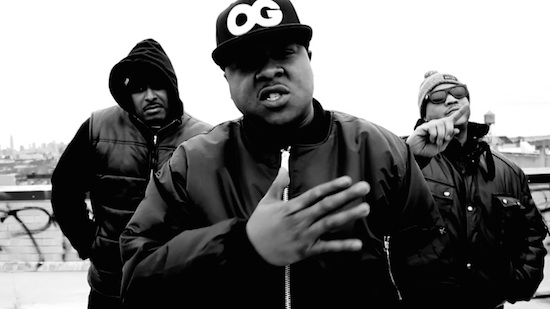 Hip-hop heads, did you know that The LOX's debut appearance was on Main Source's "Set It Off" off their 1994 album Fuck What You Think?
Credited as The Dog Pack, Jadakiss and Sheek Louch set it off for The LOX when they dropped their trademark gritty verses and raw, street flow on the track.
Following their debut appearance, the trio continued to grind it out in their Yonkers hometown, appeared on DJ mixtapes and pushing their demos. One of these demos managed to find their way to Mary J. Blige, a fellow Yonkers native who had made it big with her hip hop soul sound. Mary J. Blige passed their demo to Puff who signed The LOX to his Bad Boy Records.
After getting signed, the Yonkers trio started to appear on high-profile Bad Boy records like Biggie's "Last Day," Mase's "24 Hrs. to Live" and Puffy's "It's All About the Benjamins" as well as collaborating with fellow Yonkers rapper DMX on "Niggaz Done Started Something" and "Blackout."
The LOX dropped their debut album, Money, Power & Respect, at the beginning of 1998 to great commercial success thanks to the hit singles "Money, Power & Respect" and "If You Think I'm Jiggy" but the trio were unhappy with the pop direction Puff was leading them in and eventually made the switch to the harder Ruff Ryders label.
https://www.youtube.com/watch?v=XVZ0wfFbGgE